Here is Will and Guy's selection of funny Christmas dogs. We have tried
to capture what it might be like to be a canine over the festive season.

Freezing Dogs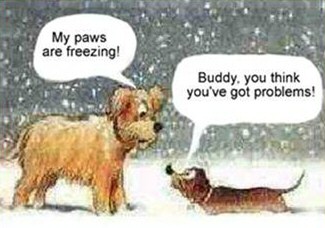 Tell These Rules to Your Dog at Christmas Time
Be especially patient with your humans during this time. They may appear
to be more stressed-out than usual. They may come home with large bags of
things they call gifts. Do not assume that all the gifts are yours. Be
tolerant if your humans put decorations on you. They seem to get some
special kind of pleasure out of seeing how dogs look with fake antlers.
Crazy.
The Christmas Tree:
They may bring a large tree into
the house and set it up in a prominent place and cover it with lights and
decorations. Bizarre as this may seem to you, it is an important ritual for
your humans, so here are some things canines need to know: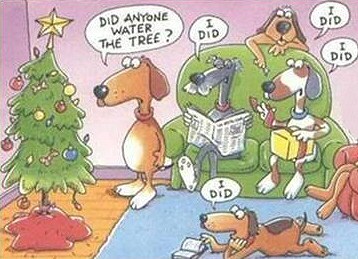 Don't pee on the tree.
Don't drink water in the container that holds the tree.
Mind your tail when you are near the tree.
If there are packages under the tree, even ones that smell
interesting or that have your name on them, don't rip them open.
Don't chew on the cord that runs from the funny-looking hole in the
wall to the tree.
Discretion
Your humans may occasionally invite lots
of strangers to come visit during this season. These parties can be lots of
fun, but they also call for some discretion on the part of we dogs:
Not all strangers appreciate kisses.
Do not eat off the buffet table.
Beg for goodies by all means but do it........ subtly.
Be pleasant, even if unknowing strangers sit on your sofa.
Don't drink out of glasses that are left within your reach.
Manners:
Likewise, your humans may take you visiting
at Christmas. Here your manners will also be important:
Respect the territory of other animals that may live in the house.
Tolerate children.
Turn on your charm big time.
A big man with a white beard and a very loud laugh may emerge from
your fireplace in the middle of the night. Do not bite him.
How Dogs Are Frustrated by
Christmas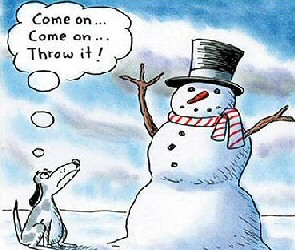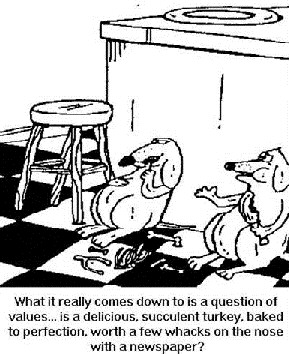 A dog's New Year's Resolution:
I will not chase that stick unless I
actually see it leave his hand.
A Dog's Christmas Promises
Christmas tree light bulbs, are not food.
I know that the cat and the snowmen are not real, therefore I will
not pull them out of the Christmas tree.
I will not attack next door's outside Christmas tree, and drag the
string of lights through the hole in the fence.
More Frustration:
Have You Got a Bottle Opener?
A Rescue Dog's Christmas Poem
Based on the epithet that: "A dog is not just for Christmas".
'Tis the
night before Christmas and all through the town,
every shelter is full -
we are lost but not found,
Our numbers are hung on our kennels so bare,
we hope every minute that someone will care,
They'll come to adopt us and
give us the call,
"Come here, Max and Sparkie - come fetch your new
ball!!"
But now we sit here and think of the days...
we were treated so fondly
- we had cute, baby ways,
Once we were little, then we grew and we grew -
now we're no longer young and we're no longer new.
So out the back door
we were thrown like the trash,
they reacted so quickly - why were they so
rash?
We "jump on the children", "don't come when they call",
we "bark when
they leave us", "climb over the wall".
We should have been neutered, we
should have been spayed,
now we suffer the consequence of the errors they
made.
If only they'd trained us, if only we knew...
we'd have done
what they asked us and worshiped them, too.
We were left in the backyard, or worse - let to roam -
now we're tired
and lonely and out of a home.
They dropped us off here and they kissed us
good-bye...
"Maybe someone else will give you a try."
So now here we
are, all confused and alone...
in a shelter with others who long for a
home.
The kind workers come through with a meal and a pat,
with so many to
care for, they can't stay to chat,
They move to the next kennel, giving
each of us cheer...
we know that they wonder how long we'll be here.
We lay down to sleep and sweet dreams fill our heads...
of a home filled
with love and our own cosy beds.
Then we wake to see sad eyes, brimming with tears -
our friends filled
with emptiness, worry, and fear.
If you can't adopt us and there's no
room at the Inn -
could you help with the bills and fill our food bin?
We count on your kindness each day of the year -
can you give more than
hope to everyone here?
Please make a donation to pay for the heat...
and help get us
something special to eat.
The shelter that cares for us wants us to live,
and more of us will, if more people will give.
Author unknown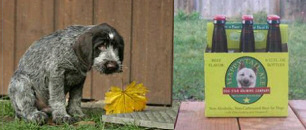 According to a survey, 6 out of 10 British
dogs get Christmas gifts from their doting owners.
(The above dog looks like that half!)
A Better Plan: Letter to Santa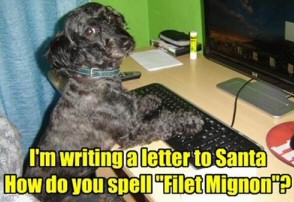 Irish Terrier - Fretting
About Christmas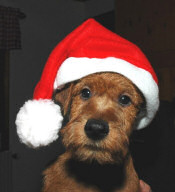 Indeterminate* Terrier - Not Fretting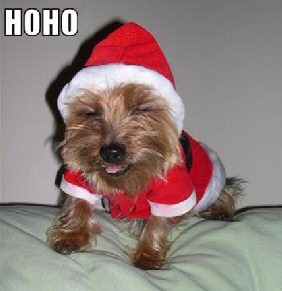 * Sandy says this breed of this funny Christmas dog is a Yorkie.
Christmas Dog Nativity Scene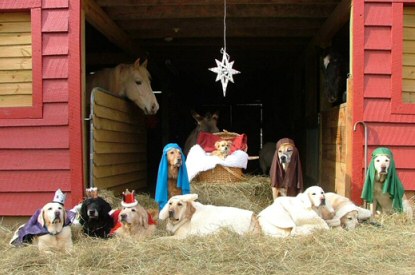 Christmas dog picture kindly sent by Joy Scudder.
Hear the dogs sing
'Jingle Bells'
The Tale of the Traditional Christmas Pudding
Martha decided to move with the times and try the delights of microwave cooking.
Whereupon, her devoted husband Archie went out and bought her a brand new
top-of-the range Sharp Microwave oven.
Christmas approached and Martha got out her Christmas pudding recipe and assembled the ingredients. She proceeded along traditional lines and even got the each member of
the family to stir the mixture 'for luck'. When Martha consulted the microwave's manual for the cooking time, she could not believe that ten minutes would be enough for a traditional Christmas pudding.
Consequently she decided to substitute her normal
cooking time of 50 minutes.

As Martha was in the lounge watching her favourite T.V. programme she did not see the pudding spitting
in the microwave oven, nor did she hear the mini-explosions. When she finally extracted the pudding
from the microwave after nearly an hour of cooking on 'High', it smelt of burnt sugar and looked like a ball of tar. Naturally, the Christmas pudding was a disaster, so much so, that Martha could not even prod it with a fork.
In fact the black ball
stuck to the bottom of the bowl and Archie had to get a screwdriver to prize it from its base.
In a fit of pique, Martha threw the shrivelled Christmas pudding to Togo her St Bernard puppy.
After a few days she could see the funny side, and Togo loved his new indestructible toy, which amused him until the next Christmas.
More Funny Christmas Dog Pictures and Stories
Dog Ice-cream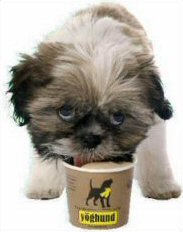 Will and Guy thought that Yogund would be a nice treat for your dog at
Christmas. There is also
a product called Polar Pups, a cool treat made with soy milk. Fact is
stranger than fiction.
A company called Wagg Foods in Yorkshire, England have developed a doggy
treat made from frozen yoghurt, Panting Peanut Mutter, Oaty Pawfection and
Chase Your Tail Cheesecake. And hidden in the ice cream are dog biscuits.
A Christmas Dog Story

Tonight's my first night as a watchdog and here it is Christmas Eve The
children are sleeping all cosy upstairs, While I'm guarding the stockings
and tree.
What's that now? Footsteps on the rooftop? Could it be a cat or mouse?
Who's this down the chimney? A thief with a beard and a big sack for robbing
the house?
I'm barking, I'm growling, I'm biting his rear. He howls and jumps back
in his sleigh. I scare his strange horses, they leap in the air. I've
frightened the whole bunch away!
Now the house is all peaceful and quiet again. The stockings are safe as
can be. Won't the kiddies be glad when they wake up tomorrow and see how
I've guarded the tree?
Written by Shel Silverstein
A True Christmas Dog Story
Home alone one Christmas, a Maine woman was in the doghouse when she
called the "Butterball Turkey Talk-Line".
Apparently found Will and Guy, while preparing the turkey, her Chihuahua
jumped into the bird's body cavity and couldn't get out. She tried pulling
the dog and shaking the bird, but nothing worked. She and the dog became
more and more distraught.
After calming the woman down, the Talk-Line home economist suggested
carefully cutting the opening in the cavity of the turkey wider.
It worked and Maxwell was free. Too silly to make up say Will and Guy.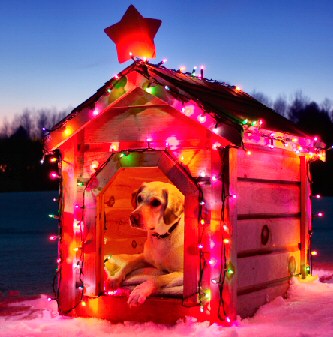 Christmas Presents for Your Dog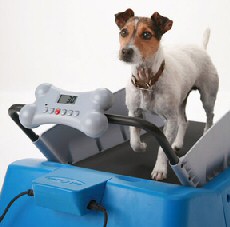 Funny Dog Story
Poor Pole in the Dog House After Christmas
Zdzislaw Bukarowcz, a seventy-five year old Polish man from Scinawa, lived in a dog's
kennel for three weeks just after Christmas. It was all the work of his zona*, Mrs Bukarowcz, her reason for dishing out this punishment was because
Zdzislaw repeatedly
came home drunk.
She chained him to the kennel and fed him on dog food; Zdzislaw was given water from a dog bowl. At night the temperatures often dropped to minus 20 degrees Celsius.
Pani Bukarowcz told reporters that she was sick of him wasting all their money
on vodka. His drinking companions, worried by his non-attendance in the pub, eventually freed him from his imprisonment in the dog house and called the police.
* Zona is Polish for wife. Pani means Mrs in Polish.
(We don't know the Polish for 'Dog house')
Calendar Dogs
After Calendar Girls, we now have funny pictures of calendar dogs. Dan
and Alejandra Boris have used computer graphics to create a Yoga Dogs
Calendar.
At first Guy thought that Yoga Dogs were a new breed, while Will thought
this was a wacky new piece of merchandise designed for kennels. The
truth is this a Christmas present for dog owners.
Alejandra, who is a yoga teacher, reassures readers that no dogs were hurt
in making the calendars, the funny but unnatural positions were down to
computer manipulation of genuine pictures.
A Puppy's Christmas
It's the day before Christmas
And all through the house
The puppies
are squeaking
An old rubber mouse.
The wreath which had merrily
Hung on the door
Is scattered in
pieces
All over the floor.
The stockings that hung
In a neat little row
Now boast a hole in
Each one of the toes.
The tree was subjected
To bright-eyed whims,
And now, although
splendid,
It's missing some limbs.
I catch them and hold them.
"Be good", I insist.
They lick me, then
run off
To see what they've missed.
And now as I watch them
The thought comes to me,
That theirs is the
spirit
That Christmas should be.
Should children and puppies
Yet show us the way,
And teach us the
joy
That should come with this day?
Could they bring the message
That's written above,
And tell us
that, most of all
Christmas is love.
[Anonymous]
See more Christmas
trivia »
Footnote:
Please send us your funny pictures of
Christmas dogs