Here are the best Chinese love stories that Will and Guy have found. All the accounts are moving and amazing tales of true love.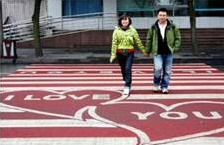 A Story of a Deep and Profound Love from China: The Tale of Liu and Xu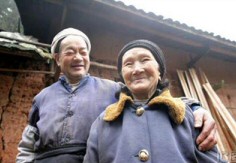 An incredible love story has come out of China recently and managed to touch the world.
It is a story of a man and an older woman who ran off to live and love each other in peace for over half a century.
Over 50 years ago, Liu, a 19 year-old boy, fell in love with a 29 year-old widowed mother named Xu. At that time, it was unacceptable and
immoral for a young man to love an older woman. To avoid the market gossip, the couple decided to elope and lived in a cave in Jiangjin County in Southern Chongqing area of China.
In the beginning, they had nothing, no electricity or even food. They had to eat grass and roots they found in the mountain, and Liu made a kerosene lamp that they used to light up their lives. In the second year of living in the mountain, Liu began and continued for over 50 years, to hand-carve the steps [over 6000] so that his wife could get down the mountain easily.
The couple had lived quietly together for over 50 years until recently. Liu, now 72 years, returned from his daily farm work and collapsed. Xu sat and prayed with her husband as he passed away in her arms.
So in love with Xu, was Liu, that no one was able to release the grip he had on his wife's hand even after he had passed away.
Will and Guy have discovered that the local government in the area has decided to preserve the love ladder and the place they lived as a museum, so this love story can live forever.
Life is Short Says Chinese Lover
For love, there's no challenge too great
Liu Peiwen (刘培温), 29-year-old, who is walking from his hometown of Anyang, Henan Province to Guangzhou, Guangdong Province in order to propose to his girlfriend. The distance is about 1,800 kilometers (1000miles) overland from Anyang to Guangzhou.
Setting out at the end of June, 2011 Liu said he expects the journey to take about one and a half months.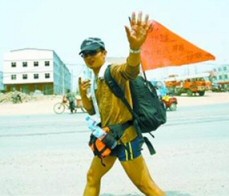 'We were just joking one time that if I walked from Anyang to Guangzhou, she'd convince her mother to let her marry me,' he told journalists after arriving at Luohe, Henan Province on 3rd July carrying a small hand-made flag that read, 'Valiantly, full of mettle, setting out to visit my wife's mother.'
'雄赳赳,气昂昂,去见丈母娘'
'Life is short,' he said, 'and for love, there's no challenge too great.' We have discovered that his girlfriend has said that she would marry him
anyway and added, 'He's always been a fruitcake.'
See more love stories from China
Romance Blossoms in China

Couples Pledge their Love in a Funny Way
Three young couples were married while balancing on bamboo poles on the river Xiangjiang in China. The brides [see right] all wore
traditional wedding dresses while the grooms wore suits for the grand occasion on the Xiangjiang River in Zunyi city, Guizhou province.
Each couple belongs to the local single bamboo rafting club, and chose to get married on the water to show their skill at the sport. We have heard the sport involves racing on the river while balancing on a locally produced bamboo pole around 20cm in diameter. Their aim is to popularise their sport. What a delightful story of true romance.
Chinese Romeo Dives In At the Deep End
A Story of Love: Will You Marry Me?
A Chinese man took his girlfriend to visit an aquarium and then shocked her with a surprise proposal from inside the tank. This
romantic act took place at the Fuzhou Zuohai Aquarium, in Fuzhou, Fujian province.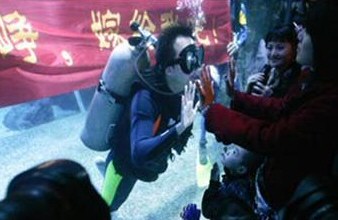 Will and Guy have discovered that Wang Jian, 28, had been taking diving lessons in secret from girlfriend Xie Wenzhen, 24, for two months
before his proposal.
'Jian left me in front of the giant water tank saying he was going to get some drinks,' said Miss Xie. 'Suddenly a boy holding a bunch
of flowers appeared in the water, and two other divers behind him opened a scroll, reading, 'Please marry me.'
'I was totally stunned, as I realised that the man in the tank was my boyfriend. I never expected I would be taking such a leading role in the
proposal. I'm so happy.'
Our photo shows Miss Xie putting her hands to Mr Wang's against the glass; she then kissed him through the aquarium glass to signal her
acceptance.
More Chinese Love Stories
I Love You Chinese Pedestrian Crossing
Chengdu, in China created a pedestrian crossing with a romantic theme to help put couples in the mood for love.
Traffic officials in Chengdu came up with the idea for the crossing which features two hearts and the message in English: "I love you", reports the Tianfu Morning Post.
Panda Love Story

People say that the path of love never runs smoothly. Well, never was a truer phrase was spoken after two male giant pandas got into a fight over a female panda in China's Changqing State Natural Reserve. The male panda that came worse off had to be sent to a local
wildlife rescue centre. After a thorough examination, vets estimated that the fight had occurred some 2 weeks before.
To add to his problems, the panda fell from a height leaving him paralysed in the lower half of his body. He was then sent to another hospital for further treatment.
Wei Pengli, from the rescue centre told Will and Guy that giant pandas often fight for the attention females.
Footnote: Please send us your Chinese love stories.