29 Commercial Street, Pontypool, Monmouthshire, South Wales. (Nearish to the library, between Park Road and Hanbury Road.)
Judge for Yourself
You probably think I am going to say this cafe has the best food I have ever tasted. Therefore, it will surprise you when I say I have never
sampled their cooking. Let us consider this; it really does not matter what the reviewer of any restaurant says about the food, it's what you the customer think that matters.
So let me start again, I am confident that if you visit the Bread of Heaven - the best Cafe in Pontypool, they will prepare just the breakfast /
lunch / snack just as you like it. Why do I make such a prediction? Well just seeing how the waitresses operate, they just focus on the
customers, listen to what they want and serve it up.
I have also seen the chef, he occasionally comes out of the kitchen and speaks with his regulars, he just looks like a man who likes his work, and would cook just the snack, lunch or breakfast that you wanted.
The Blind Customer in the Bread of Heaven
I would like to mention the curious case of the totally blind customer who comes into the Bread of Heaven under his own steam. I have seen him in there at least 4 times, he must be a regular. One or other of the waitresses chats to him, takes his order, and looks after him, nothing special, just an extension of how they empathise with each and every customer.
I gave some thought as to why this blind man negotiates the streets of Pontypool with his white stick, and then settles in the Bread of Heaven rather than one of the other 7 cafes nearby? It must be because they treat him well, it is also likely to be because the food is good. If you have lost one sense then it stands to reason that your other senses are enhanced.
Good Cafe Layout at the Bread of Heaven
So, now are beginning to understand why I say the Bread of Heaven is the best cafe in Pontypool. Another aspect I should mention is the
cafe's layout. I like the way that you see the waitresses as soon as you enter the door. They take my order, then I sit at one of the many
tables that extend towards the back; in no time they bring over my order.
I must confess I was thinking about trying one of at least 7 cafes in the centre of Pontypool, but none looked as inviting as the Bread of Heaven
Bread of Heaven Prices
Perhaps I have visited too many motorway restaurants, but to my way of thinking, the prices in the Bread of Heaven are cheap. But there
again, they probably know their market, and with zillions of other cafe's nearby you would have to be competitive to stay in business.
Precisely Why Do I Go To the Bread of Heaven?
Lest your curious, why do I go there? Well, it's a place I like to go to think, read, and make notes. In this respects it's the perfect coffee-house. And the coffee, its above average. Again it doesn't matter what I think, my bet is the waitress would make it the way
YOU liked it, with more milk, or extra strong - just ask the next time you visit.
How to Find the Bread of Heaven in Pontypool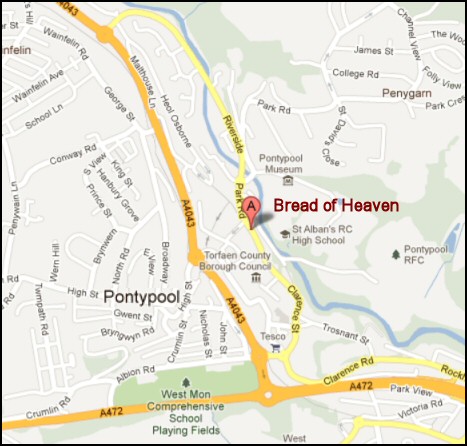 29 Commercial Street, Pontypool, Monmouthshire, South Wales. (Near the library, between Park Road and Hanbury Road.)
Why This Review?
I just like to write-up, and praise those rare people who are in perfect synchrony with their job. Why do I say the Bread of Heaven is the best cafe in Wales? Because I cannot think of anything more I would want from a place to have a cup of coffee and a snack.