We realize that in the USA they would call a biscuit a cookie.
Biscuit Tin Fight
Did you hear about the fight in the biscuit tin? The
bandit
hit the
penguin
over the head with a
club
, tied him to a
wagon wheel
with a
blue ribbon
and made his
breakaway
in a
taxi
! The
names
of chocolate biscuit bars available in the United Kingdom, and perhaps, elsewhere.
See our Penguin joke
Takes the Biscuit?
What did the pig say to the gerbil? I've got my scientist so well trained that every time I press the buzzer, she brings me a biscuit.

Crumb-down
A Town Hall 'crumb-down' has been ordered because thieving visitors keep stealing the councillors' biscuits. Bosses at Canterbury City Council, Kent, UK, are fighting back by telling staff to hide the tea trolley during meetings to stop people purloining the biccies. An unnamed council source said, 'People coming to sit in on the meetings see the trolley and just help themselves. They think it is something that the council lays on for free, but the biscuits are for the councillors not members of the public.'
Footnote: 
 Interesting how we always believe an 'Unnamed source', but always distrust the 'Official Spokesman'.
Keep Taking the Biscuits?
Chris visited his psychiatrist in Harley Street, London England and told him that he thought he was turning into a packet of biscuits*. 'What sort of biscuits?' asked the psychiatrist. 'Square ones,' answered Chris. 'With little holes in them?' the psychiatrist enquired. That's right, Doc,' responded Chris with relief, 'That's it exactly.' 'You're crackers!' announced the psychiatrist. * If Chris had gone to a psychiatrist in Manhattan, he would have called biscuits, cookies.
Fancy a Nosebag?
'Some biscuit bar manufacturer hit upon the simple notion of emptying out the leavings of carthorse nose bags, adding a few other things like unconsumed portions of chicken layer's mash, and the sweepings of racing stables, packaging the mixture into little bars and selling them in health food shops.' Thanks to Frank Muir, the late British comedian and broadcaster for this biscuit joke
Funny Cake
Who are these people we ask? Here, the customer requested that the word, 'congratulations' to be written. You will observe that the cake maker has written it twice since the one word they asked for was a plural.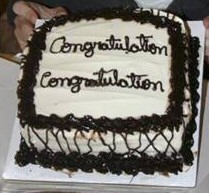 A splendidly funny example of a pirate cake.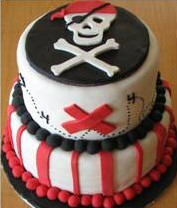 Funny Story - Takes the Biscuit!
An elderly Italian man lay dying in his bed.  While suffering the agonies of impending death, he suddenly smelled the aroma of his favourite Italian anisette sprinkle biscuits wafting up the stairs. Gathering his remaining strength, he lifted himself from the bed. Leaning against the wall, he slowly made his way out of the bedroom, and with even greater effort, gripping the railing with both hands he crawled downstairs. With laboured breath, he leaned against the doorframe, gazing into the kitchen. Where if not for death's agony, he would have thought himself already in heaven, for there, spread out upon waxed paper on the kitchen table were literally hundreds of his favourite anisette sprinkled biscuits. Was it heaven? Or was it one final act of heroic love from his devoted Italian wife of sixty years, seeing to it that he left this world a happy man? Mustering one great final effort, he threw himself towards the table, landing on his knees in a crumpled posture. His parched lips parted, the wondrous taste of the biscuit was already in his mouth, seemingly bringing him back to life. The aged and withered hand trembled on its way to a biscuit at the edge of the table, when it was suddenly smacked with a spatula by his wife..... 'Back off!' she said, 'they're for the funeral.' Footnote. Please send us your '
Takes the Biscuit' jokes and stories