Created by Chinese artist Song Dong in Selfridges, London in 2006. 72,000 biscuits were used, in total, to construct the 'Biscuit city' including Chocolate Digestives, Rich Tea, Hobnobs and Fruit Shortcakes.
Aerial View of Biscuit City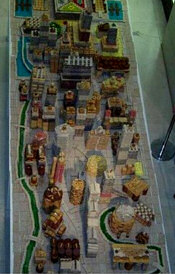 Biscuit City - London Bridge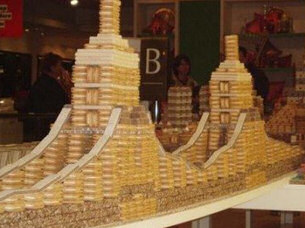 Biscuit City - Paddington Station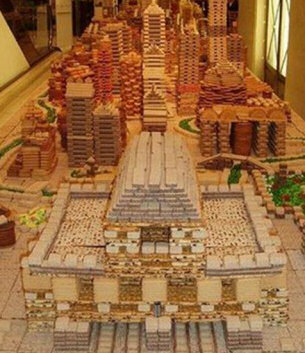 Could that be Canary Wharf in the background?
Biscuit City View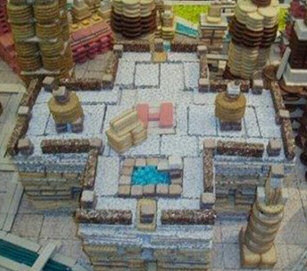 PowerPoint Presentation - Biscuit City, London
Biscuit City (Right click Save Target As)
These are the Biscuit City slides in Will and Guy's PowerPoint Presentation
Biscuit City home
Aerial view of city
Spot the bridges
Ooh chocolate
High rise buildings
Skyscrapers
Bridge
More tall buildings
Up and up
Railway Station
Close up of station
Condominiums
Even more chocolate
Soccer stadium
Various buildings
Fine city view
How to Create a PowerPoint Presentation
Making presentations in PowerPoint is satisfying, moreover, it's easy to get started. The PowerPoint program is intuitive to learn and easy to create your own PPT slides and build them into a slide show. If you have Microsoft Office you may find that you already have PowerPoint along with Word and Excel.
One way to begin is simply to open any example presentation. Just download one of our free PPT files and open it with PowerPoint. As you examine the slides, so it will become obvious how to add pictures and titles, if you do get stuck, ask the wonderful built-in 'Help'. To
make an amazing slide show requires these skills;
Imagination - Think an idea, then build a themed slide set
Artistic - An eye for a good picture
Wordsmith - Choose a catchy title for each slide
Humour - Your viewers will appreciate a funny PowerPoint Presentation
PowerPoint mechanics - Actually, this is the easiest skill of them all, the program is so intuitive.
Good luck with creating your PowerPoint Presentation
Crumb-down - Funny Biscuit Story
A Town Hall 'crumb-down' has been ordered because thieving visitors keep stealing the councillors' biscuits. Bosses at Canterbury City Council, Kent, UK, are fighting back by telling staff to hide the tea trolley during meetings to stop people purloining the biccies.
An unnamed council source said, 'People coming to sit in on the meetings see the trolley and just help themselves. They think it is something that the council lays on for free, but the biscuits are for the councillors not members of the public.'
Footnote: Interesting how we always believe an 'Unnamed source', but always never the official spokesman.