Will and Guy are collecting funny World Cup jokes suitable for
the FIFA World Cup in Brazil. June 12th - July 13th.
Eternal Joke
I met a fairy today who said she would grant me one wish.
"I want to live forever," I said.
"Sorry," said the fairy, "but I am not allowed to grant that type of
wish."
"Fine," I said, "then I want to die when England next win the World
Cup."
"You crafty devil!" said the fairy.
World Cup 2014 - Jokes From Brazil
The England team visited an orphanage in São Paulo
today. "It's heartbreaking to see their sad little faces with no hope,"
said Bernardo, aged seven.
David Blaine is reportedly furious after England
crashed out of the World Cup - his record of doing absolutely nothing in
a box for 42 days was broken by Wayne Rooney.
Why did the chicken cross the road?
According to Fifa's
cameras it didn't
traverse the white line.

I hear Oxo are making a new pr

oduct. The
packaging is white with a red cross and they're calling it the 'Laughing
stock'.
Comedian Simon Brodkin Gatecrashes England's Departure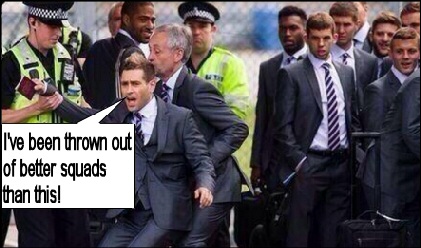 Observe how Simon Brodkin, AKA as Lee Nelson, is booted and suited identically to
the English football squad members, he is even waving his passport.
Brodkin might have got away with his stunt, remember that many of the squad don't
actually know
each other, but fortunately Steven Gerrard knows everybody, he rumbled
Simon's ruse straightaway, and hollered for the security officers.
[Footnote: Brazilians themselves favour humour based on slapstick or
parody.]
England's Heroes Return Home
When the English Football Team flew home from Brazil, they arrived to a
rapturous welcome at the airport. Hundreds of fans clapped, cheered
and waved flags as the team disembarked from the airplane.
Roy Hodgson, the coach, was smiling as he told the waiting reporters.
"I am delighted to be in Scotland and very happy that the plane was
diverted to Glasgow Airport".
Listen Out For Bloopers in Commentary
Perhaps unfairly, David Coleman is forever assocated with Colemanballs
during his commentary. Here are 5 classic football bloopers:
If that had gone in it would have been a goal. David
Coleman
Don't tell those coming in now the result of that fantastic match.
Now let's have another look at Italy's winning goal. David
Coleman
England don't have to score tonight, but they do have
to win. Billy McNeill, Football Pundit
I am a firm believer that if you score one goal the other team have to score two to win.
Howard Wilkinson
Wilkins sends an inch perfect pass to no one in particular. Byron Butler
World Cup 2014 Mascot
Fuleco The Armadillo
Fuleco the Armadillo will be the official mascot for the 2014 World Cup.
Ful denotes from Futebol (Football) and eco is short for Ecologia (Ecology).
The beast is a representation of the Brazilian three-banded armadillo
which is an endangered. Naturally, the mascot carries the colors of the
Brazilian flag the armadillo is yellow, with green shorts and a blue shell.
Fuleco is dressed in a white shirt emblazed with the words "Brazil 2014".
Match Fixing
Nigeria and Argentina's 1-1 draw will go ahead on 25th June, despite
match fixing allegations.
The Laws of Football
At one point during a football match in Brazil, the coach said to one of his young players, 'Do you understand what cooperation is? What a team is?' The little boy nodded in the affirmative. 'Do you
understand that what matters is how we play together as a team?'
The little boy nodded yes.
'So, 'the coach continued, 'When offside is given, or a foul is not seen, you don't
argue or swear or attack the
referee. Do you understand all that?'
Again the little boy nodded.
'Good', said the coach, 'Now go over there and explain it to your mother.'
World Cup 2014 One-liners
Question: Why won't the English fans get a cup of tea
during the Italy game?
Answer: All the mugs
are on the pitch.
Interviewer: What do you think of the Brazilian
squad announced by Italy?
Roy Hodgson: I thought
we were only allowed 23 players. Tell me, how many is a Brazillion?
Medical School
A medical professor had just finished a lecture on the subject of mental health and started to give an oral quiz to the first years. Speaking specifically about manic depression, the senior doctor asked, 'How would you diagnose a patient who walks back and forth screaming at the top of his lungs one minute, then sits in a chair weeping uncontrollably the next?'
A young man in the rear of the room raised his
hand and answered, 'A World Cup football coach?'
The 2014 World Cup Ball

The ball is a new 6-panelled 'Brazuca' made by Adidas. It's
interesting how each World Cup rubbishes the previous ball, and then makes
zillions through producing a new super-duper ball.
Contrast the 2014 ball with those of the first World Cup final in 1930, the first half of
that first final was played with an Argentinian ball, while in the second
half they used a ball made in Uruguay - unbelievable!
This 1930 final was the original 'game of two halves'.
Half time: Uruguay 1 : 2 Argentina
Full time: Uruguay 4 : 2 Argentina
Court Ruling from the UK
A seven year old boy was at the centre of a courtroom drama yesterday
when he challenged a court ruling over who should have custody of him.
The boy has a history of being beaten by his parents and the judge
initially awarded custody to his aunt, in keeping with the child custody law
and regulations requiring that family unity be maintained to the degree
possible.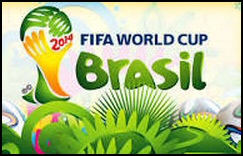 The boy surprised the court when he proclaimed that his aunt beat him
more than his parents and he adamantly refused to live with her. When the
judge suggested that he live with his grandparents, the boy cried out that
they also beat him.
After considering the remainder of the immediate family and learning that
domestic violence was apparently a way of life among them, the judge took
the unprecedented step of allowing the boy to propose who should have
custody of him.
After two recesses to check legal references and confer with child
welfare officials, the judge granted temporary custody to the England
Football team, whom the boy firmly believes are not capable of beating
anyone.
Funny World Cup Stories
World Cup Football -
Car Insurance
Car insurance companies in the England will be pleased if England crash out of the
2014 World Cup in the early stages.
Based on information collated from the
2010 World Cup it appears that England's drivers crash their cars more often
on England match days. In 2010 crashes leapt by some 17% generally during the whole tournament.
Back in 2006, accident figures when England played against Portugal and lost on
penalties rose by over 42%.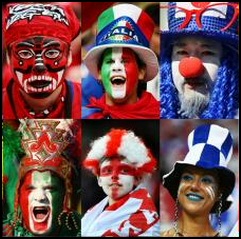 Funny Scouser Soccer Story
Memory Man
Robbie, the Scouser, [person born in Liverpool, England], is touring
America on holiday and stops in a remote bar in the hills of Montana. He's
chatting to the barman when he sees an old native American sitting in a
corner-complete with full tribal gear, long plaits and wrinkles.
'Who's
he?' enquires Robbie.
'That's the Memory Man,' responds the barman. 'He
knows everything. He can remember any sporting fact. Go and try him out.'
So Robbie wanders over and asks, 'Who won the 1965 FA Cup Final?'
'Liverpool,' replies the Memory Man.
Robbie is flabbergasted.
'Who did
they beat?'
'Leeds,' is the reply.' And the score?'
'2-1.'
Amazed but not totally convinced Robbie Dave tries something more
specific.
'Who scored the winning goal?'
Without blinking the native
American replies, 'Ian St John.'
Robbie, the Liverpudlian returns home and regales his relatives and
friends with his tale, and he's determined to return and pay his respects to
this amazing man.
Ten years later he has saved enough money and returns to
America. After weeks of searching through the towns of Montana, Dave Robbie,
the Scouser steps forward, bows and greets the old man in his traditional
native tongue, 'How.'
The Memory Man squints at Robbie and says, 'Diving header in the six-yard
box.'
World Cup Records That Are Unlikely to be Broken in Brazil 2014
Number of individual goals scored in the competition - 13 (Just
Fontane in 1958)
Attendance - 173,000 [++] in the Estádio do Maracanã. (Brazil 1 : 2
Uruguay)
Youngest World Cup player - 17 years 41 days (Norman Whiteside
Northern Ireland 1982)
Fastest red card - 56 seconds, Batista on Gordon Strachan (1986)
Only one Englishman has won the Golden Boot (Gary Lineker 1986)
Football Philosophy
In football everything is complicated by the presence of the opposite
team. Jean Paul Sartre
Everything I know about morality and the obligations of men, I owe it
to football. Alfred Camus (Philosopher and goalkeeper)
Some Funny, Short Soccer Jokes
Tax Problem
Apparently, the England FA is under investigation by the HMRC
for tax evasion. Word is Lancaster Gate have been claiming for Silver Polish for
the past 48 years.
God's Football Team -v- Devil's Team
God, and the devil were each having a holiday in hyper-space. The
topic of conversation turned to who could turn out the best football team.
Much to the God's surprise the devil proposed a football match to settle
their dispute.
As God was leaving he said to the devil,
"Don't you realise that all the
'good' players go to heaven?"
The devil, smiling, responded "Yeah, but we've got all the refs!"
See funny soccer referee jokes.
Note: Anybody who watches three games of football in a row should be declared brain dead. Erma Bombeck
Scottish Referee
What do you call a Scottish player in the first round of the World Cup?
The Referee. [Funny how one referee joke reminds you of another]
World Cup Referee
It was the World Cup Final dinner and dance held in the evening, after
the final. The festivities were in full swing when three newcomers
arrived without tickets. 'It's all right,' said one, 'we're friends of the
referee.'
'Whoever heard of a referee with three friends?', said the
bouncer as he threw them out.
Funny Football Snippets
An edition of Observer Sport Monthly featured a small item about a Moroccan parachutist. The one who, at the opening ceremony for the 1988 African Nations Cup in Casablanca, watched by royalty and the most
important men in world football, delayed kick-off by missing the pitch and getting tangled up in the floodlights, where he hung upside down for 45 minutes.
During the last Nations Cup in Mali two years ago, there was a full-scale punch-up on the pitch, involving a Cameroon
coach and Malian soldiers. The coach, a former World Cup goalkeeper, had placed a charm in the Mali net. Witchcraft, juju, call it what you like.
My favourite was the tale of the South African team which drove out of town, walked backwards and barefoot off the team
bus into the bush until they found a termite mound, urinated on it, then walked backwards to the bus again - and still didn't
win the league.
A Manchester cinema, for the World Cup Finals 2002, offered sushi-flavoured popcorn for England's
matches.
'I understand you're a member of the school football team,' said a
visiting uncle to his eleven-year-old nephew Jimmy. 'What position do you play?'
'I'm not sure,' answered Jimmy, 'but I think I heard the teacher say that
I was the team's main drawback.'
Fouler English
Published in The Times June 2 2014
Sir, Your leader "Fouler English Usage" (May 31) reminds me of the way
the word was used with true mastery by a Celtic supporter at a football
match at Aberdeen in the 1970s, where his team were losing to the home side.
In response to a local supporter who admonished him for effing and blinding
his way through the first half, he shouted: "Ya effin' auld effer, ya effin'
couldn'y even effin' spell effin' effin!"
My companion at the match, a junior Oxford don, observed with some
admiration: "What extraordinary economy of language -- that was noun,
adjective, verb, adverb all from one word in one sentence -- and including a
gerund too!"
Richard Lingham
Devoran, Cornwall
World Cup 2014 One-liners
Question: What lights up the Sao Paulo sky at night?
Answer: A Brazilian football match.
------------------------------------------------
Surely you can do
better than the above?
Please send us your 2014 World Cup jokes and
funny stories.
See more Football stories and jokes:
•
2014 World Cup jokes •
Footballer nicknames •
Football bloopers •
Funny footballer quotes
• Funny jokes
about football •
Football jokes
•
Funny football pictures •
Funny football stories
• Funny World Cup
stories
• Football
4
women •
Funny Super Bowl jokes
• Funny football photos