• Medical Joke: Two Men in a Hospital Ward
• Hospital Joke: National Health Service
• The Story of the Crabby Old Man
Two Men in a Hospital Ward
Two men, both seriously ill, occupied the same hospital room. One man was allowed to sit up in his bed for an hour each afternoon to help drain the fluid from his lungs. His bed was next to the room's only window. The other man had to spend all of his time flat on his back.
The men talked for hours on end. They spoke of their wives and families, their homes, their jobs, their involvement in the military service, where they had been on vacation.
Every afternoon when the man in the bed by the window could sit up, he would pass the time by describing to his roommate all the things he could see outside the window.
The man in the other bed began to live for those one-hour periods where his world would be broadened and enlivened by all the activity and colour of the world outside. The window overlooked a park with a lovely lake. Ducks and swans played on the water while children
sailed their model boats. Young lovers walked arm in arm amidst flowers of every colour and a fine view of the city skyline could be seen in the distance. As the man by the window described all this in exquisite detail, the man on the other side of the room would close his eyes and imagine the picturesque scene.
One warm afternoon the man by the window described a parade passing by. Although the other man couldn't hear the band - he could see it, in his mind's eye as the gentleman by the window portrayed it with descriptive words.
Days and weeks passed. One morning, the day nurse arrived to bring water for their baths only to find the lifeless body of the man by the window, who had died peacefully in his sleep. She was saddened and called the hospital attendants to take the body away.
As soon as it seemed appropriate, the other man asked if he could be moved next to the window. The nurse was happy to make the switch, and after making sure he was comfortable, she left him alone.
Slowly, painfully, he propped himself up on one elbow to take his first look at the real world outside. He strained to slowly turn to look out the window beside the bed. It faced a blank wall. The man asked the nurse what could have compelled his deceased roommate who had described such wonderful things outside this window. The nurse responded that the man was blind and could not even see the wall.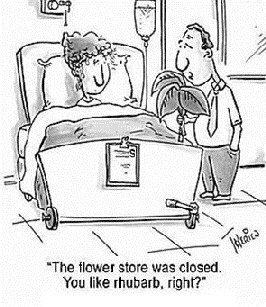 Patient Statements
These are statements medical staff wrote about their patients. They were collected from those clip-boards that you see at the end of the patient's bed. Fortunately, the doctors and nurses were in too much of a hurry to check what they were writing:
Patient has three teenage children, but no other abnormalities.
On the third day, the elbow was better, and then on the fourth day it disappeared.
Discharge status: Alive, but without my permission.
The patient refused autopsy.
The patient has no previous history of suicides.
Patient has left white blood cells at another hospital.
I saw your patient, Mrs Jones, today. She is still under our car for osteoporosis.
The Story of the
Crabby Old Man
When an old man died in the geriatric ward of a nursing home in North Platte, Nebraska, USA, it was believed that he had nothing left of any value. Later, when the nurses were going through his meagre possessions, they found this poem. Its quality and content so impressed the staff that copies were made and distributed to every nurse in the hospital .
The old man's sole bequest to posterity is his poem and it has since appeared in the Christmas edition of the News Magazine of the St. Louis Association for Mental Health.
What do you see nurses? What do you see?
What are you thinking when you're looking at me?
A crabby old man, not very wise, Uncertain of habit with faraway eyes?
Who dribbles his food and makes no reply When you say in a loud voice, 'I do wish you'd try!'
Who seems not to notice the things that you do.
And forever is losing a sock or shoe?
Who, resisting or not, lets you do as you will,
With bathing and feeding, the long day to fill?
Is that what you're thinking? Is that what you see?
Then open your eyes, nurse - you're not looking at me.
I'll tell you who I am as I sit here so still,
As I do at your bidding, as I eat at your will.
I'm a small child of Ten with a father and mother, Brothers and sisters who love one another.
A young boy of Sixteen with wings on his feet
Dreaming that soon now a lover he'll meet.
A groom soon at Twenty. My heart gives a leap.
Remembering, the vows that I promised to keep.
At Twenty-Five, now I have young of my own,
Who need me to guide, and a secure happy home.
A man of Thirty, my young now grown fast, Bound
to each other with ties that should last.
At Forty, my young sons have grown and are gone,
But my woman's beside me to see I don't mourn.
At Fifty, once more, babies play ' round my knee,
Again, we know children, my loved one and me.
Dark days are upon me. My wife is now dead.
I look at the future - I shudder with dread.
For my young are all rearing young of their own.
And I think of the years and the love that I've known.
I'm now an old man and nature is cruel.
Tis jest to make old age look like a fool.
The body, it crumbles; grace and vigour, depart.
There is now a stone where I once had a heart.
But inside this old carcass a young guy still dwells,
And now and again my battered heart swells.
I remember the joys. I remember the pain.
And I'm loving and living life over again.
I think of the years, all too few, gone too fast.
And accept the stark
fact that nothing can last.
So open your eyes, people, open and see.
Not a crabby old man. Look closer. See . . . ME.
Remember this poem when you next meet an older person who you might brush aside without looking at the young soul within. We will all, one day, be there, too!
Please feel free to share this poem.
The best and most beautiful things of this world can't be seen or touched. They must be felt by the heart.
Hospital Joke: National Health Service
In the beginning God covered the earth with broccoli, cauliflower, and spinach, with green and yellow and red vegetables of all kinds, so Man and Woman would live long and healthy lives.
Then using God's bountiful gifts, Satan created Haagen Das Ice Cream and Magnums. And Satan said: 'You want hot fudge with that?'
And Man said: 'Yes!'
And Woman said: 'I'll have one too ...with sprinkles.'
And lo they gained 10 pounds.
And God created the healthful yogurt that Woman might keep the figure that Man found so fair. And Satan brought forth white flour from the wheat, and sugar from the cane, and combined them. And Woman went from size 2 to size 14.
So God said: 'Try my fresh green garden salad.'
And Satan presented crumbled Blue Cheese dressing and garlic croutons on the side. And Man and Woman unfastened their belts following the repast.
God then said: 'I have sent you heart healthy vegetables and olive oil in which to cook them.'
And Satan brought forth deep-fried coconut king prawns, butter-dipped lobster chunks, and chicken-fried steak so big it needed its own platter. And Man's cholesterol went through the roof.
Then God brought forth the potato, naturally low in fat and brimming with potassium and good nutrition. Then Satan peeled off the healthful skin and sliced the starchy centre into chips and deep-fried them in animal fats adding copious
quantities of salt. And Man put on more pounds.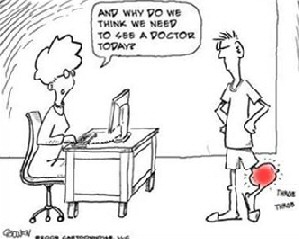 God then brought forth running shoes so that his Children might lose those extra pounds. And Satan came forth with a cable TV with remote control so Man would not have to toil changing the channels. And Man and Woman laughed and cried before the flickering light and started wearing stretch jogging suits.
God then gave lean beef so that Man might consume fewer calories and still satisfy his appetite. And Satan created McDonald's
and the .99 pence double cheeseburger. Then Satan said, 'You want fries with that?'
And Man replied: 'Yes! And super size 'em!'
And Satan said: 'It is good.'
And Man and Woman went into cardiac arrest.
God sighed...and created quadruple by-pass surgery.
And then...Satan chuckled
and created
the National Health Service...............
Good, clean yet free stories and jokes. True stories, after dinner humour, urban myths and humorous short stories.