Everyone is entitled to be stupid, but some abuse the privilege.
Anonymous
Stupid Football Players
A football coach walked into the changing room before a game. He looked over to his new signing and said, 'I'm not supposed to let you play since you failed arithmetic, but we need you to be in the team. So,
what I have to do is ask you a math question, and if you get it right then you will be allowed to play.'
The player agreed, so coach looked into his eyes intently and asked, 'Okay, now concentrate
hard and tell me the answer to this. What is two plus two?'
The player thought for a moment and then answered, '4?'
'Did you say 4?'
the coach exclaimed, excited that he had got it correct.
Suddenly
all the other players on the team began shouting..., 'Come on coach, give him another chance!'
Stupid Football Related Injuries
Lomana Tresor LuaLua will have a scan on the foot injury that has kept him out
of Portsmouth's
last three matches in the English Premiership. The DR Congo striker damaged the joint of his left foot after celebrating an equaliser in the 1-1 draw against Arsenal on April 12 with a
somersault. LuaLua, 25, had promised to refrain from back flips until Pompey were safe from relegation in the Premiership but paid the price for a change of mind.
Dave Beasant, the former England goalkeeper, ruptured his ankle ligaments avoiding a
falling bottle of salad cream he had just taken out of his fridge. He was injured for two months.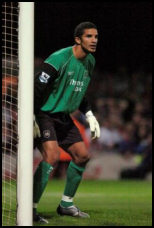 David James, an England goalkeeper, pulled a muscle in his back when reaching for a TV remote control. No wonder they call him '
Calamity James'
.
Santiago Canizares, Spain's
2002 World Cup goalkeeper, missed the matches after he had dropped a bottle of cologne on his foot and injured it.
Rio Ferdinand, the England defender, injured a tendon behind his knee while watching
TV with his foot up on a coffee table.
World Cup
Thief's
Own Goal
A thief who stole a World Cup ticket from a woman's
handbag was caught after sitting down to watch the game next to his victim's
husband.
The 34-year-old mugged Eva Standmann, 42, as she made her way to
the Munich stadium for the Brazil-Australia game at the weekend and discovered the ticket in her bag. He took the woman's
place in the stadium where he was met by her husband Berndt, 43, who immediately called
security. A Munich police spokesman said, 'The thief found the ticket in the bag and decided to watch the game, not expecting to sit next to his victim's
husband, who immediately informed officers on duty at
the stadium.'
Rubbergate - Did Roland Linz
Wear Jewellery?
Austria Magna striker Roland Linz was sent of for supposedly wearing jewellery. However, on appeal Austria's
football league overturned the decision by referee Dietmar Drabek. Nevertheless, it was not all good news for Austria Magna because the disciplinary committee ruled that Austria Magna's
3-0 defeat away to
title rivals Salzburg will stand.
What happened was Austria Magna striker Roland Linz was sent off for a second yellow card in the 28th minute of Sunday's
clash. The referee's
version was he saw the
player taking a bracelet over to his team dugout. Referee Drabek, who had booked an opposition player for wearing jewellery a few moments earlier, told reporters that he had told Linz to remove the bracelet
before the kick-off.
What league leaders Austria Magna wanted was the game replayed. They insist that their player was not wearing a bracelet and had in fact taken some coins and a rubber band off the pitch.
In
delivering a judgement of Solomon,
the disciplinary committee said that it would uphold the appeal against Linz's
dismissal. However, they were not going to sanction a re-match. Earlier on Monday, the league's
refereeing commission
gave its backing to Drabek -- citing FIFA regulations which ban the wearing of jewellery during football matches.
Speaking to the club's
web site shortly after the disciplinary committee's
announcement,
Austria Magna's
sporting director Peter Stöger said the matter, which had been labelled 'rubbergate'
was now closed.
'This judgement shows that mistakes have happened, and that it was therefore right of us
to question events. Of course we cannot say what would have happened if we had played 90 minutes with 11 men, but in the spirit of sport and fairness we accept the result.'
Director Stöger added that the
team would now be concentrate on Sunday's
home match, which coincidentally is against the same opponents, Salzburg. Fortunately as a result of his successful appeal, Linz will be free to play in the game.
For a Football Players Test see here.
Soccer Mascot Injured
During The Warm-up
Chaddy the Owl is Oldham Athletics' team mascot. While their soccer
team are languishing in mid-division, their Owl mascot was suffering in
hospital. Wayne Hurst, who plays Chaddy the Owl decided to take an
impromptu spin on a BMX bike. Just as he passed the stands, the home
crowd cheered so Wayne decided to try a wheelie; well it was a few years
since Wayne had ridden a bike and this episode ended in tears when Chaddy
fell off the bike and tore ligaments in his leg.
The irony was that nobody would believe that he was hurt, everyone
thought his cries of agony were all part of his act. Eventually a St
John's Ambulance man was not fooled and rendered assistance. The 7ft
bird with Wayne inside got the biggest cheer of the afternoon as he was
wheeled off to hospital for an x-ray on his broken wing - sorry sprained
leg.
Later Wayne said in interview, "I set off towards the fans and the bike
went over. I put my leg down to stop it, but went over on my ankle. I knew
as soon as I hit the ground I was in trouble. I was shouting to the stewards
that I'd hurt myself, but they were just laughing at me," continued Hurst.
"Eventually the St. John's Ambulance people came. They wanted me to take my
head off so they could give me gas and air, but I said no. It's an unwritten
rule that I never take my head off in front of a crowd."
Incidentally, Chaddy the Owl swooped to win the Ladbrokes Mascot Grand
National at Huntingdon, it was his second win.
Footnote:
Please send us your stupid football player
stories.
See more clean football jokes and funny stories:
• Football Home •
2014 World Cup jokes •
Stupid footballers •
Football Jokes •
Football bloopers
• Crazy football
bets •
Funny football stories •
Funny footballer quotes •
Footballer nicknames
•
Funny Referee •
Funny football pictures
• Funny football photos •
Funny Super Bowl jokes