To err is human. And to blame it on a computer is even more so.

Robert Orben
A Bad Day at the Office
Video
We have all had them - off days. Times when nothing goes write, or even right.
Hardware faults, application errors, one just follows another.
Here is one such
bad day at the office, recorded for us to observer and share this computer user's
frustration.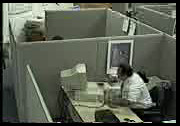 In fact, you should download
the video to eavesdrop on the full story.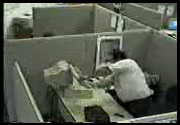 I will let you into a secret, computing jokes are not amongst the
funniest. This short video is more likely to make you cry than to laugh. Nevertheless it's
worth watching, this bad day will make you feel better.
Video - Bad Day at the Office
N.B. With some browsers you need to click twice on the Play arrow

to start the video.
N.B. Help for Mozilla browsers
See more
bad day at the office stories.
Funny Bad Day at The
Office Pictures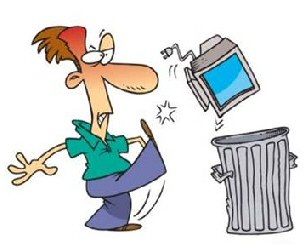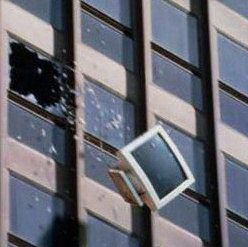 Assorted Funny Computing Disasters
Bad Day for Dell -
Laptop Bursts into Flames
What happened was in the middle of a trade show a Dell laptop burst into
flames. Geeks had claimed for years that their laptops caught fire but
nobody believed them - until that fateful trade show. This was one of
the biggest computer disasters of all time.
'We have captured the notebook and have begun investigating the event,'
Dell spokeswoman Anne Camden reported at the time, and investigate Dell did.
At the end of these investigations the problem was traced to an issue with
the battery/power supply on the individual laptop that had overheated and
caught fire.
It cost a bomb for Dell to sort out. Eventually, Dell decided to
recall and replace 4 million laptop batteries. Unfortunately, the
exploding battery problem did not finish there. Apple reported
dangerous overheating for iPods and Macbooks. Sony who were the
end manufacturer estimated that the overall cost of supporting the recall
programmes of Apple and Dell amounted to 200 million dollars.
Problems
Are Not Confined to the Computer Hardware.
What about the Users?
A woman customer called the Canon computer help desk with a problem with her printer.
Tech support: Are you running it under windows?
Customer: 'No, my desk is next to the door, but that is a good point. The
man sitting in the cubicle next to me is under a window, and his printer is working fine.'
Solution for a Bad Day at the
Office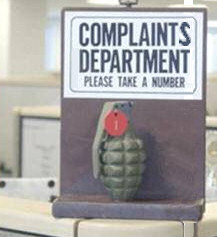 Alternatively,
if it's a network problem you could try
SolarWinds Orion NPM.
Bad Day for Unix?
A lady in the next seat, struck up a conversation with my friend Mick when he
was flying across America.
Lady: 'And where are you going?'
Mick: 'I'm going to San Francisco to a UNIX convention.'
Lady: 'Eunuchs convention? I didn't
know there were that many of you.'
More Funny Bad Day at
the Office Stories
A Funny Story
Have you realised yet that computers are controlling more and more
aspects of our lives? It is a genuine concern as this short story tells us.
For instance, if you've worked in a modern office building, you've
probably come across the ventilation problem: if you get hot, you can't just
open the window. You usually have to ask 'building services', often in a
call centre on the other side of the world, to turn up the air conditioning
via the building's computer system.
However, there is a company in New Zealand Will and Guy have been told
who might be rethinking their reliance on this type of computer control.
Mill St "Pak'n Save Supermarket" in Hamilton, New Zealand was supposed
to be closed for Good Friday.
However, it seems that no one told the Computer in charge of controlling
the shop, meaning that the doors were opened as normal on Friday morning and
the lights turned on, but without any staff being at work.
Naturally the stock didn't stay on the shelves for long; but most of the
"customers" didn't go to the trouble of paying for it, although some did,
using the automated checkouts.
Will and Guy are beginning to think that maybe it's time to rethink how
much power we give to our Computers.
Can You Remove Sand From a Computer?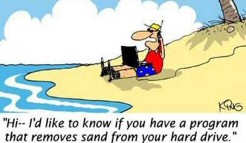 Typist Returning From Long Lay-Off
Click on the Play arrow

Footnote:
Please send us your funny bad day at the
office stories.
See more clean computer jokes, videos and funny pictures