To err is human. And to blame it on a computer is even more so.
Robert Orben
Sponsored Links
∇
A Bad Day at the Office Video
We have all had them - off days. Times when nothing goes write, or even right. Hardware faults, application errors, one just follows another. Here is one such bad day at the office, recorded for us to observer and share this computer user's frustration.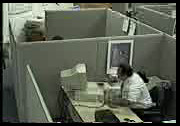 In fact, you should download the video to eavesdrop on the full story.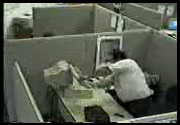 I will let you into a secret, computing jokes are not amongst the funniest. This short video is more likely to make you cry than to laugh. Nevertheless it's worth watching, this bad day will make you feel better.
Video - Bad Day at the Office
N.B. With some browsers you need to click
twice
on the Play arrow

to start the video. N.B. Help for Mozilla browsers