Will and Guy love cricket, here are a few of our favourite match reports.
Cricket Report - Leeds
An amateur cricketer hit an astonishing 42
runs in one over. Jonathan Hughes, 29, from Cookridge, Leeds, achieved the feat in only his second innings for North Leeds, reports both the Yorkshire Post and BBC Radio 5 Live News.
He smashed six sixes, a
four and a two off an over from Hall Park medium-pace bowler Craig Hobson, 41, in the Airedale and Wharfedale League's
Waddilove Cup. Hobson bowled two no balls, giving Hughes two extra balls to achieve his
total. The no balls also meant the over was worth a total of 44 runs to North Leeds.
Hughes, who scored an unbeaten 126 in total, told Radio 5 Live, 'The first three balls went for six but I didn't
realise
the first was a no-ball. The scoreboard then showed I was on 98 so I pushed the next delivery, which was also a no-ball, to midwicket for two to reach my hundred. That left four balls to go and the next three
went for six and the last for a four. It seemed to take forever because of the time spent looking for the ball.'
Hobson told the Yorkshire Post, 'It's
the kind of record you don't
want. I wanted the ground
to open up but You've just got to carry on with the game and put it behind you.'
Cricket Tale:
The opening England batsmen in a one day match against Australia were Marcus Trescothick and a new batsman yet to have appeared on the world stage: his name was Slugger Hammond.
Brett Lee, the pace bowler, opened the bowling for Australia. The first ball went fizzing past the off-stump: 'wooooooooph'
, and was collected by the wicketkeeper, Adam Gilchrist.
Slugger Hammond did
not as much as budge from his place. Lee bowled his second, third and fourth balls: 'woooooooph.... woooooooooph...wooooooooph'
.
Slugger stood stock still just like a statue.
The umpire declared the
fifth delivery, 'No ball'.
Like a true professional Slugger Hammond went down the pitch tapping away at the ground until he reached Trescothick and said, 'I knew from the very beginning the fellow did
not have a ball in his hand.'
'Howzat' Says 13
Year Old Cricketer - 6 Times
Remarkable Report of a Double Hat-Trick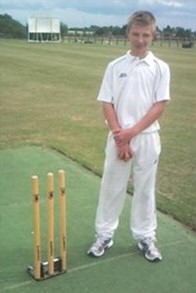 Josh, 13, pictured right, has taken not one but TWO hat-tricks in one
match - something that's not been done in over 100 years. An amazing feat of
prowess write Will and Guy.
As if bowling one hat-trick - that's three wickets in a row - wasn't
enough, Josh did it again in the next over. He helped his team bowl out the
opposition for 14 runs as his team went on to win the match.
A Rare Feat
Cricket historians think the last time a double hat-trick took place was
back in 1907. After taking his place in the record books, Josh revealed the
secret to his success to his local newspaper. 'I was just bowling straight
and aiming for the feet.' he told The Cambridgeshire Times. He clean
bowled five batsmen and was grateful to his team-mates when one was caught.
His very proud mum Marie was watching, and she told us, 'We're a
cricketing family - and he'd love to play professionally when he's older.'
Hat Trick
Question: How could a cricket hat-trick span 3 overs?
Answer:
See
here
Suffolk Teenage
Cricketer Breaks Records and Out Scores Sir Garfield Sobers and Yuvraj
Singh
Many cricket lovers will remember with affection the immortal Garfield
Sobers hitting 6 sixes in an over; younger watchers may have seen Yuvraj
Singh achieve the same feat. Not many people were able to witness Jamie Lee
hitting 11 sixes in 12 balls.
Jamie Lee, 18, normally plays for Mildenhall Cricket Club's First Xl but
was playing for the Second Xl because of a shoulder injury; he is, in fact,
known as a bowler which, say Will and Guy, makes the story all the more
remarkable.
'Luckily, my shoulder injury didn't affect my batting,' the teenager from
Suffolk, England, cricketer told us with a broad smile. In the first over,
Jamie thrashed all six deliveries from a spin bowler over the boundary. In
the next over, Jamie, again, faced a spin bowler: this time he swung at the
first ball - and missed; however, he middled the next five, chalking up 66
runs in just 12 balls. Incredible.
Jamie, who scored a further five sixes in his 132 not out, commented, 'I
smashed most of the sixes straight over the bowler's head. It was a
brilliant feeling. There were some polite claps when I got my first six and
then the excitement mounted. People were cheering on the boundary and when I
got my sixth six in a row, they just went mental.'
Not surprisingly his batting led Mildenhall to a swift victory: they beat
the 208 runs knocked up by Walsham-le-Willows in a mere 13 overs -
absolutely incredible.
Superb Schoolboy, Armaan Jaffer, Sets New Indian Cricket Record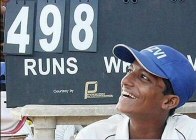 Thirteen-year-old Armaan Jaffer has set the record for the highest score
by a schoolboy in India.
The nephew of former Indian Test opener Wasim Jaffer, the youngster
smashed 498 runs off 490 balls in an under-14 Giles Shield match.
Jaffer, playing for Rizvi Springfield School against IES Raja Shivaji
Vidyalaya in Mumbai, scored his runs in a two-day innings.
The previous record of 461 was set by Nagpur's Ali Zorain Khan.
Jaffer hit 77 fours as he played in a free-flowing manner not associated
with the more obdurate style of his uncle Wasim, who scored 1,944 runs in 31
Tests, including five centuries, before his last international outing in
2008
'I had decided not to play any aerial shots,' Armaan told the Hindustan
Times. 'I knew as long as I occupy the crease, the runs will keep
flowing. It would have been better if I had got 500, but there is no
grudge.'
Will and Guy add their congratulations to the many already received by
Armaan. A superb effort.
Footnote
Please send us your interesting cricket
report.
[humor/_bits/keywords_sports_english.htm]
See more sports jokes and funny stories:
• Colemanballs •
Basketball • Soccer
• Tennis jokes •
Baseball jokes •
Funny sport quotes
• Clean cricket jokes •
Funny cricket stories • Cricket nicknames • Sports nicknames
• Sports Home •
Clean golf jokes • Funny golf pictures
• Rugby
nicknames • Rugby stories