Here are a few choice excerpts taken from Housekeeping monthly - May 1955
Never complain if he comes in late.
Don't
ask him questions about his actions.
His boring day may need a lift, it's
your duty to provide it.
A good wife knows her place.
Prepare the children.
Enjoy the
Full Article!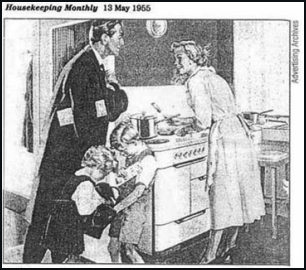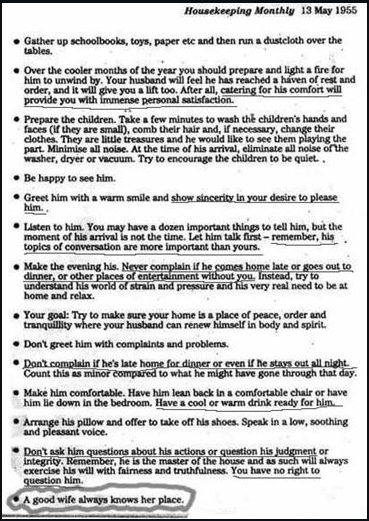 Rules
Issued to Female Teachers
by the Los Angeles District in 1915
You will not marry during the term of your contract.
You are not to
keep company with men.
You must be home between the hours of 8 p.m. and 6 a.m. unless attending a school function.
You may not loiter downtown in ice cream stores.
You may not travel beyond
the city limits unless you have the permission of the chairman of the board.
You may not ride in a carriage or automobile with any man unless he is your father or brother.
You may not smoke
cigarettes.
You may not dress in bright colours.
You may under no circumstances dye your hair.
You must wear at least two petticoats.
Your dresses must not be any shorter than two
inches above the ankle.
To keep the school room neat and clean, you must: sweep the floor at least once daily; scrub the floor at least once a week with hot, soapy water; clean the blackboards at least
once a day; and start the fire at 7 a.m. so the room will be warm by 8 a.m.
The Good Wife's Guidance After Marriage
Daniel and Jessica, young couple, got married and went happily on their
honeymoon. When they got back, Jessica immediately 'phoned her mother and
her mother obviously asked, 'How was the honeymoon, dearest?'
'Oh, Ma,' she replied, 'the honeymoon was wonderful. So romantic...'
Then Jessica
burst out crying. 'But, Ma, as soon as we returned home Daniel started using
the most ghastly language... saying things I've never heard before! I mean,
all these awful 4-letter words! You've got to come get me and take me
home.... Please Ma.'

'Calm down, Jessica!,' said her mother, 'Tell me, what could be so
awful? What 4-letter words?'
Still sobbing, Jessica whispered, 'Oh,
Ma...words like dust, wash, cook, and iron.'
Remarkable Good Wife Guide
from the 1940s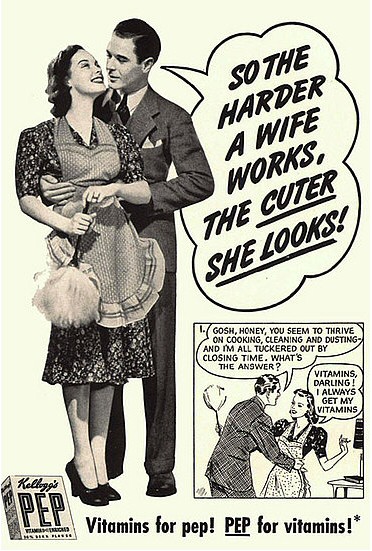 Kellogg's Pep was a whole-wheat breakfast cereal introduced in the 1920s.
The addition of vitamins made it one of the first "fortified" cereals.
Incidentally, it used the trick later copies by crisp companies, it sprayed
on the vitamins
Later Pep used the age-old trick of giving away a trinket in each box.
All-in-all Kelloggs produced 5 series of comic characters with 18 different
buttons in each set
Good Husband
The homeowner was delighted with the way the painter had done all the work on his house.
'You did a great job,' he said and handed the man his money.
'Also, in order to thank-you, here's an extra $80 to
take the missus out to dinner and a movie.'
Later that night, the doorbell rang and it was the painter. Thinking the painter had forgotten something the man asked, 'What's the matter, did you forget
something?'
'Nope.' replied the painter. 'I'm just here to take your missus out to dinner and a movie like you asked.'
Good Women Are Hard to Find
Nigel and Stephen, are keen fishermen and wine drinkers; here you can see a
photo taken while they are enjoying some night fishing while on holiday, with
their wives, in Poitou-Charente, France, last year.
Slurping a large Bordeaux Supérieur, Nigel announces, 'I think I'm going to divorce my wife, she hasn't
spoken to me in eighteen months.'
Stephen downs his glass of the red wine thoughtfully and after a while
responds, 'Think it over a bit more, Nige; women like that are hard to find.'
Footnote:
Nigel's wife has been missing a week now.
Police said to prepare for the worst. So Nigel had to go to the charity shop
to get all her clothes back.
Good Wife Guide - Updated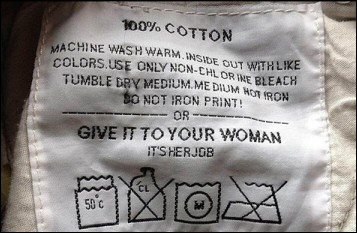 Came Back a Little Shrunk!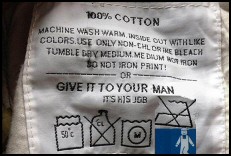 Footnote:
Please send us your items for 'A Good Wife
Guide'.