A happy man marries the girl he loves; a happier man loves the girl he marries. Anon
Clean Wedding Toasts

"Toasting" has its roots in France, where the French have a tradition for putting a piece of bread into a champagne filled glass so as to absorb sediments. Remember that during the wedding toast, the bride and groom are not supposed to raise their glasses during the toast, it's a moment where others raise their glasses to the bridal couple.
To the bride - She needs no eulogy - she speaks for herself.
A happy man marries the girl he loves; a happier man loves the girl he marries. Anon
They do not love that do not show their love - William Shakespeare
Love is friendship set to music - Anonymous
To love someone deeply gives you strength. Being loved by someone deeply gives you courage - Lao Tzu
Love does not consist in gazing at each other, but in looking outward together in the same direction - Antoine de Saint-Exupery
Love is life - Leo Tolstoy
Love is a canvas furnished by nature and embroidered by imagination - Voltaire
May your love be like the misty rain, gentle coming in but flooding the river - Traditional African proverb
Marriage is like a golden ring in a chain, whose beginning is a glance and whose ending is eternity - Kahlil Gibran
We never live so intensely as when we love strongly. We never realize ourselves so vividly as when we are in full glow of love for
others - Walter Rauschenbusch
There is only one happiness in life, to love and be loved - Georges Sand
Without love, the world itself would not survive - Lope de Vega
When love reigns, the impossible may be attained - Indian proverb
Ten Funny Wedding Toasts by the Famous
You can write the toast yourself, or you can get a book of wedding toasts and then modify one. If you are going to make a funny wedding toast, then it must come from the heart.
Do practice the toast until you can recite it naturally and without hesitation. Finally, to gain extra confidence find out precisely at
what point during the reception you should give the toast. If in doubt, give it immediately after the blessing.
Nobody will ever win the battle of the sexes. There's too much fraternizing with the enemy.
In olden times sacrifices were made at the altar, a practice which is still continues. (Helen Rowland)
Keep your eyes wide open before the wedding, half shut afterwards. (Benjamin Franklin)
By all means marry; if you get a good wife, you'll be happy. If you get a bad one, you'll become a philosopher. (Socrates)
A husband is like a fire, he goes out when unattended. (Evan Esar)
My wife dresses to kill. She cooks the same way. (Henny Youngman)
A good wife always forgives her husband when she's wrong. (Milton Berle)

To be hap

py with a man, you must understand him a lot and love him a little. To be happy with a woman, you must love her a lot, and not try to understand her at all.
I was married by a judge. I should have asked for a jury. (George Burns)
Love is an ideal thing, marriage a real thing. (Goethe)

The Wedding MC Joke Book
How even a nervous, first-time
Wedding MC with no comedy experience
can
entertain and dazzle the wedding guests with 101
funny, clean, and
'field-tested' wedding jokes.
Buy
your Joke Book here! Only $19.99
More Clean One-liners for Your Wedding Toast
Remember to tell the wedding reception who you are. Although the immediate family know you, some guests may not realize your connection to the bride and groom. Thus introducing yourself is not only good manners, but also makes you more interesting to the rest of the audience.
Here's to the women who love me terribly. May they soon improve.
Losing a wife can be hard. In my case, it was almost impossible.
I haven't spoken to my wife in 18 months - I don't like to interrupt her.
My girlfriend told me I should be more affectionate. So I got two girlfriends.
I married Miss Right. I just didn't know her first name was Always.
How do most men define marriage? A very expensive way to get your laundry done free.
The most effective way to remember your wife's birthday is to forget it once.
After his husband forgot the wedding anniversary, his wife tells him: 'You'd better have something in front of the house, tomorrow, which goes from 0 to 100 in 4 seconds.'
The next day, she finds on the road, a bathroom scale.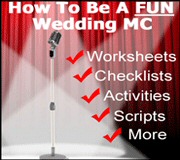 General Toasts That Can Be Modified for a Wedding
May you live as long as you want, and never want as long as you live.
May your fire never go out.
May your well never run dry.
May we be alive at this time next year.
May the roof above you never fall in and those gathered beneath it never fall out.
May the hinges of our friendship never grow rusty.
What Kind of Wedding Do You Want, My love?
'I dreamed of a wedding of elaborate elegance,
A church filled with family and friends.
I asked him what kind of a wedding he wished for,
He said one that would make me his wife.'
Anonymous
Footnote: Please write to Will and Guy if you have any funny wedding toasts.
Get your MC Wedding Joke book only $19.99