Dachshund dogs take part in the John Morrell 'Running of the Wieners**' This race over a distance of 50 feet is held in Cincinnati, USA.
** A Wiener is made of smooth-textured sausage of minced beef
or pork. The Wiener is usually smoked and served in a bread roll and thus becomes a 'Hot dog'.
John Morrell's Weiner No 1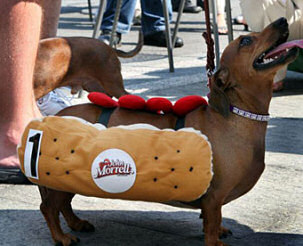 Dachshund
Events:
The dachshunds compete in 3 groups:
Little Smokies [younger than a year]
Frankfurters [ages 1-5]
Senior Sausages [more than 5 years old]
They're Off and Running - Hot Dogs!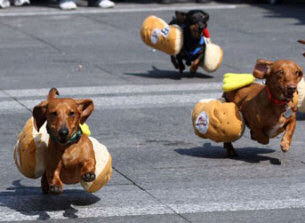 Interested Dachshund
Spectator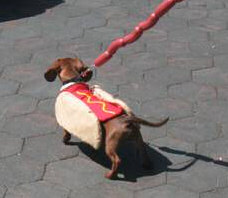 Hot Dog Fan Club?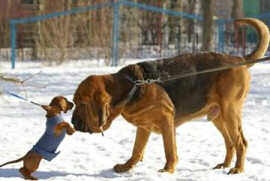 Hot dog meets cold dog?
Dachshund - Finger-licking
Update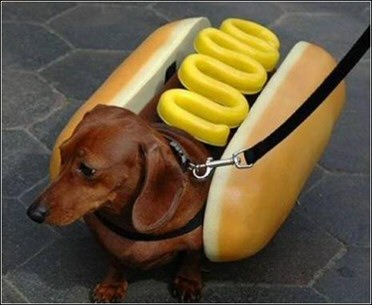 More Fancy Hot Dogs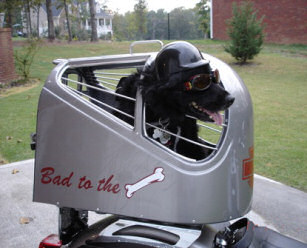 Footnote
Please send us your funny hot
dog pictures.
See more funny dog pictures, videos, jokes and stories
•
Funny dog pictures •
Dog rocket •
Smart 'Blackie' •
It's a dog's life •
Funny dog signs
•
Funny dogs videos •
Dog & cat fight •
Dog ice cream •
Cat in dog basket •
Dog video
•
Hotdog •
Funny shaggy dog stories •
Cute fancy dogs
• Funny Christmas dogs • Home