Study this
funny golf demonstration very carefully. Will and Guy have
some questions for you about the sequence.
The golf professional starts his spiel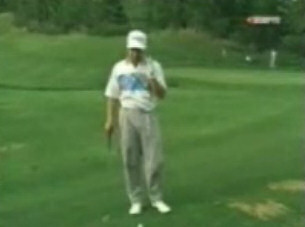 Our golf pro talks us through his swing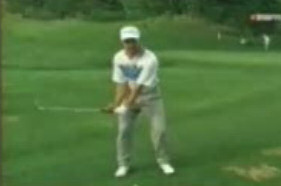 After about 2 minutes of theory we see the golf pro demonstrate a shot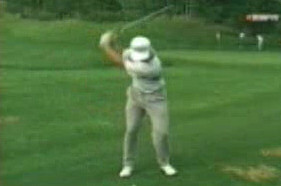 Tip (mis-hit) or Trick (shot)
Here is the crucial question: Is this a
true mis-hit, or is it a clever trick shot?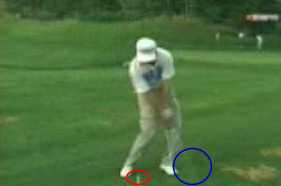 Above: The red circle
shows the golf ball rising vertically. The blue circle shows the club head which has missed the shot, yet just caught the very top of the ball.
Here the professional catches the ball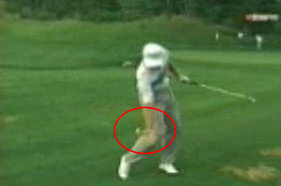 Will favours a clever trick shot. Guy thinks the golf pro is so busy talking it's a
mis-hit. See the video and make up your mind.
N.B. With some browsers you need to click twice on the Play arrow

to start the video.
N.B. Help for Mozilla browsers
Free Download of Golf Pro Tip (Right click, Save Target As)
If the video does not help you could do worse than read this book.
New Book: How to Play Golf
Here is Will and Guy's Précis of the Contents:
Chapter 1 - How to Properly Line Up Your Fourth Putt
Chapter 2 - How to Hit a Maxfli from the Rough When You Just Hit a
Titleist from the Tee
Chapter 3 - How to Avoid the Water When You Lie 8 in a Bunker (also see
Chapter 9)
Chapter 4 - How to Get More Distance off the Shank
Chapter 5 - When to Give the Ranger the Finger
Chapter 6 - Using Your Shadow on the Greens to Maximize Earnings
Chapter 7 - When to Implement Handicap Management
Chapter 8 - Proper Excuses for Drinking Beer Before 9:00 a.m
Chapter 9 - How to Find That Ball That Everyone Else Saw Go in the Water
Chapter 10 - How to Relax When You Are Hitting Three off the Tee
Chapter 11 - When to Suggest Major Swing Corrections to Your Opponent
Chapter 12 - When to Re-grip Your Ball Retriever
All Bets Are Off If You Don't Quit Laughing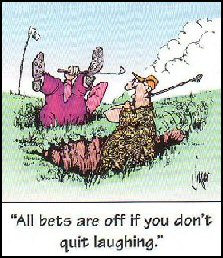 See more funny golf pictures.
See more golf jokes and funny pictures:
•
Clean golf jokes • Funny golf pictures
•
Funny golf cartoons
• Golfing quotes • Sports Home
• Funny golf stories • Funny golf video
• Women's golf jokes
• Dangerous Golf Courses • Home
• Cricket
stories
• Colemanballs •
Baseball jokes •
Super Bowl jokes •
Golf phone calls