Here is our selection of funny football pictures and amusing articles, and
stupid footballer's remarks.
Do
Not Wear Football Boots on the Pitch!
They must have know that the Colombian team was in town!
Most international footballers get new boots every game but not the
Columbians. The Colombian football team, who have not qualified for the World Cup but play Germany in a friendly, had to cancel their
training session Wednesday because they had no boots.
The South Americans arrived earlier in the day from Poland where they
beat the Polish side. The players' boots somehow went walkabout
between the two destinations.
Wurst Boots Ever? - Funny Football Boots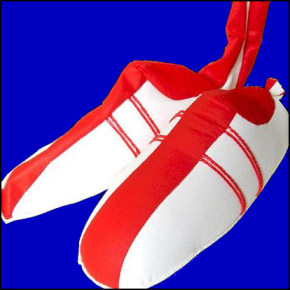 Better Than Nothing!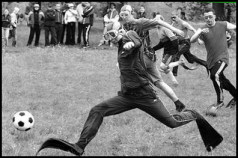 Underwater Ice Hockey
The first ever World Cup in the new extreme sport of underwater ice hockey has been staged in the frozen lake of Weissensee [White Sea lake] in Austria over the last weekend in February.
Eight international teams from Austria, the Czech Republic, Finland, Germany, the Netherlands, Poland, Slovakia and Slovenia, competed under 30 centimetres [12 inches] of ice in 2-degree Celsius [35 degrees
Fahrenheit] water and without oxygen tanks.
The players, wore wetsuits, masks and flippers, chased a Styrofoam puck around a "rink" six metres wide and eight metres long, having to resurface every 30 seconds for air through special holes drilled in the
ice.
In the final on Sunday, Finland defeated Austria to finish first, while Slovakia was placed third.
Guy's
Weather Stone
Here we have trusty technology from the past:
Crowds for The
Big Match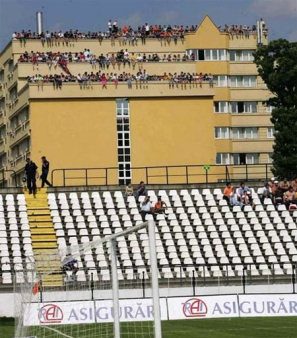 Funny Football Picture - Nicu wrote in to say he thinks this photo was
taken in Romania, because Asigurari means insurance in Romanian.
Stupid Football Remarks
And now an International Soccer Special, Manchester United v Southampton.
David Coleman
Real possession football, this. And Zico's
lost it.
John Helm
52,000 people here at Maine Road tonight, but my goodness me, it seems like 50,000.
Byron Butler
I think Charlie George was one of Arsenal's
all time great players. A lot of people might not agree with that, but I personally do.
Jimmy Greaves
That goal surprised most people, least of all myself.
Garth Crooks
Nottingham Forest are having a bad run, they've lost six matches in a row now without winning.
David Coleman
He hit the post, and after the
game people will say, well, he hit the post.
Jimmy Greaves
At the end of the day, the Arsenal fans demand that we put eleven players on the pitch.
Don Howe
See more stupid footballer's quotes.
Funny Football Picture
I wish that our goal keeper had this long!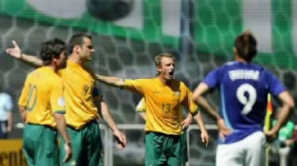 Footnote:
Please write to Will and Guy if you have any funny football pictures.
See more clean football jokes and funny stories:
• Football Home •
2014 World Cup jokes •
Stupid footballers •
Football Jokes •
Football bloopers
• Crazy football
bets •
Funny football stories •
Funny footballer quotes •
Footballer nicknames
•
Funny Referee •
Funny football pictures
• Funny football photos •
Funny Super Bowl jokes