1) What a
Hotel in York Keeps in Its Wine Cellar:
Staff at a Grade I listed Georgian town house hotel in the centre of York,
England welcomed an unusual guest in from the pouring rain - a drenched ferret. The ferret scuttled into the Judges'
Lodgings Hotel when the
door opened one wet night, reports the Yorkshire Evening Press.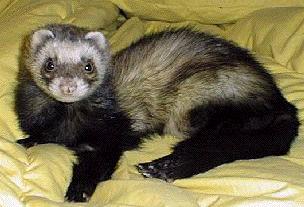 Staff named the ferret Pierre, because they thought he looked French, and they have ' put him up' in a cardboard box in the wine cellar.
They say he seems tame - despite nipping a number of workers - and are hoping the ferret's owner comes forward to take him home.
Duty manager Catherine Bell said, 'We'
d opened the door to let someone come in, and the ferret scuttled in
with them.'
He was soaking wet, so I think he'
d been outside for at least a couple of hours.'
Assistant manager Julie Smith continued, 'The night porter caught him and put him in the wine cellar, in a crisp box.' We did some research on the internet, and found that ferrets like kitten food. So, We've gone out to buy some. He has bitten some people, but so far he's
left me alone.'
Ferret Story (No Picture!)
2) Ferret with only two
legs
At the fabric counter of Heelas department store [John Lewis] in Reading, UK, the very pretty Rebecca enquired of the male counter staff, 'I would like to buy this material for a new dress. How much
does it cost?'
'Only one kiss per metre, 'replied the young man with a rather unpleasant ferret-like smirk.
'That's
OK, 'answered Rebecca, with a glint in her eye, 'I'll take eight metres.'
With
expectation and with anticipation written all over his face, the staff member quickly measured out the cloth, wrapped it up, then in a teasing fashion held it out.
Rebecca snapped up the package, pointed to
the old, grizzled and toothless fellow standing beside her, smiled, and said, 'My Grandad will pay the bill.'
3) Interesting Facts About Ferrets
Male ferrets are called hobs, while females are called jills.
Their children are called kits for the first 7 weeks, by which time they
look like adults. All gender names change if they are neutered, the males are then gibs,
and the females sprites.
The collective noun for a group ferrets is a 'business'. Other name for
families of ferrets are: cast, or possibly, fesnying.
Ferrets make for an interesting and unusual pet. Owners love them
because they are inquisitive while awake, else they just sleep. They are also
relatively easy to house train, and can interact ok with other pets such as cats
or dogs.
Hearing is their most strongly developed sense, presumably linked to their
ability to survive underground in nature.
Ferret racing is making a come-back in England, it's a popular way of raising
money at fetes and craft shows.
Footnote:
Please send us your funny ferret pictures and stories
See more funny animal pictures and amusing videos
•
More mammals •
Ferret •
Funny cow pictures •
Cow car ride •
Funny bull stories •
Rabbit
•
Hedgehogs •
Fox •
Otter video •
Seal •
Pigs •
Mole •
Cats •
Sean the Sheep •
Rory & Millie
• Funny squirrel pictures •
Squirrel assault course
• Squirrel steals chocolate •
Animals Index