Dog with 4th July Rockets
Do Dogs Look Like Their Owners?
World's Smartest
Dog
Dog Skateboarding - How do you train the mutt?
Cat in the Dog's Basket
Dog and Cat Catch Robbers
(Cat and Dogs Play)
Funny Dog Pictures
Collection of Funny Dog
Pictures (Recommended)
Cats and Dogs
Cute Dogs in Fancy
Dress
Dog Basket - or Cat Basket?
Dodgy Doggy
Drivers
No Dogs
Allowed
Hot Dogs!
It's a Dog's Life
Dogs Fight Back
True Friends
Dog Jokes and Funny Stories
Funny Dog Stories
Funny Shaggy Dog Stories
Dog House
Dog Dodo
Buddy the Alsatian
Saves His Owner Joe
Chris Trott was on duty answering the emergency phone line, when a call
came through from a dog. Nobody would have blamed her for hanging up,
but something about the urgency of the barking and the whimpering made Chris
stay on the line. On checking the incoming phone number Chris realised that
the line belonged to Joe Stalnaker, who is known to be susceptible to
seizures.
The background to this phone rescue was that Joe had pre-programmed the
buttons on his phone to dial 911, so all his dog Buddy had to do was to pick
up the phone in his mouth. One of his teeth was almost certain to hold
down one of the keys for 3 seconds and thus trigger the dialling. (See
mock-up of miracle dog with phone to the right).
The very same thing had happened twice before, unfortunately, Joe is prone to
seizures as a result of suffering a brain injury while serving in the army.
Buddy arrived aged 8 weeks courtesy of 'Paws With A Cause', which trains
miracle dogs like Buddy to help people like Joe.
Surprisingly, Will and Guy learn that there have been other similar cases
of miracle dog rescues, for example, Leana Beasley's Rottweiler called Faith
summoned help by pressing a speed-dial button with her nose. Then when
the operator answered, Faith barked down the phone so that the emergency services
operator realized Leana needed medical assistance.
Beware - Guard Dog Operating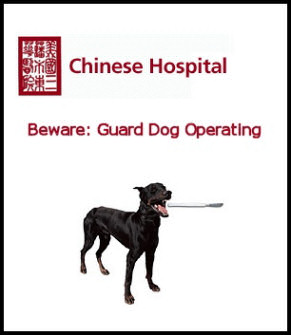 Brandy and Coke
Brandy the Chihuahua, the world's smallest dog, has finished growing, and is
just a little taller than a coca cola can has been named the world's smallest
doggy by the Guinness Book of Records. Four-year-old Brandy weighs only 2lbs and
cannot bark as her lungs are too small. Owner Paulette Keller, of Largo,
Florida, told reporters, 'When I saw her I just fell in love with her. With a
dog like this you have to be careful. She can't even jump on or off anything
because her legs are so tiny.'
Brandy is proving massively popular on TV in the USA, so watch out for her.
As dog's lives go, this has to be one of the best.
Dog House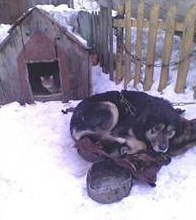 Possession is 9/10 of the law. Is that a cat I see in the dog house?
Surely it could not be a fox?
Footnote:
Please send us your funny dogs videos.