Dog Ice-cream Yogurt
Will and Guy thought that ice-cream for dogs was just another shaggy dog
story; we should have known better, there are numerous real products for
this growing market. Indeed, this is another example of role reversal
where the pets control their owners!
Doggy treats Yoghund
We assumed from the name 'Yoghund' that this peanut butter and frozen yogurt came from Germany,
but no, it's sold in pet stores in 23 states in the USA. There is also
a product called Polar Pups, a cool treat made with soy milk. Fact is
stranger than fiction.
Panting Peanut Mutter
A company called Wagg Foods in Yorkshire, England have developed a doggy
treat made from frozen yoghurt, Panting Peanut Mutter, Oaty Pawfection and
Chase Your Tail Cheesecake. And hidden in the ice cream are dog biscuits.
Tom Page, at Wagg Foods, said: "Brits are well known for being a nation
of dog lovers - with their pets often becoming one of the family. "Because
of this we often treat them the same as our kids, although the titbits we
give them aren't always healthy or safe for dogs. "We wanted to develop a
dog-friendly icy treat which owners could feel confident would help cool
down their pet and still be healthy - meaning dog and owner could both enjoy
everyone's favourite summer pleasure together."
Nicola Purcell, whose dog Lawrence was one of the first to try the ice
cream, said: "I love ice cream and Lawrence will always pester me and ask to
lick out the tub; he won't stop until he gets his way."
Dog Ice Cream Van Opens in
London

An ice cream van for pampered pooches is opening in London, with bizarre
icy flavours including gammon and chicken. Scientists created the ice cream
treats to be ideal for doggy tastes by finding the perfect combination of
temperature, texture and taste for them Will and Guy can reveal.
Now the K99 van will appear at parks across London over the summer,
starting with the Boomerang Pets Party in Regents Park in July 2010.
While bosses appear to have planned the 99p charity donation doggy
delights down to the smallest detail there's one thing they forget... dogs
have nowhere to carry change.
According to Sally Bezant, spokesperson for Boomerang Pets Party, 'On a
hot summer's day, everyone loves to hear the familiar chimes of an ice cream
van, but our pets often miss out on these icy treats. We wanted to give our
furry friends the chance to enjoy their own refreshing snack, and an ice
cream van for dogs seemed like the perfect answer.'
Fancy a Hot Dog?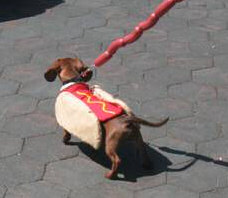 World's Oldest Dog Turns 26
Max, the world's most amazing pooch has celebrated his 26th birthday.
Max, (picture to the right), has a veterinary birth certificate to prove
his age and is awaiting official confirmation from Guinness World Records.
In dog years the terrier-cross is 182, the equivalent of being born in 1827
which Will and Guy find absolutely amazing. He lives in Louisiana, USA.
Max is still in fine health and only suffers from mild arthritis and some
cataracts. Janelle and Billy, his owners, bought Max from a local sugar cane
farmer in 1983.
'He was the only one in the litter that was brown and I liked the colour
so I took him home,' Janelle informed this site.
Dogs as Intelligent as Two-year-old Children Claims Professor
My IQ is bigger than yours. A shaggy dog story put about by
collies? No; border collies such as Sampson have their claims to
superior intelligence backed up by Professor Coren's research.
Here is a picture of Sampson, winner of Britain's Most Talented Pet:
Researchers have found that dogs are capable of understanding up to 250
words and gestures, can count up to five and can perform simple mathematical
calculations. Using tests originally designed to demonstrate the development
of language, pre-language and basic arithmetic in human children, the
researchers were able to show that the average dog is far more intelligent
than they are given credit for.
'The average dog is about as bright linguistically as a human
two-year-old,' said Professor Stanley Coren, a leading expert on canine
intelligence at the University of British Columbia in Vancouver who has
carried out the work.
Which Dogs Are
the Cleverest Ask Will and Guy?
The researchers have also compiled a list of the most intelligent and
least intelligent breeds using information from obedience classes:
Ten most intelligent breeds
Border Collie
Poodle
German Shepherd
Golden Retriever
Doberman Pinscher
Shetland Sheepdog
Labrador Retriever
Papillon
Rottweiler
Australian Cattle Dog
Least intelligent breeds
Afghan Hound
Basenji
Bulldog
Chow Chow
Borzoi
Bloodhound
Pekinese
Beagle
Mastiff
Basset Hound
Will and Guy admit to being unsure of the accuracy of these assertions.
Guy had a dog when he was a child and Will has only experience of cats. You
may have your own thought about the lists, please send them to us.
Footnote:
Please send us your funny dog ice cream story.
Joke of the Day Email
Get a clean joke delivered to your inbox every
day, no strings attached, just part of our service. Free
subscription to
our Funny Joke of the Day email.
We have over 1,500 pages of funny pictures, clean jokes, stories and amusing videos. Please use the Search below to find a topic of particular interest:
Thought of the Day Subscription
Our offer is to email you an inspirational
'Thought of the day'. Your subscription is completely free of cost and there
are no adverts. Sign up for our 'Thought of
the Day'.