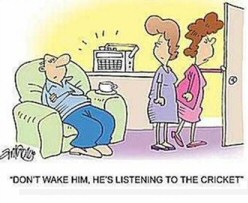 Will and Guy are building a collection of funny cricket stories and
amusing anecdotes, this
is what we have so far..
Funny Cricket Stories
Frederick Sewards Trueman [6th February 1931 - 1st July 2006]
John Arlott, the poetic cricket commentator, raconteur and wine
enthusiast from Hampshire, wrote that Trueman approached the wicket 'with
the majestic rhythm that emerges as a surprise in the Spanish fighting
bull'. Beginning at a steady pad, he gradually accelerated, hair
flopping, until he completed his charge in an explosion of malevolent power.
Trueman rounded off this spectacle with histrionic gestures of despair,
rage or triumph.
Arguably the finest fast bowler that England [and of course Yorkshire]
has produced, Freddie Trueman's ability did not end there say Will and Guy.
He was a splendid story teller and would regale audiences with his
"cricketing tales".
Did You Know?
Trueman played football for Lincoln City and turned down professional
terms to concentrate on cricket.
Some might argue that many of his stories were apocryphal; others might
remark that it matters not since the tales are fun and indeed funny. We hope
you will enjoy the items we have chosen to share with our readers here.
FS Trueman's Fabulously Funny Cricketing Anecdotes 'Owzat?
Trueman bowls. Batsman is trapped plumb LBW. Trueman appeals. Not out.
Next ball. Trueman ever-so-slightly irritated. Trueman bowls.
Audible snick, ball deflects and sails upward, caught behind. Trueman
appeals. Not out.
Third ball. Trueman a little more irritated now. Trueman bowls. Through
the gate, stumps spread-eagled, middle stump uprooted and cartwheeling.
Trueman turns to the umpire and says with a wry smile, 'We nearly had him
that time, didn't we?'
Religion
On the tour of Australia in 1962-63, the Reverend David Sheppard dropped
several catches.
'Kid yourself it's Sunday, Rev,' Trueman expostulated, 'and keep your
hands together.'
Humour of the Self Deprecating Kind [unusual for Fred]
The scene was an Ashes test with England fielding ..... 'and I went back
to my mark and hurtled into the wicket, a rap on the pads, Howzat? One
for none.
I went back to my mark and hurtled into the wicket and the bails were
off, two for none.
Then in came the great Sir Don Bradman. I went back to my mark and
hurtled into the wicket, the ball was in the air, a fantastic catch on the
long on boundary, three for three hundred and seventy six.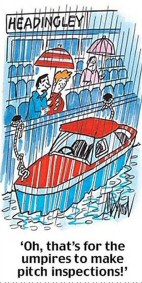 Headingley
On one occasion, an opposition batsman walking through the gate onto the
outfield was told, 'Don't bother shutting it. You'll be back soon.'
Versus Cambridge University
When a Cambridge University student FS Trueman had just bowled said,
'That was a very good ball, Mr Trueman', he responded allegedly with, 'Ay,
'twas wasted on thee.'
I'm Good!
He enjoyed being told he was good, too, and along these lines a lovely
tale told by Richard Hutton reads as follows: after Freddie had returned yet
another of his many five-wicket performances. 'Well bowled, Fred,' he said.
'Outswingers, inswingers, bouncers, yorkers, you bowled the lot. Tell
me, did you ever bowl a plain straight one?'
Quick as a flash came the reply, 'Aye, one. But it was so fast it went
through him like a dose a salts and knocked all three down.'

An allegedly true story about Fred on tour in the West Indies
Apparently Fred, at a reception during a tour of The West Indies,
approached an elegant woman and made a pass at her.
She allegedly replied, 'As a woman, Mr Trueman, I am extremely flattered.
But, as the governor's wife. I am absolutely outraged!'

See more of Trueman's cricket stories.
Ten Funny and True
Cricketing Quotes
Yorkshire 232 all out, Hutton ill - I'm sorry, Hutton 111.
John Snagge, BBC News.
In the back of Hughes' mind must be the thought that he will dance
down the piss and mitch one. Tony Greig, Channel 9
It was close for Zaheer, Lawson threw his hands in the air and Marsh
threw his head in the air. Jack Potter, 3UZ
Playing against a team with Ian Chappell as a captain turns cricket
match into gang warfare. Mike Brearley, 1980
'The slow motion replay doesn't show how fast that delivery was'.
Richie Benaud
That tough cricketer Brian Close was fielding close to the wicket at
short leg when the batsman produced a fullblooded pull shot and the ball
hit the fielder hard on the side of his face. Amazingly it flew straight
up in the air and the batsman was caught at slip.
'My God,' said a
worried fielder going up to check on Close. 'What would have happened if
he'd hit you right between the eyes?'
'In that case,' growled Close,
'the bloke would have been caught at cover.'
'Ray Illingworth has just relieved himself at the pavilion end.'
Brian Johnston, BBC Radio
On the first day, Logie decided to chance his arm and it came off.
Trevor Bailey, Radio 3
Do you feel that the selectors and yourself have been vindicated by
the result?
I don't think the press are vindictive. They can write
what they want. Mike Gatting, ITV Sport
A cricketer's life is a life of splendid freedom, healthy effort,
endless variety, and delightful good fellowship. W.G. Grace

Hole In One?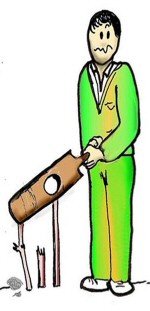 More Funny Cricketing Tales
Bottle of Beer
Rahul was having
a bad time. He played and missed at every ball and was becoming hotter and
more flustered every minute. As the bowler was walking back; the batsman
turned to the wicket-keeper.
'Phew,' Rahul said, 'what couldn't I do
with a bottle of beer.'
The wicket-keeper thought for a moment. 'Hit it with the bat?'
The New Batsman
Shane, a batsman was new to the side, and in his first
innings he did so badly that the crowd began to slow hand-clap and barrack
him. Things got worse. The language got more and more abusive, his play-more
inept, and finally he was out. As he dashed for the pavilion, rotten fruit
and eggs were thrown at him, but he managed to gain the safety of the
dressing-room, where the captain was waiting for him.
'Blimey!' panted
the batsman, 'they don't like that umpire, do they?'
The Great Sir Vivian
Richards
It was a county match in England between Somerset and Glamorgan.
An unknown batsman with unknown talent, named Vivian Richards was at the
crease. Greg Thomas, the Glamorgan fast bowler thundered in and beat the
great man's bat.
'It's red and it's round. Can't you see it?', the bowler taunted
Richards.
The next ball was an action replay. The ball pitched three quarters of
length on middle and off, seamed away, and once again Richards was all at
sea and comprehensively beaten.
'It's red and it's round and it weighs four-and-a-half ounces. Can't you
see it?', Greg Thomas quipped.
Richards took a stroll, summoned his powers of concentration, swung his
arms around, took a fresh guard and got ready for the next ball.
Greg
Thomas came running in. The delivery was right in the slot, and Viv launched
into one of his trademark shots and smashed the ball out of the ground and
straight into the river that flowed around it.
The maestro told the
hapless bowler who almost died watching the ball go, 'You know what it looks
like... now go and get it!'
Cricket in the UK
Bouncers
In one of the most frightening
exhibitions of fast bouncing bowling ever seen at Old Trafford occurred in
1948 during the England -v- Australia Test match.
Lindwall was apparently
awesome. He almost paralysed Compton's left arm, then, with a "no-ball" so
much over the crease that he let the ball go its vicious way far down the
pitch, he struck Compton's forehead as in fact Compton actually tried to
hook and the missile flew off the edge of his bat. Compton staggered and was
led from the field, his forehead bleeding. Stitches were sewn into the
wound. He wanted to resume his innings but was advised by a doctor to rest
awhile. Bill Edrich held the fort bravely.
Compton, amazingly went to a net to find out if he could still see a
quick ball, then resumed his Test match innings, stayed until close of play,
and next morning carried his score to 145 not out.
As Wisden recorded,
Lindwall bowled bouncers with such force and dangerous aim that during this
season of 1948 he knocked-out or hurt Compton, Todd, Washbrook [a great
hooker], Keeton, Robertson and Watkins.
Hilarious and Funny Cricketing One-Liners
Dennis Lillee once commented
that the arrogant natured Yorkshireman Geoff Boycott was, 'The only fellow
I've met who fell in love with himself at an early age and has remained
faithful ever since.'
The "Father of Cricket" WG Grace was once bowled first ball in an
exhibition match. 'They have come to watch me bat, not you bowl,' he said,
before replacing the bails and resuming his innings.
Daryll Cullinan was on his way to the wicket, Shane Warne remarked that
he had been waiting 2 years for another chance to humiliate him.
'Looks
like you spent it eating,' Cullinan retorted.
James Ormond
[Leicestershire, Surrey and England] had just come out to bat on an ashes
tour and was greeted by Mark Waugh.
'Look who it is. Mate, what are you
doing out here, there's no way you're good enough to play for England?' JO :
'Maybe not, but at least I'm the best player in my family.'
Sledging
During the 1991
Adelaide Test, Javed Miandad commented that Merv Hughes looked like a fat
bus conductor.
Big Merv dismissed the Pakistani soon after, allegedly
running passed the batsman yelling, 'Tickets please!'
Poor Little Billy
Billy was at school this morning and the teacher asked all the children what their Father's did for a living. All the typical answers came out, Fireman, Policeman, Salesman, Chippy, Captain of Industry,
etc. etc. but Billy was being uncharacteristically quiet, and so the teacher asked him about his Father.
'My Father is an exotic dancer in a gay club and takes off all his clothes in front of the other men. Sometimes if the offer is really good he'll go out with a man, rent a cheap hotel room and let them sleep
with him'.
The teacher quickly set the other children some work and took little Billy aside to ask if that was really true. 'No' said Billy
'he plays CRICKET for ENGLAND, but I was just too embarrassed to say'.
More Amusing Cricket Stories
Cricket Heaven?
Michael Vaughan and Andrew [Freddie] Flintoff, now elderly, 85 and 82 years old, are sitting on a park bench outside Lord's
cricket ground feeding pigeons and
talking about funny cricket moments, past Ashes series, and tours like they do every day.
Michael turns to Freddie and asks, 'Do you think there's
cricket in heaven?'
Flintoff thinks about it for a minute and replies, 'I dunno. But let's
make an agreement: if I die first, I'll come back and tell you if there's
cricket in heaven, and if you die first, you do the same.'
They shake hands on it. Sadly, a few months later,
poor Freddie passes on.
One day soon afterward, Vaughany is sitting there feeding the pigeons by himself when he hears a voice whisper, 'Michael................Michael'
Vaughan responds, 'Freddie, is that you?'
Yes it is, Michael, 'whispers Freddie's
ghost.
Vaughany, still amazed, enquires, 'So, is there cricket in heaven? 'Well, 'says Freddie, 'I've got good news and bad news.'
'Gimme the good news
first, 'says Vaughany.
Freddie opines, 'Well... there is cricket in heaven.'
Vaughan says, 'That's
great! What news could be bad enough to ruin that?'
Freddie sighs and whispers, 'You are going
to open the innings this Friday.'
See another funny cricket story.
Ten Ducks? Amusing Cricket
Anectote
Table-topping Dishforth were expected to beat bottom-placed Goldsborough in the Nidderdale Amateur Cricket League, North Yorkshire, but not quite as easily as things turned out.
Goldborough 2nd X1 came
close to setting an unwanted record after ten batsmen were out for a duck. Not one of the Goldsborough players scored a single run; although they did clock up five extras.
Their opponents quickly knocked off
the six runs needed for a win and the game was over. The Dishforth captain Steve Wilson, told reporters, 'If I hadn't
seen it, I wouldn't
have thought it possible.'
The Goldsborough captain Peter Horseman
commented, 'It was surreal and embarrassing. We almost got a run, but the batsman turned it down because he'
d just been hit on the foot.'
Here is a photo of 4 of the team.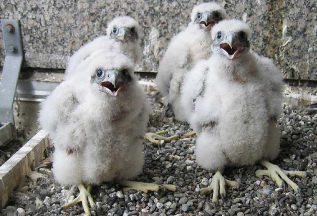 Hat Trick
Question: How could a cricket hat-trick span 3 overs?
Answer:
See
here
Another Funny Cricket Story
When England travel to the Asian sub-continent to play cricket we always hear that various players contract '
Delhi-belly'
or more correctly an upset stomach, possibly gastro-enteritis. Change of diet,
differing hygiene, weather conditions are often sited as reasons for this malaise. February 2006 saw some five players unable to function properly on the tour in India.
This phenomenon was discussed by Peter
Allen and Jane Garvey on their '
Drive'
programme on BBC Radio 5 live. Alec Stewart, the ex-Surrey and England wicket keeper/batsman and captain was interviewed. He acknowledged that food in the sub-continent
could be a problem for English stomachs. He recounted how he took with him on tour 43 separate portions of chicken, mashed potato and broccoli and ate little else.
If this isn't
amusing enough on its own; when
he arrived home in England the first meal his wife gave him......................................?
You can guess........................................yes, indeed - chicken with mashed potato and broccoli.
Hat Trick
Question: How could a cricket hat-trick span 3 overs?
Answer:
Over 1, last ball the bowler gets the 9th
batsman out
Over 2, first ball bowler dismisses the 10th batsman.
Second innings!
The same bowler takes a wicket with his first ball.
The Definition of Cricket as
Explained to an American:
You have two sides, one out in the field and one in.
Each man that's
in the side that's
in goes out, and when he's
out he comes in and the next man goes in until he's
out.
When they are all out, the
side that's
out comes in and the side that's
been in goes out and tries to get those coming in, out.
Sometimes you get men still in and not out.
When a man goes out to go in, the men who are out try to
get him out, and when he is out he goes in and the next man in goes out and goes in. There are two men called umpires who stay all out all the time and they decide when the men who are in are out.
When both
sides have been in and all the men have been out, and both sides have been out twice after all the men have been in, including those who are not out, that is the end of the game.
Suffolk Teenage
Cricketer Breaks Records and Out Scores Sir Garfield Sobers and Yuvraj
Singh
Many cricket lovers will remember with affection the immortal Garfield
Sobers hitting 6 sixes in an over; younger watchers may have seen Yuvraj
Singh achieve the same feat. Not many people were able to witness Jamie Lee
hitting 11 sixes in 12 balls.
Jamie Lee, 18, normally plays for Mildenhall Cricket Club's First Xl but
was playing for the Second Xl because of a shoulder injury; he is, in fact,
known as a bowler which, say Will and Guy, makes the story all the more
remarkable.
'Luckily, my shoulder injury didn't affect my batting,' the teenager from
Suffolk, England, cricketer told us with a broad smile. In the first over,
Jamie thrashed all six deliveries from a spin bowler over the boundary. In
the next over, Jamie, again, faced a spin bowler: this time he swung at the
first ball - and missed; however, he middled the next five, chalking up 66
runs in just 12 balls. Incredible.
Jamie, who scored a further five sixes in his 132 not out, commented, 'I
smashed most of the sixes straight over the bowler's head. It was a
brilliant feeling. There were some polite claps when I got my first six and
then the excitement mounted. People were cheering on the boundary and when I
got my sixth six in a row, they just went mental.'
Not surprisingly his batting led Mildenhall to a swift victory: they beat
the 208 runs knocked up by Walsham-le-Willows in a mere 13 overs -
absolutely incredible.
See more interesting cricket reports.
Footnote:
Please send us your funny cricket story.
See more sports jokes and funny stories: