Football
Pig Stories
Pig Banned
From Football
Match in St Petersburg
A Russian farmer who tried to take his pig to a top football game was barred after police decided it could '
incite a riot'
. Football fan Vladimir Kisilev from St Petersburg took his prize-winning pig to a
show in Moscow and wanted to watch a national Premier League match afterwards. He took the pig along with him, as he had nowhere to leave it, but police banned the pig from the ground for the match between
Spartak Moscow and St Petersburg Zenit.
Officers feared the pig could provoke a riot as Spartak Moscow fans are called '
Pigs'
by their St Petersburg Zenit rivals. Kisilev said, 'I wanted to see the game, but
had nowhere to leave the pig. I almost managed to get it into the ground in a big bag but it started grunting and the police noticed.'
Farm Worker Attacked by Herd of Pigs
Norfolk England - January 2007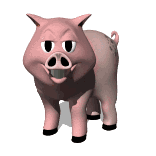 A farm worker needed hospital treatment after being attacked by a herd of pigs, Norfolk police said on Sunday. The 51-year-old man was knocked over by a sow at a Norfolk
farm, prompting the rest of the herd to attack him.
'It seems that when he fell, he was attacked by one of the sows and then the other pigs joined in,' a Norfolk police spokesman told Reuters.
'He
suffered bumps and bruises and a head injury though it is not considered to be life-threatening.' The police spokesman said it was the first time he had heard of a pig attack in the area - but it was
unlikely the herd would be put down.
Talking of pigs, see what they were up to in China: Athletic pigs ham it up at Olympics in China
England fan's
£1m Insurance Cover for World Cup Trauma
An English
football fan has insured himself for £1 million [approx USD$1,850,000]against the trauma of seeing England knocked out of the early stages of the 2006 World Cup.
Paul Hucker has paid £100 plus £5 tax
[USD$184 and $9.20 tax] for the World Cup All Risks policy with insurance broker britishinsurance.com. Mr Hucker, 34, said he had taken out the policy following years of disappointment when England failed to
progress to the final stages of a competition, and the agony of watching them lose through penalty shoot-outs. He said: 'The pressure of this World Cup is not just on the players and the managers. I think a lot
of supporters are under a lot of pressure and suffer because of England's
performance.'
If England are knocked out in the first round of the competition, the insurer will turn to five sports commentators
to judge if their exit is premature. Mr Hucker will then have to provide medical evidence showing that he has suffered severe mental trauma as a result to get his seven-figure payout. Mr Hucker, of Ipswich,
Suffolk, UK said some people might think the insurance policy was funny, but it was serious. He said England were always the '
nearly men'
and he had suffered trauma after England had been knocked out of every
major competition.
'I feel very patriotic and very optimistic. To have psychological trauma and depression is something I don't
want, 'he told The Scotsman newspaper.
Footnote
Please send us your funny football pig
stories.