Will and Guy love a good cricket joke, the winter of 2010/11 has been a rare time to take the Mickey out of Austrailan cricketers.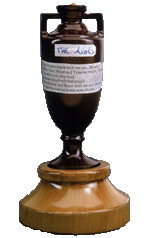 Hilarious and Funny, Clean Ashes Cricket Jokes
The Australian bobsleigh team have asked the Aussie cricket team for a meeting. They want to ask their advice about going downhill so fast!
What's the difference between Ricky Ponting and a funeral director?
A funeral director doesn't keep losing the ashes.
Why did the Aussie break his leg throwing a ball?
He forgot it was chained to his foot.
What is the main function of the Australia coach?
To transport the team from the hotel to the ground.
On his way out into the middle to bat, Ricky Ponting gets a call from his wife and teammate Michael Hussey tells her he's heading out to the middle. His wife replies, 'I'll hold, he won't be long!'
What's the difference between an Aussie batsman and a Formula 1 car?
Nothing! If you blink you'll miss them both.
Who has the easiest job in the Australian squad?
The guy who removes the red ball marks from the bats.
What did the spectator miss when he went to the toilet?
The entire Australian innings.
What's the Australian version of LBW?
Lost, Beaten, Walloped.
Why is Ricky Ponting cleverer than Houdini?
Because he can get out without even trying.
What do you call a cricket field full of Australians ?
A vacant lot.
Did you hear what the stump microphones picked up when The Ashes skippers tossed the coin on Boxing Day? Andrew Strauss called
correctly and, quick as a flash, said to Ricky Ponting, 'You lads can bat.'
Just as quickly, Ponting replied, 'No, we can't. We really can't.'
What's the difference between Ricky Ponting and a phoenix?
At the end of the ashes, the phoenix still has a future.
10 More Hilarious, Funny, Short and Clean Ashes Cricket Jokes
What do you call an Aussie with a bottle of Champagne?
A waiter.
What does Ricky Ponting put in his hands to make sure the next ball is almost certainly going to be a wicket?
A bat.
What do you call a world-class Australian cricketer?
Retired.
What do you call an Australian who can hold a catch?
A fisherman.
Why can no-one drink wine in Australia at the moment?
They haven't got any openers ...
What is the difference between Cinderella and the Aussies?
Cinderella knew when to leave the ball.
What does an Australian batsman who is playing in The Ashes have in common with Michael Jackson? They both wore gloves for no apparent reason.
Who spends the most time on the crease of anyone on the Australian cricket team?
The woman who irons their cricket whites.
What do you call an Aussie holding a six inch urn above his head? The England bowling coach.
What's the height of optimism?
An Aussie batsman putting on sunscreen.
Thank you to Will's good friend Paul Soloman who sent these in to the
site.
See more cricket jokes.
England Ashes Tour 2007 - Cricket Team in Trouble
Following the intense interest both in the UK and Australia in the 2007 Cricket Ashes series we, the Poms in this case, have only our sense of humour left after the miserable showing of the England team. Reports are coming in of police arrests in Australia relating to the current Ashes series.
Eleven men have been arrested in Sydney on a range of charges including impersonating a cricket team, loitering and receiving money under false pretences.
They are likely to be extradited and face charges in England in relation to the 2005 theft of the Ashes and a number of Queen's Honours. In one case, a man played just 5 days cricket and scored only 17 runs before absconding with an MBE. Police will also interview the suspects in relation to a joyride in stolen open-topped buses.
The group's activities have been closely monitored since they arrived in Australia some weeks ago. Initially the suspects were difficult to identify as they arrived in Australia with the apparent bona fides to qualify as a quality cricket team. However it became obvious to observers that all was not as it seemed during the first warm-up match.
Further suspect behaviour was observed in Brisbane, culminating in a series of criminal acts on the 5th day at Adelaide, including reckless batting, pedestrian bowling and unimaginative captaincy. Police allowed the group to operate while further evidence was gathered in Perth, Melbourne and Sydney.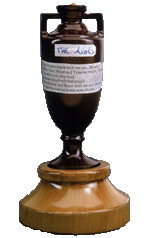 Interpol have been asked to assist in locating the ringleader who has seemingly disappeared. He may be using the
name Fletcher and is believed to be heading to South Africa to prey upon unsuspecting cricketers who have some ancestral links to England. Parents are warned not to sign contracts and young cricketers should refrain from accepting money or other incentives.
In an incident related to the 2005 Ashes theft, a crystal replica of the Ashes was presented to the Australian cricket team today. The actual trophy is being withheld by a shadowy group called the MCC who believe they own cricket. Two undercover operatives known only as Beefy and Branson are working to return the urn to its rightful owners Australia.
Footnote: England have agreed to become the first carbon neutral cricket team. They are going to finish all their matches before the flood lights are switched on.
Poor Little Billy
Billy was at school this morning and the teacher asked all the children what their Father's did for a living. All the typical answers came out, Fireman, Policeman, Salesman, Chippy, Captain of Industry, etc. etc. but Billy was being uncharacteristically quiet, and so the teacher asked him about his Father.
'My Father is an exotic dancer in a gay club and takes off all his clothes in front of the other men. Sometimes if the offer is really good he'll go out with a man, rent a cheap hotel room and let them sleep with him'.
The teacher quickly set the other children some work and took little Billy aside to ask if that was really true. 'No' said Billy 'he plays CRICKET for ENGLAND, but I was just too embarrassed to say'.
Cricket Heaven?
Michael Vaughan and Andrew [Freddie] Flintoff, now elderly, 85 and 82 years old, are sitting on a park bench outside Lord's
cricket ground feeding pigeons and talking about cricket, past Ashes series, and tours like they do every day.
Michael turns to Freddie and asks, 'Do you think there's cricket in heaven?'
Flintoff thinks about it for a minute and replies, 'I dunno. But let's make an agreement: if I die first, I'll come back and tell you if there's
cricket in heaven, and if you die first, you do the same.' They shake hands on it. Sadly, a few months later, poor Freddie passes on.
One day soon afterward, Vaughany is sitting there feeding the pigeons by himself when he hears a voice whisper, 'Michael................Michael'
Vaughan responds, 'Freddie, is that you?' Yes it is, Michael, 'whispers Freddie's ghost.
Vaughany, still amazed, enquires, 'So, is there cricket in heaven? 'Well, 'says Freddie, 'I've got good news and bad news.'
'Gimme the good news first, 'says Vaughany.
Freddie opines, 'Well... there is cricket in heaven.'
Vaughan says, 'That's
great! What news could be bad enough to ruin that?'
Freddie sighs and whispers, 'You are going to open the innings this Friday.'
Ten Ducks?
Table-topping Dishforth were expected to beat bottom-placed Goldsborough in the Nidderdale Amateur Cricket League, North Yorkshire, but not quite as easily as things turned out.
Goldborough 2nd X1 came close to setting an unwanted record after ten batsmen were out for a duck. Not one of the Goldsborough players scored a single run; although they did clock up five extras.
Their opponents quickly knocked off the six runs needed for a win and the game was over. The Dishforth captain Steve Wilson, told reporters, 'If I hadn't seen it, I wouldn't have thought it possible.'
The Goldsborough captain Peter Horseman commented, 'It was surreal and embarrassing. We almost got a run, but the batsman turned it down because he' d just been hit on the foot.'
Here is a photo of 4 of the team.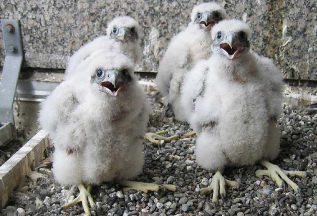 Hat Trick
Question: How could a cricket hat-trick span 3 overs?
Answer: See here
Amusing Cricket Story
When England travel to the Asian sub-continent to play cricket we always hear that various players contract '
Delhi-belly' or more correctly an upset stomach, possibly gastro-enteritis. Change of diet, differing hygiene, weather conditions are often sited as reasons for this malaise. February 2006 saw some five players unable to function properly on the tour in India.
This phenomenon was discussed by Peter Allen and Jane Garvey on their ' Drive' programme on BBC Radio 5 live. Alec Stewart, the ex-Surrey and England wicket keeper/batsman and captain was interviewed. He acknowledged that food in the sub-continent
could be a problem for English stomachs. He recounted how he took with him on tour 43 separate portions of chicken, mashed potato and broccoli and ate little else.
If this isn't amusing enough on its own; when
he arrived home in England the first meal his wife gave him......................................?
You can guess........................................yes, indeed - chicken with mashed potato and broccoli.
India Cricket Jokes

Cricket is the sport that Indian's are most passionate about as it's probably the only sport where the Indians perform well from time-to-time. The Indian cricket team is worshipped when it wins, but when it loses its time to bring on the jokes.
What is the most proficient form of footwork displayed by Indian batsmen?
The walk back to the pavilion.
What do Dhoni and Michael Jackson have in common? They both wear gloves for no apparent reason.
Cricket's Baby
Once upon a time there was an Indian [he will remain nameless to protect him]. India was playing a match at the Sheshrao Krushnarao Wankhede Stadium, Mumbai, but on the same day his wife was having a baby. He could not bear to miss the match so he decided to watch the game and visit his wife later on.
The match began, two quick wickets fell. The man was disappointed and he remembered his wife he picked up the phone and quickly dialled the hospital number.
He had meant to call the hospital but accidently phones the stadium, he asks the man on the other end thinking him to be the doctor, 'So what's the result?'
The man replies, 'It's still in process, two are out nine are left and the last one was a duck!'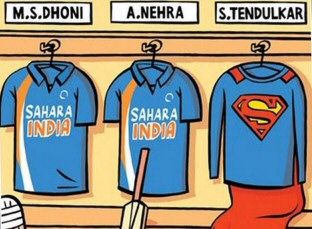 What did the spectator miss when he went to the lavatory? The entire
Indian Innings.
Hat Trick
Question: How could a cricket hat-trick span 3 overs?
Answer: Over 1, last ball the bowler gets the 9th batsman out Over 2, first ball bowler dismisses the 10th batsman.
Second innings!
The same bowler takes a wicket with his first ball.
Footnote: Please send us your clean cricket jokes.