Funny stories and clean jokes about nuns and priests.
Two Priests Decided to Go to Hawaii on Vacation
Two priests were determined to make this a real vacation by not wearing anything that would identify them as clergy. As soon as the plane landed they headed for a store and bought some really outrageous shorts, shirts, sandals, sunglasses, etc.
The next morning they went to the beach dressed in their 'tourist' garb. They were sitting on beach chairs, enjoying a drink, the sunshine and the scenery when a 'drop dead gorgeous' topless blonde came walking straight towards them ...... They couldn't help but stare.
As the blonde passed them she smiled and said 'Good Morning, Father ~ Good Morning, Father,' nodding and addressing each of them individually, then she passed on by. They were both stunned. How in the world did she know they were priests? So the next day, they went back to the store and bought even more outrageous outfits.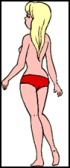 Once again, in their new attire, they settled down in their chairs to enjoy the sunshine. After a little while, the same gorgeous topless blonde came walking toward them.
Again she nodded at each of them and said 'Good morning, Father ~ Good morning, Father,' and started to walk away.
One of the priests couldn't stand it any longer and said, 'Just a minute, young lady.' 'Yes, Father?'
'We are priests and proud of it, but I have to know, how in the world did you know we are priests, dressed as we are?'
She replied, 'Father, it's me, Sister Kathleen' ...
New Bar Stools - For Smartly Dressed Women **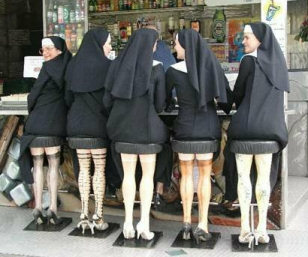 Sisters Mary Catherine, Maria Theresa, Katherine Marie, Rose Frances, & Mary Kathleen left the Convent on a trip to St. Patrick's Cathedral in New York City and were sight-seeing on a Tuesday in July. It was hot and humid in town and their traditional garb was making them so uncomfortable, they decided to stop in at Patty McGuire's Pub for a cold soft drink.
Patty had recently added special legs to his barstools, which were the talk of the fashionable eastside neighborhood. All 5 Nuns sat up at the bar and were enjoying their Cokes when Monsignor Riley and Father McGinty entered the bar through the front door.
They, too, came for a cold drink when they were shocked and almost fainted at what they saw:-

** At first Guy was a bit slow on the uptake. To tell the truth, I was in danger of dismissing the story as poor, until I looked at the source - Hannah Baker. Then I thought, hmm... if Hannah sent it, this must be good, so I re-read the story, studied the
picture, especially the nun's habits, and I smiled. Smart Women.

John, the vicar of St Mary's was enthused to raise money for his cathedral's roof. He felt the usual
A priest and a taxi driver both died and went to heaven. St Christopher was at the Pearly gates waiting for them.
St Christopher and the Taxi Driver
The taxi driver did as he was told and followed St Christopher to a mansion. It had everything you could imagine from a bowling alley to an
Olympic size pool.
'Oh my word, thank you,' said the taxi driver.
Next, St Christopher led the priest to a rough old shack with a bunk bed and a little old television set.
'Wait, I think you are a little mixed up,' said the priest. 'Shouldn't I be the one who gets the mansion? After all I was a priest, went to church
every day, and preached God's word.'
'Yes, that's true.' St Christopher rejoined, 'But during your sermons people slept. When the taxi driver drove, everyone prayed.'
Nasty Case of Arthritis
A man flops down on a subway seat next to a priest. The man's tie is stained, his face is smeared with red lipstick, and a half-empty bottle of
gin is sticking out of his torn coat pocket. He opens a newspaper and begins reading.
After a few minutes the guy turns to the priest and asks, 'Say, Father, what causes arthritis?' Loose living; cheap, wicked woman; too much alcohol; and contempt for your fellow man, 'answers the priest.' I'll be damned, 'the drunk mutters, returning to his paper.
The priest, thinking about what he said, nudges the man and apologises.' I'm very sorry. I didn't mean to be so harsh. How long have you had arthritis?'
'Oh, I don't have it, Father. But it says here that the Pope does.'
Holy Smoke
Acting on a tip-off, Greek police officers raided a nunnery in the village of Filiro, near Thessaloniki in Greece. It amazed them to find 35
healthy cannabis plants growing in the walled garden.
What the nuns told the police was, two gentleman offered to help them tidy the garden in the Greek Orthodox nunnery. Summing up the circumstances, the officers believed the nuns when they said they had no idea that 'decorative plants' were really pot, or kánnabis in Greek. Police are still trying to trace the two gardeners.
Footnote: Please send us your priests and nuns' jokes and funny pictures.
See more clean woman jokes, funny stories and
amusing PowerPoint Presentations