Fuleco The Armadillo
Fuleco the Armadillo will be the official mascot for the 2014 Brazil World Cup.
Ful denotes from Futebol and eco is short for Ecologia.
The mascot is a representation of the Brazilian three-banded armadillo
which is an endangered. Naturally, the animal carries the colors of the
Brazilian flag the armadillo is yellow, with green shorts and a blue shell.
Fuleco is dressed in a white shirt emblazed with the words "Brazil 2014".
Zakumi the Leopard the Mascot for the 2010 World Cup
Za is the code for South Africa and, and "kumi", means ten in several
African languages, referencing the year 201...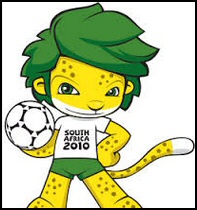 Goleo and Pille - World Cup 2006 Mascots in Germany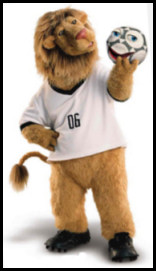 Anybody who watches three games of football in a row should be declared brain dead.
Erma Bombeck
Team Tactics
It was half way through the qualifying campaign and a the first choice team were doing really badly.
The coach decided to
get the team together and go back to basics. Picking up a football, he said, 'Right, lads, what I have in my hands is called a football, and the object of the game is.................................'
'
Hang on a minute, 'came a shout, 'you're going too fast.'
Watch the Game - Ref
A spectator at a local league match at
Bransbury Park, Portsmouth kept up a constant barrage of insults and derogatory remarks directed against the referee.
Finally the referee could stand it no longer. He marched over to the sideline and,
looking the noisy spectator squarely in the eye, shouted, 'Look here - I've been watching you for the last twenty minutes ............................ ..'
'I thought so, 'the spectator retorted loudly, 'I knew you couldn't
have been watching the game.'
Quotes from Previous Competitions
'He has just gone behind my back in front of my face.'
- Craig Bellamy
'Bolton are literally encamped on the edge of the box.'
- Lawrie Sanchez
'When you make a mistake, that becomes a
mistake.'
- Terry Venables
'They are the victims of their own downfall.'
- David Pleat
'If you can't
stand the heat in the dressing room, get out of the kitchen'
- Terry Venables
'Despite his
white boots, he has pace and aggression'
- Kevin Keegan
'Carlton Palmer can trap the ball further than I can kick it'
- Ron Atkinson
'When you're 4-0 up you should never lose 7-1'
- Laurie McMenemy
See more Football stories and jokes:
•
2014 World Cup jokes •
Footballer nicknames •
Football bloopers •
Funny footballer quotes
• Funny jokes
about football •
Football jokes
•
Funny football pictures •
Funny football stories
• Funny World Cup
stories
• Football
4
women •
Funny Super Bowl jokes
• Funny football photos