Will and Guy present their collection of funny paralympic jokes.
//Set the two dates
var olympics=new Date("August, 6, 2016") //Month is 0-11 in JavaScript
today=new Date()
//Get 1 day in milliseconds
var one_day=1000*60*60*24
//Calculate difference btw the two dates, and convert to days
document.write("Just " + Math.ceil((olympics.getTime()-today.getTime())/(one_day)) + " days until Olympiad XXXI starts")
Blind Crossing
Algie is showing two young American girls around Soho in London and
they stop at a Pelican crossing. Algie presses the button and 10
seconds later the pedestrian signal goes 'bleep-bleep-bleep-bleep....'
'Whats that for?' asked one of the girls. 'Oh thats just to let the
blind know that the lights have changed' said the bloke. 'My Gaad'
she said, really shocked, 'in the States we don't even let them
drive...'
Paralympians Disqualified
5 wheelchair athletes have been banned from the Paralypic games after
they tested positive for WD40.
Olympic Games Myths

Pelops, a prince from Lydia sought the hand of the daughter of King
Oinomaos of Pisa, namely Hippodamia. Oinomaos had declared that his
daughter's suitors should compete with him in a chariot race; winning it
he gets Hippodamia as his wife; but on losing it, he would be beheaded.
Pelops with his charioteer Myrtilos secretly replaced the bronze
linchpins of the King's chariot with wax linchpins. During the race, the
wax melted and Oinomaos was thrown from his chariot and died. Pelops and
Hippodamia got married and Pelops celebrated his victory with the
Olympic Games.
According to another myth, poet Pindar, in his Olympian Ode, tells
the tale of how King Augeas of Elis reneged on his promise to reward
Herakles for cleaning his stables. Herakles attacked and sacked Elis and
started the Olympic Games in honour of his father Zeus.

Humorous and Funny Tales from Olympics Past and Present
At the 1936 Olympics in Berlin, Germany, Dora Ratjen competed in
the women's high jump.In 1957 Ratjen came forward with an
incredible account: he was in fact a man [named Hermann] who had
been forced by the Nazi Youth Movement to masquerade as a woman in
an attempt to steal a medal in the games.

Alas, the ploy
failed - when Ratjen was placed fourth.

During the 1984 Los Angeles Olympic Games, although China
fielded a magnificent team of gymnasts, one of their greatest hopes,
Yun Leu, scored a low 9.20 on the pommel horse exercise.
'Suit
too big,' Yun later explained. 'Grabbed pants instead of pommel.'
At the 1976 Olympics in Montreal, Olmeus Charles from Haiti was
last by the largest margin ever recorded. He set an all-time record
for the 10,000 metres race. Giving the crowd tremendous value for
money, he completed the course in 42 minutes 00.11 seconds.Everyone lapped him at least three times and the winner finished so
far ahead he would have had time to complete another 5,000 metres.
An argument broke out among the track officials as to whether he
should be allowed to finish the course.

Happily, the crowd
were not denied this fine sight and the entire Olympic timetable was
held up by fourteen minutes. What Olympian spirit we say!

David Cameron is scheduled to speak at the opening ceremony of
the London Olympics.Nervous, he asks for a teleprompter.

On the day of the speech, he takes to the podium and starts,
'Oh, Oh, Oh, Oh, Oh.'

An aide quickly rushes to his side and
whispers, 'Prime Minister, those are the Olympic rings. Your speech
is below that.'

In 1928
Australian rower, Henry Pearce, stopped halfway through his
quarter-final race to let a family of ducks pass in front of his boat. The French competition overtook him, but Pearce managed to get back in
front and win the gold.
London Olympic Lego
A man has spent 300 painstaking hours building a replica of the
London 2012 Olympic Park out of Lego. Warren Elsmore used about 250,000
bricks to create the venues and structures including Anish Kapoor's
Orbit, the Aquatics Centre and the Olympic Stadium.
The model can be viewed at the Danish Village in St Katherine
Docks until 12th August.
London 2012 Olympic 50p
Coins
The 29 designs show Olympic and Paralympic sports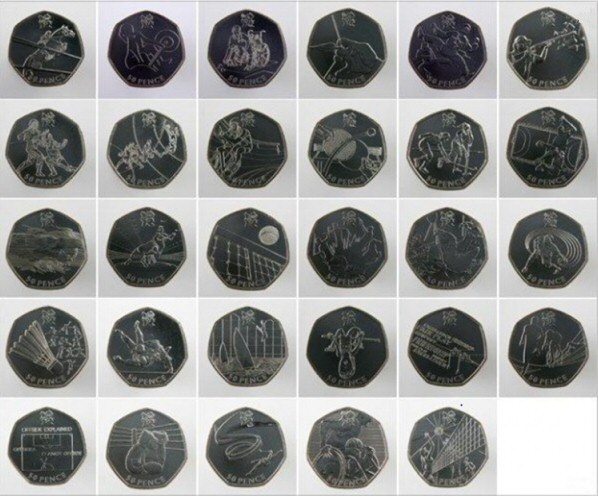 New 50 pence coins commemorating the London 2012 Olympic and
Paralympic Games have been launched. The coins each feature one of 29
sports on the reverse and have been designed by people from England and
Wales.
The designers range from a Manchester policeman and a delivery driver
from Reading to a bank clerk from Preston and a Bristol schoolgirl.
They share the honour of seeing their designs come into circulation and
also knowing that, like every UK coin in general use, it has been
approved by the Queen and the Treasury.
The 50 pence pieces feature well-known sports such as sailing,
swimming and basketball, but also lesser-known disciplines including
handball and the Paralympic sport boccia.
See more on Olympic Games
stamps
Footnote
Please send us your funny Paralympic
jokes.
See more about The London 2012 Olympic Games:
•
The 2012 London Olympics •
Olympics trivia •
London Olympics trivia •
Funny Olympic jokes
•
Olympics history •
Olympic Games scandals •
Funny Olympic cartoons •
London Olympic stamps
•
Interesting Olympic facts •
Alternative Olympics •
Olympic Marathons •
Top 10 Olympic athletes