Chinese Valentine's Day
Chinese Valentine's Day; Also Known As the Qixi Festival 牛郎 織女
The Chinese Valentine's Day is always on the Seventh Day of the Seventh Month on the Chinese calendar, and not on February 14th!  Thus the Chinese Valentine's Day 2012 is on August 23rd.  Qi Xi or qī xī; means "The Night of Sevens" and is also known as the Magpie festival.
 Sponsored Links  ∇
'When is the Chinese Valentine's Day in 2010?', is sure to be a mean question in pub quizzes.  So prepared, know the date, and remember the Qixi rule: 7th day of the 7th month of the Chinese calendar.
Year - 2010 August 16th
Year - 2012 August 23rd 
Year - 2013 August 13th
Year - 2014 August 2nd
Year - 2015 August 20th (Chinese dates are written year 年, month 月, day 日)
Indeed say Will and Guy. Young people in China have adopted the tradition of giving flowers, special chocolates and gifts as well as making a special date to go out for the evening.
It is widely seen as a holiday for young couples and lovers. Men and women mutually give gifts, although it's probably weighted more on the side of the women on the receiving end.
Is Valentine's Day Commercial in China?
Will and Guy have considered this question and the answer, of course, is yes, at least in large cities.
Supermarkets will have larger chocolate displays, flower shops will increase their prices and have bouquets of all sorts ready for young lovers.
Many restaurants will have special set menus and in a city like Shanghai you'll need an advance booking at many places if you want to take advantage of the special lovers' menu or just want to eat out.
The Festival Celebrated
On this Chinese Valentine day, lovers visit the temple of matchmaker to ask for love and happiness and a chance to get married soon.  Even singles visit the temple in the hope of getting luck in their love life.
This day is also celebrated by the name of "The daughter's festival". According to an ancient love story the 7th fairy was very good at weaving and earned the name of 'Weaving Maid'. Going by the legend, the Chinese girls on this day pray to the weaving maid, so that they can learn the art of weaving. When the Vega star, where the 7th fairy resides is high up in the sky, then the girls carry out a test by putting a needle on the surface of the water. If the needle doesn't sink then it implies that the girl is mature enough to find a husband and becomes eligible to ask for any wish.
Some Food for Valentine's Day in China
Valentine's Day is a day full of love and romance. Research suggests that to light up the element of romance in your life on this particular day, you can cook various Valentine day recipes, which include butter cookies, peanut butter cookies, popcorn chicken, carrot cake, strawberry jelly cookies and a whole lot of valentine day cakes to celebrate the special moment called love.
Legend has it that the seventh daughter of the Emperor of Heaven, a weaving maid, fell in love and married a cowherd. They were overindulgent in their love and neglected their farming and weaving duties, which angered the Jade Emperor. As punishment, he exiled them to opposite banks of the Silver River [Milky Way], and only allowed them to meet each other once a year on the night of the seventh day of the seventh month.
This legend has been handed down for nearly two millennia.  The Chinese people believe that the star, Vega, east of the Milky Way, is Zhi Nu, and that Altair, on the western side of the Milky Way, is Niu Lang waiting for his wife.
The seventh day of the seventh lunar month is the only Chinese festival devoted to love in the lunar calendar.  Chinese Valentine's Day traditions abound and this special day is celebrated differently depending on the Chinese province.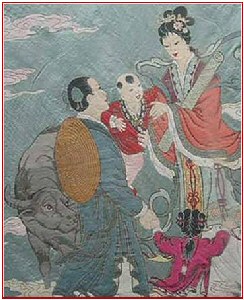 Some of the many traditions include Chinese girls preparing fruits, melons, and incense as offerings to Zhi Nu, the weaving maiden, praying to acquire high skills in needlecraft, as well as hoping to find satisfactory husbands.
Girls place sewing needles on water. If the needle doesn't sink, it's a sign of the girl's maturity and intelligence and she is ready and eligible to find a husband.
People in some Chinese provinces believe that decorating the horns of oxen with flowers will save them from catastrophe. Another tradition is for women to wash their hair to make it look fresh and shining.
This festival is also known as Qixi, or sometime the Magpie festival.
Chinese Symbol for Love Conquers All

On Chinese Valentine's Day, young lovers go to the temple of the Matchmaker and pray for their love and happiness, and their possible marriage in China. In the evening, people sit outside to observe the stars. On this night, Vega and Altair are closer together than at any other time of year. Chinese grannies say that if you stand under a grapevine, you can probably overhear what Zhi Nu and Niu Lang are saying to one another.
Chinese Symbol for Forever in my Heart

A Chinese city has created a pedestrian crossing with a romantic theme to help put couples in the mood for love.
Traffic officials in Chengdu came up with the idea for the crossing which features two hearts and the message in English: "I love you", reports the Tianfu Morning Post.
A hundred hearts would be too few
To carry all my love for you.
Anon
Couples Pledge their Love in a Funny Way
Three couples got married on a river in China while balancing on bamboo poles Will and Guy have established. The brides [see photo] all wore traditional wedding dresses while the grooms wore suits for the grand occasion on the Xiangjiang River in Zunyi city, Guizhou province.
All three couples belong to the local single bamboo rafting club, and chose to get married on the water to show their skill at the sport. We have heard the sport involves racing on the river while balancing on a locally produced bamboo pole around 20cm in diameter.  Their aim is to popularise their sport.  What a delightful story of true romance.
Chinese Valentine Wedding
A bridegroom carries his bride on a bicycle on a street in Liuzhou, southwest China's Guangxi Zhuang Autonomous Region.
The newly married couple held a bicycle wedding accompanied by more than 30 cyclist friends.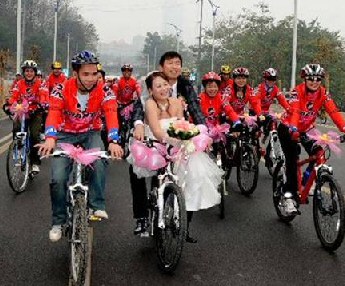 Will and Guy have recently learned that the Great Wall of China has never looked so tasty: a team of Chinese confectioners have built a 10 metre [33 ft] long replica of the structure entirely out of chocolate in a bid to entice people to eat more of the sweet stuff on Chinese Valentine's Day.
The chocolate theme park will exhibit creations such as the Great Wall, the Dunhuang Caves and Terracotta Warriors when it opens to the public on the 29th January, 2010 we can report.
A worker adjusts Terracotta Warriors made of chocolate at the Chocolate Wonderland held in Beijing, China on 14th January, 2010
Up to 80 tonnes of chocolate were used in making the displays, which include a mini-army of 560 chocolate replicas of the famous Terracotta Warriors standing to attention on a layer of chocolate flakes.  The chocolate wall is made from solid dark chocolate bricks stuck together with white chocolate.  Chocolatier Wang Qilu, informed us that his version of the ancient wall was a feat of engineering in itself, with a carefully constructed crumbling section at one end to resemble the real thing.  He also had to make sure his materials did not melt.
A Story of Love: Will You Marry Me?
A Chinese man took his girlfriend to visit an aquarium and then shocked her with a surprise proposal from inside the tank.  This romantic act took place at the Fuzhou Zuohai Aquarium, in Fuzhou, Fujian province.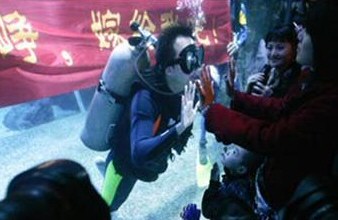 Will and Guy have discovered that Wang Jian, 28, had been taking diving lessons in secret from girlfriend Xie Wenzhen, 24, for two months before his proposal.
'Jian left me in front of the giant water tank saying he was going to get some drinks,' said Miss Xie.  'Suddenly a boy holding a bunch of flowers appeared in the water, and two other divers behind him opened a scroll, reading, 'Please marry me.'
'I was totally stunned, as I realised that the man in the tank was my boyfriend. I never expected I would be taking such a leading role in the proposal. I'm so happy.'
Our photo shows Miss Xie putting her hands to Mr Wang's against the glass; she then kissed him through the aquarium glass to signal her acceptance.
Background
My dearest wife is always going on and on and ON about NOT making a fuss over her on Valentine's Day.  She repeats that it's the thought that counts.
Well, I put a lot of thought into the gifts from previous Valentine's day but she didn't quite take to any of them like I assumed she would.  Here's my list - see what you think:
Brand new mop and bucket.
I was thinking it would be fun to see what colour the floor was because I couldn't remember.
Romantic dinner at fast food restaurant.
I was thinking that she might like to go inside for a change instead of fetching dinner at the drive through.
Chocolates left-over from last year's candy box.
I was thinking of how proud she'd be of me for not wasting food. She's been nagging me for years to recycle.
Midnight moped ride through the park.
I was thinking that I'm getting too old to be peddling on the bike.
Dozen roses printed on high quality photo paper. One of my favourites this -
I was thinking these would last a lifetime instead of just a week.
45 second back massage.
I was thinking any longer and she might think I was interested in something else.
Windows 7
I was thinking how proud she would be to be a part of the technology crowd.
情人节 [Valentine's Day] = qíng rén jié or qing-rnn-jyeh
情人节快乐 [Happy Valentine's Day] = qíng rén jié kuài lè or qing-rnn-jyeh kwhy-ler
爱你一万年 [Love you forever]

A Poem for Your Loved One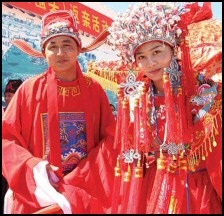 元宵佳節慶團圓
Chinese Valentine means love and happiness forever.
緣份天賜喜鳳鑾
Destiny is gifted by heaven so blessed be all lovers.
鑾鳳和鳴共嬋娟
May they always be as one and stay true to each other.
Footnote
Please send us your items about Chinese Valentine's Day (Qixi)