Here is Will and Guy's collection of short Christmas Stories.
Will and Guy's Christmas Stories
The stories, written below, have been researched on the internet. They do not appear to be restricted by copyright so we are delighted to be able to share them with you. They have been adapted and rewritten. The tales are suitable for all ages and are basically parables or 'stories with meaning.' We hope you and enjoy them.
If you are the writer of one of the tales please let us know and we can give you credit for your story, or remove it if you would prefer.
The Christmas Tree: A Happy Tale for Christmastide for Young Children
One Christmas Eve the trees in a wood were very unhappy. They wished very much to keep Christmas, but they did not know how to do so.
'We look so brown,' complained one. 'And so bare,' added another.
'If we only had our pretty green summer dresses,' contributed a third, 'then we should be decorated and could keep Christmas.'
'Hush, children, hush,' whispered North Wind in quite a gentle voice for such a rough fellow. 'Make haste and go to sleep.'
'Hush, children, hush,' softly murmured a sleepy little bird. He was roosting on one of the branches of the unhappy trees.
So the trees dropped off to sleep, one by one, while a little star twinkled peacefully overhead.
While they slept something happened. When the trees awoke they found that someone, perhaps North Wind, had, during the night, cast over each of them a lovely soft cloak of spotless feathery white.
'How beautiful we are,' said the trees. 'Now we can keep our Christmas.'
Angels on the Christmas Tree

The fairy at the top of the Christmas tree was originally a little figure of the baby Jesus. In late seventeenth century Germany this became a
shining angel. In Victorian Britain, little girls would take the angel down after Christmas and dress him in dolls' clothes. Eventually the angel turned into a thoroughly female fairy, complete with wand. The transformation was boosted by the pantomimes that became popular in the Victorian era - and, naturally, included a good fairy in the cast.
Angels hung on trees, represent the angels who heralded the birth of Christ. This particular example (right) was found in Canterbury Cathedral, Kent, England.
The star, which forms one of the most important ornaments of the Christmas tree, indicates the guiding star which led the shepherds and the magi to the new born Jesus Christ in the stable in Bethlehem.
Stars have knocked angels off the top of the nation's Christmas trees. Will and Guy have heard that demand has fallen so much that some street retailers have dropped angel tree toppers from shops this year. A decade ago angels were still outselling star tree toppers but now stars outsell angels more than 10-fold.
The Geese In The Storm or How Saul Found God
There was once a man, Saul, who didn't believe in God, and he didn't hesitate to let others know how he felt about religion and religious
holidays, like Christmas. His wife, on the other hand, did believe, and she raised their children to also have faith in God and Jesus, despite Saul's disparaging comments.
One snowy Christmas Eve, his wife was taking their children to a Christmas Eve church service in the small community in which they lived. She asked Saul to come, but he refused. 'That story is nonsense!,' he said. 'Why would God lower Himself to come to Earth as a man? That's ridiculous.'
So she and the children went to church, and he stayed at home.
That evening, the winds grew stronger and the snow turned into a blizzard. As Saul looked out the window, all he saw was a blinding
snowstorm. He sat down to relax before the fire for the evening. Then Saul heard a loud thump. Something had hit the window. Then another thump. He looked out, but couldn't see more than a few feet. When the snow let up a little, Saul ventured outside to see what could have been beating on his window.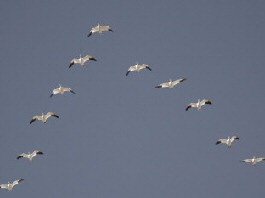 In the field near his house he saw a flock of wild geese. Apparently they had been flying south for the winter when they got caught in
the snowstorm and couldn't go on. They were lost and stranded on his farm, with no food or shelter. They just flapped their wings and flew around the field in low circles, blindly and aimlessly.
Saul, an animal lover, felt sorry for the geese and wanted to help them. The barn would be a great place for them to stay, he thought. It's warm and safe; surely they could spend the night and wait out the storm. So he walked over to the barn and opened the doors wide, then watched and waited, hoping they would notice the open barn and go inside. But the geese just fluttered
around aimlessly and didn't seem to notice the barn or realize what it could mean for them. Saul tried to get their attention, but that just seemed to scare them and they moved further away.
He went into the house and came with some bread, broke it up, and made a breadcrumb trail leading to the barn. They still didn't catch on. Now he was getting frustrated. He got behind them and tried to shoo them toward the barn, but they only got more scared and scattered in every direction except toward the barn. Nothing he did could get them to go into the barn where they would be warm and safe. 'Why don't they follow me?' Saul exclaimed. 'Can't they see this is the only place where they can survive the storm?'
He thought for a moment and realised that they just wouldn't follow a human. 'If only I were a goose, then I could save them,' he said out loud.
Then Saul had an idea. He went into barn, got one of his own geese, and carried it in his arms as he circled around behind the flock of wild geese. He then released it. His goose flew through the flock and straight into the barn, and one by one the other geese followed it to safety. He stood silently for a moment as the words he had spoken a few minutes earlier replayed in his mind: 'If only I were a goose, then I could save them.'
Then Saul thought about what he had said to his wife earlier. 'Why would God want to be like us? That's ridiculous.'
Suddenly it all made sense. That is what God had done. We were like the geese, blind, lost, perishing. God had His Son become like us so He could show us the way and save us. That was the meaning of Christmas, he realised.
As the winds and blinding snow died down, his soul became quiet and pondered this wonderful thought. Suddenly he understood what Christmas was all about, why Christ had come. Years of doubt and disbelief vanished like the passing storm. Saul fell to his knees in the snow, and prayed his first prayer, 'Thank You, God, for coming in human form to get me out of the storm.'
This story, say Will and Guy, appears to be a adaptation of a tale written by written by Louis Cassels in 1959 which we have slightly
developed.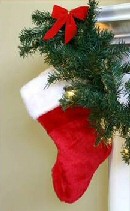 Secrets: A Christmas Poem
Secrets upstairs, secrets down,
On the eve of Christmas.
Daddy brings them from the town,
Wrapped in papers stiff and brown
On the eve of Christmas.
But the secret best of all,
On the eve of Christmas,
Steals right down the chimney tall,
Fills our stockings, one and all,
On the eve of Christmas.
Unknown
It Is More Blessed To Give ...Than To Receive ......
Harry's brother gave him a car as a Christmas present. On Christmas Eve Harry left work, and saw a street urchin admiring his shiny new vehicle.
'Is this your car, Mister? The urchin, named Freddy asked.
Harry nodded in affirmation, 'My brother gave it to me for Christmas.'
Freddy was surprised. 'You mean your brother gave it to you and it didn't cost you anything? Boy, I wish...' He hesitated. Harry knew what he was going to wish for. He was going to wish he had a brother like the one Harry had. But what the lad said was far beyond Harry's expectation.
'I wish,' Freddy went on wistfully, 'that I could be a brother like
that.'
For a few seconds words failed Harry and then he impulsively added, 'Would you like to take a ride in my new car.'
'Oh yes, I'd love that.'
After a short ride, Freddy turned towards Harry. His eyes were glowing and he said, 'Mister, would you mind driving in front of my house?'
Harry smiled a little. He thought he understood what the lad wanted. He wanted to show it off to his neighbours that he could ride home in a big motor car. But Harry was wrong again.
'Will you stop where those two steps are?' Freddy asked. He ran up the steps. In a little while Harry heard him coming back, but he was not coming fast. He was carrying his little brother who was physically challenged. He sat him down on the bottom step, then sort of squeezed up against him and pointed to the car. 'There she is, Noel , just like I told you upstairs. His brother gave it to him for Christmas and it didn't cost him a penny. And some day I'm going to give you one just like it...then you can see for yourself all the pretty things in the Christmas windows that I've been trying to tell you about.'
Harry got out and lifted the lad to the front seat of his car. Freddy, whose eyes were gleaming with joy climbed in beside him and the three of them embarked on a memorable holiday ride.
That Christmas Eve, Harry learned what Jesus meant when he said, 'It is more blessed to give...'
The "Big Wheel" Truck Stop: A True and Joyous Christmas Story
In September 1960, I woke up one morning with six hungry babies and just 75 cents in my pocket. Their father was gone.
The boys ranged from three months to seven years and their sister was two. Their Dad had never been much more than a presence they feared. Whenever they heard his tyres crunch on the gravel driveway they would scramble to hide under their beds. He did manage to leave $15 a week to buy groceries.
Now that he had decided to leave, there would be no more beatings, but no food either. If there was a welfare system in effect in southern Indiana at that time, I certainly knew nothing about it.
I scrubbed the kids until they looked brand new and then put on my best homemade dress. I loaded them into the rusty old 51 Chevy and drove off to find a job.
The seven of us went to every factory, store and restaurant in our small town. No luck. The kids stayed, crammed into the car and tried to be quiet while I tried to convince whomever would listen that I was willing to learn or do anything. I had to have a job. Still no luck.
The last place we went to, just a few miles out of town, was an old Root Beer Barrel drive-in that had been converted to a truck stop. It was called The Big Wheel.
An old lady named Granny owned the place and she peeked out of the window from time to time at all those kids. She needed someone on the graveyard shift, 11 at night until seven in the morning. She paid 65 cents an hour and I could start that night. I raced home and called the teenager down the street who baby-sat for people. I bargained with her to come and sleep on my sofa for a dollar a night. She could arrive with her pyjamas on and the kids would already be asleep. This seemed like a good arrangement to her, so we made a deal.
That night when the little ones and I knelt to say our prayers we all thanked God for finding Mummy a job.
And so I started at The Big Wheel. When I got home in the mornings I woke the baby-sitter up and sent her home with one dollar of my tip money: fully half of what I averaged every night.
As the weeks went by, heating bills added another strain to my meagre wage. The tyres on the old Chevy had the consistency of penny balloons and began to leak. I had to fill them with air on the way to work and again every morning before I could go home.
One bleak fall morning, I dragged myself to the car to go home and found four tyres in the back seat. New tyres! There was no note, no nothing, just those beautiful brand new tyres. Had angels taken up residence in Indiana? I wondered. I made a deal with the owner of the local service station. In exchange for his mounting the new tyres, I would clean up his office. I remember it took me a lot longer to scrub his floor than it did for him to do the tyres. I was now working six nights instead of five and it still wasn't enough. Christmas was coming and I knew there would be no money for toys for the kids. I found a can of red paint and started repairing and painting some old
toys. Then I hid them in the basement so there would be something for Santa to deliver on Christmas morning. Clothes were a worry too. I was sewing patches on top of patches on the boys pants and soon they would be too far gone to repair.
On Christmas Eve the usual customers were drinking coffee in The Big Wheel. These were the truckers, Les, Frank, and Jim, and a state trooper named Joe. A few musicians were hanging around after a gig at the Legion and were dropping nickels in the pinball machine. The regulars all just sat around and talked through the wee hours of the morning and then left to get home before the sun came up.
When it was time for me to go home at seven o'clock on Christmas morning I hurried to the car. I was hoping the kids wouldn't wake up before I managed to get home and get the presents from the basement and place them under the tree. We had cut down a small cedar tree by the side of the road down by the dump. It was still dark and I couldn't see much, but there appeared to be some dark shadows in the car, or was that just a trick of the night? Something certainly looked different, but it was hard to tell what.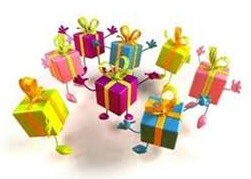 When I reached the car I peered warily into one of the side windows. Then my jaw dropped in amazement.

My old battered Chevy was filled full to the top with boxes of all shapes and sizes. I quickly opened the driver's side door, scrambled inside and kneeled in the front facing the back seat. Reaching back, I pulled off the lid of the top box. Inside was a whole case of little blue jeans, sizes 2-10. I looked inside another box, it was full of shirts to go with the jeans. Then I peeked inside some of the other boxes: There were candy and nuts and bananas and bags of groceries. There was an enormous ham for baking, and canned vegetables and potatoes. There was pudding and Jell-O and cookies, pie filling and flour. There was a whole bag of laundry supplies and cleaning items. And there were five toy trucks and one beautiful little doll.
As I drove back through empty streets as the sun slowly rose on the most amazing Christmas Day of my life, I was sobbing with gratitude. And I will never forget the joy on the faces of my little ones that precious morning.
Yes, there were angels in Indiana that long-ago December. And they all hung out at The Big Wheel truck stop.
The Golden Box: A Beautiful, Thought-Provoking and Inspiring Christmas Story
Once upon a time, a man punished his five-year-old daughter for using up the family's only roll of expensive gold wrapping paper before Christmas. Money was tight, so he became even more upset when on Christmas Eve, he saw that the child had used the expensive gold paper to decorate a large shoebox she had put under the Christmas tree.
Nevertheless, the next morning the little girl, filled with excitement, brought the gift box to her father and said, 'This is for you, Daddy.' As he opened the box, the father was embarrassed by his earlier overreaction, now regretting how he had punished her.
But when he opened the shoebox, he found it was empty and again his anger flared. 'Don't you know, young lady,' he said harshly, 'when you give someone a present there's supposed to be something inside the package.'
The little girl looked up at him with sad tears rolling from her eyes and whispered, 'Daddy, it's not empty. I blew kisses into it until it was all
full.'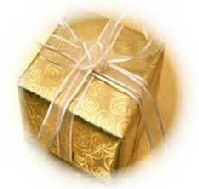 The father was crushed. He fell on his knees and put his arms around his precious little girl. He begged her to forgive him for his unnecessary anger.

An accident took the life of the child only a short time later.
It is told that the father kept this little gold box by his bed for all the years of his life. Whenever he was discouraged or faced difficult problems, he would open the box, take out an imaginary kiss, and remember the love of this beautiful child who had put it there.
Footnote: Please send us your Christmas story