Here we have an Olympic athlete. He is
running, jumping and throwing in fact he is having his very own Olympic games.
What's more he has a friend to film his Olympic endeavours. Enjoy the
amusing video of this personal Olympics. Will and Guy have run such races
in our heads, we suspect that you may have too!
Funny 100 Meters
For company, our Olympic athlete has a tram.
Shot Putt
Here is where the funny Olympic video gets serious - The coconut shot putt.
Is this the Fosbury Flop?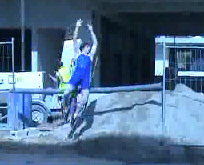 In the Mexico City Olympics of 1968, Dick Fosbury caused a sensation by
re-defining the high jump technique. Our intrepid athlete shows the camera
his funny high jump. Our friend above both have funny Olympic styles, but
there the similarity ends.
Classic hurdling style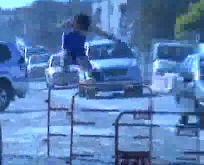 Ed Moses - complete with 'shades' was the best ever Olympic 400m hurdler.
He won Gold at the 1976 and 1984 Olympics, unfortunately USA boycotted the 1960
Moscow celebration.
Dangerous Olympic Discus
We are not sure who is in more danger, the drivers of the cars, or our hero.
On the video, the car drivers certainly don't look amused.
Al Oerter was the best ever Olympic discus thrower. He won 4 consecutive
gold medals 1956, 1960, 1964 and 1968. In each case he battled injury,
adversity and seemingly better athletes.
As You View our Funny Olympics Video - Dream of what you would do.....
See what happens
when our intrepid Olympic athlete runs his events. All will be revealed in the video below.
N.B. With some browsers you need to click twice on the Play arrow

to start the video.
N.B. Help for Mozilla browsers
Free Download of Funny
Olympics Video (Right click, Save Target As)
See more funny, amusing pictures of the Olympic
Games:
•
Olympic Games history •
2012 London Olympics Jokes •
London Olympics locations
• Funny Olympics video •
Amusing Olympic video �
GB Gold Medalists •
Alternative Olympics
•
Beijing 2008 •
Pig Olympics •
Springboard accident video •
Olympic stamps •
Home