Will and Guy present a collection of funny Olympic flames.
More Funny Olympic Cartoons
Olympic Flame Cartoon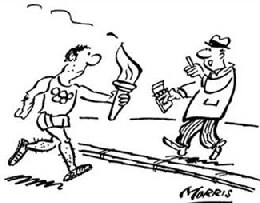 More Serious Olympic Flames
Olympic Flame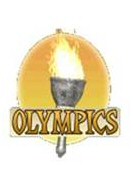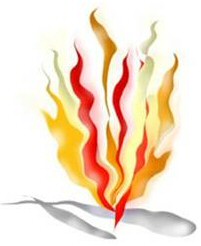 The Olympic Torch
The Olympic torch passes through all 5 continents on its 79 day journey.
Trivial
Question: when was this practice of relaying the torch first started?
1896 - First Olympics of the Modern Era.
1936 - Berlin - Hitler Olympics.
1984 - Los Angeles - Commercialization takes off.
Answer
Funny Olympic Rings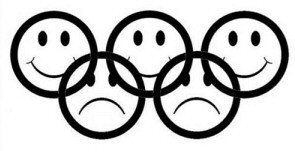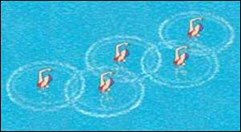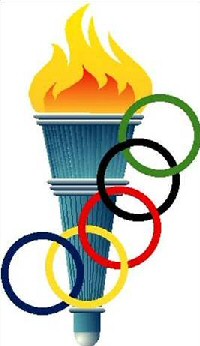 WWE Wrestling Bout?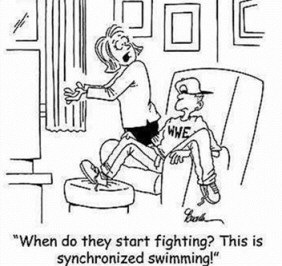 Olympic Secret!
Lord Coe is upset because somebody leaked a video of the rehearsal
for the London Olympics Opening Ceremony on the Internet.
I don't want to give away too much, but it ends with the lighting of
a large flame.

Britain's Eccentric Welcome for the Olympic Torch
Will and Guy have established that communities across Britain are
planning a series of eccentric spectacles: from shin kicking to wool
sack racing, as part of the Olympic torch relay this summer in 2012.
Two men in the annual shin-kicking contest, in Gloucestershire,
England.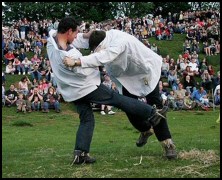 In the run-up to London 2012, the eyes of the world will be on the
Olympic flame as it tours Britain in an 8,000-mile relay; as the torch
arrives in towns and villages across the country, locals will seize the
opportunity to show off the British talent for traditional and eccentric
pastimes, from cheese-rolling to Morris dancing.
Brass bands, choirs and amateur dramatics troupes are also being
recruited to perform, as local authorities take responsibility for
organising festivities at each location along the route.
In Cheltenham, Gloucestershire, the council is planning a
cheese-rolling competition, in which contestants chase a cheese down
a slope.
The same event will feature a shin-kicking contest, in which
competitors try to knock over their opponent by kicking their legs
Also there will be woolsack races, in which runners complete a
course while laden with a sack full of wool.
In Brighton, residents are being encouraged to take up
"guerrilla gardening" by making "seed bombs", or collections of wild
flower seeds, to scatter along a guided walk as the torch goes past.
There are plans for Morris dancers to perform in Hastings, East
Sussex, and Borough Green, Kent.
Elsewhere, the torch relay is being used as an excuse for that other
great British tradition: fancy dress.
In Higham, Kent, locals will wear costumes inspired by Charles
Dickens, a former resident, while in nearby Gravesend, women will dress
up as Pocahontas, the daughter of an American Indian chief who came to
live in the town.
In Ludlow, Shropshire, togas will be worn, while an Edwardian-themed
Olympics is being planned in Durham. Other areas are using the relay as
a chance to highlight local crafts and delicacies.
The Torch Route
The torch will be lit at the site of the ancient games in Greece,
where it was burned in honour of the gods and to signify peace between
competitors.
It will be transported to the UK, arriving in Land's End on 18th May
1, then will pass through more than 1,000 villages, towns and cities
before reaching the Olympic Stadium in east London on 27th July 27.
On its way it is to take a number of unusual methods of transport,
including the Flying Scotsman railway engine through North Yorkshire, an
Isle of Man TT sidecar, a chair lift at the Needles, Isle of Wight and a
Ceredigion cob horse in Aberavon, west Wales.
An average of 115 people a day will carry the flame - each holding it
for an average distance of 300 metres. The precise route is also still
being kept secret by organisers and will be revealed only nearer the
time.
Footnote
Please send us your funny Olympic flames or
Olympic rings.