Kids can be delightful especially at Christmas. Here are Will and
Guy's collection of clean but funny stories and jokes. We have tried to
choose humour that appeal to both children and adults.
Funny Christmas Kids Stories
At the End-of-term Christmas
Party and Disco
'Isn't the head teacher a bit of a twit?' said a boy to a girl.
'Well, do you know who I am?' inquired the girl.
'No.' replied the
boy.
'I'm the head teacher's daughter', replied the girl.
'And
do you know who I am?' asked the boy.
'No,' she uttered.
'Thank
goodness!' said the boy with a sigh of relief.
Don't Try This at Home!
Pastor Tony is walking down the street on Christmas eve when he
notices a Larry, a small boy, trying to press the doorbell of a
house across the street. However, Larry is very small and the
doorbell is too high for him to reach. After watching the boy's
efforts for some time, Pastor Tony moves closer to Larry's position.
He steps smartly across the street, walks up behind the little fellow
and, placing his hand kindly on the child's shoulder, leans over and
gives the doorbell a solid ring.
Crouching down to Larry's level, Pastor Tony smiles benevolently
and asks, 'And now what, my little man?'
To which Larry replies with a beaming grin,
'Now we run!'
Penultimate Day of Term before the Christmas Holiday
'Today we'll relax a little and play a spelling game before we break
up for the Christmas holidays,' says Mrs Anand, the primary
schoolteacher. Each of you will stand up, tell us your name, what your
father does, spell what your father does, and then explain it to us. All
right, Jack, you can go first.'
Jack stands up and says, 'My name's
Jack. My father is a builder, b-u-i-l-d-e-r, and he helps to put up
homes.'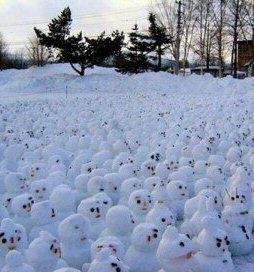 Mrs Anand says, 'Very good. All right, Dominic, your turn.'
Dominic stands says, 'My name's Dominic. My father's a pharmacist,
f-a-m... f-a-r-n... f-n...'
The teacher, Mrs Anand, says, 'Dominic,
you go home tonight and learn how to spell pharmacist. All right,
Bobby.'
Bobby stands up and says, 'My name's Bobby. My old man is a
bookie, b-o-o-k-i-e, and if he was here, he'd give you five to two odds
Dominic won't spell pharmacist by tomorrow.'
See more funny Christmas stories
for children.
The Girl Knows What She Wants
Santa is accustomed to kids bringing their lists with them when they
visit him. But one little girl really knew what she wanted and how to get it
The girl, about 6 years old and dressed in her frilliest dress, sat on
Santa's lap and proceeded to read more than 20 items off of her list -
everything from Barbie's and dolls to a particular brand of baby carriage.
As the little girl reached the end of her list, she turned to Santa and
said, 'If you can't bring all of this, don't worry. My daddy will give it to
me.'
'Do you want to give me the list?' Santa asked.
'No, I think I should keep it for my daddy,' she replied.
Santa, Will and Guy both agreed.
See more Children with Santa tales.
Religious Christmas Jokes
Will and Guy have chosen these funny religious jokes with care.
We feel that they don't offend those with a Christian belief, yet they
will amuse children at Christmas time.
It's said in religious circles that it's a shame that the devil has
all the best tunes. Fortunately, when it comes to funny
Christmas jokes, the devil does not have things all his own way.
There's nothing sadder in this world than to awake Christmas morning
and not be a child.
Erma Bombeck
See more funny Christmas quotes.
Bible Study
Rosalie, my little granddaughter came home from Sunday School, and
I asked her what they had been studying.
Rosalie answered, 'When Mary heard she was the mother of Jesus, she
sang the Magna Carta.'
'Very interesting', I said, 'what else did you learn?'
She replied was, 'Nothing.'
So I asked her, 'Didn't you study
Jesus?'
Rosalie replied, 'No, he wasn't even there.'
Church Notices
For those mothers who have children - and don't
know it, we have a crèche downstairs.
Remember in prayer for Christmas the many who are sick of our
church and community.
Tonight's Advent sermon: 'What is hell?' Come early and listen to our
carol practice.
Here Are More Stories From Our Christmas Website for Children
Trust Me
Reverend Billy Graham was walking down the Hudson Drive in
Harrisburg, North Carolina on his way to see a sick woman.
However, he wanted to post a letter urgently so he asked a young boy where
he could find the post office. When the boy had directed him,
Billy Graham thanked him and
said, 'If you'll come to the Church this evening, you can hear me telling everyone how to get to heaven.'
The boy replied, 'I think I'll give your sermon a miss. If you don't
even know your way to the Harrisburg post office, how will you lead me
to heaven?'
The Value of a Sermon
One Christmas morning, the Reverend Jones announced to his
congregation, 'My good people, I have here in my hand three
sermons......
A $50 sermon that lasts five minutes
A $20 sermon that lasts
thirty minutes
And a $5 sermon that lasts a full hour.
Now, we'll take the collection and see which one I'll deliver.'
Here is the 11th Commandment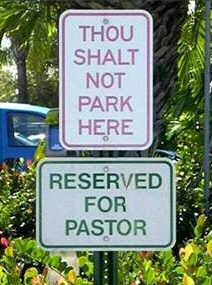 Reginald's New Year Diet
Reginald was terribly overweight after Christmas, so his doctor placed
him on a strict diet.
'I want you to eat regularly for two days, then skip a day, and repeat
this procedure for two weeks. The next time I see you, you'll have lost at
least five pounds, 'his doctor assured him.
When Reginald returned he shocked his doctor by having lost almost twenty
pounds.
'Why, that's amazing, 'the doctor said, greatly impressed, 'You certainly
must have followed my instructions.'
Reginald nodded, 'I'll tell you what though, I thought I was going to
drop dead on the third day.'
'Why, from hunger?' asked his doctor.
'No, from all that skipping.'
Funny Christmas
Statistics to Make Children Smile
There are currently 78 people named S. Claus living in the
USA, and
one Kriss Kringle.
December is the most popular month
for nose jobs.
The weight of Santa's sleigh loaded with one Beanie
Baby for every kid on earth: 333,333 tons [approx. says Guy].
Number
of reindeer required to pull a 333,333 ton sleigh: 214,206, plus Rudolph.
To deliver his gifts in one night, Santa would have to make 822.6
visits per second, sleighing at 3,000 times the speed of sound.
At
that speed, Santa and his reindeer would burst into flames
instantaneously thinks Will.
The average British child will open 18
presents on Christmas morning, worth £330 [$600USD] according to a
survey.
Of the presents received, one in 10 will be broken by the New
Year, only 40% will make it to March and just a quarter will be intact
by next Xmas.
In total around 46 million of kids toys, worth £870m will
be thrown away worldwide.
See more of our
funniest Christmas jokes.
Funny Christmas Kids Songs
When Santa Got Stuck Up the Chimney
When Santa got stuck up the chimney,
He began to shout,
You
girls and boys,
Won't get any toys,
If you don't pull me out.
There's soot on my back,
And my beard is all black,
My nose is
tickling too,
When Santa got stuck up the chimney,
Achoo, Achoo,
Achoo!
Was on the eve before Christmas Day,
When Santa Claus arrived on
his sleigh,
Into the chimney he climbed with his sack,
But he was
so fat - he couldn't get back.
Oh, what a terrible plight, gangway,
He stayed up there all night.
When Santa got stuck up the chimney,
He began to yell.
Oh
hurry, please,
It's all such a squeeze,
The reindeer's stuck as
well!
His head's up there in the cold night air,
Now Rudolph's
nose is BLUE!
When Santa got stuck up the chimney,
Achoo, Achoo,
Achoo, Achoo, Achoo, Achoo, ACHOO!
When Will and Guy were young a favourite funny Christmas song was:
'When Santa got stuck up the chimney.'
Here we present it to you for your enjoyment.
Video
of song can be found here
Christmas Is Going - Song Kindly Sent by Irene Oakes
You here a lot of songs about when Christmas is coming so for a change
this one is about when Christmas is going.
Christmas is going.
The Christmas tree's gone thin.
So scoop up its
needles and throw them in the bin.
The bin is overflowing; what are the binmen like?
They've left behind
the rubbish and took the kids new bikes.
It's sung to the same tune as Christmas is coming, the geese are getting
fat.
Classic Christmas Nursery Rhyme

Christmas is coming,
The goose is
getting fat,
Please to put a penny in an old man's hat.
If you
haven't got a penny,
A half-penny will do,
If you haven't got a
half-penny,
God bless you!
This children's nursery rhyme has a meaning say Will and Guy. It is
to remind people to connect their Christmas fayre with the belief that
we should give to charity, each according to our means; if we are unable
to give then we can give our blessing.
All I Want For Christmas Is My Two Front Teeth
The words and lyrics to the delightful and funny kids song, 'All I Want
For Christmas Is My Two Front Teeth' are by Donald Yetter Gardner who
wrote it in 1944. Originally recorded by Spike Jones and his City
Slickers with George Rock as lead singer. In 1949 it topped the charts.
Other well known versions include the following singers: Danny Kaye, The
Andrews Sisters, The Platters, Nat King Cole, The Chipmunks and the cast
of Sesame Street.
All I Want For Christmas Is My Two Front Teeth
Everybody pauses
and stares at me
These two teeth are gone as you can see
I don't
know just who to blame for this catastrophe!
But my one wish on
Christmas Eve is as plain as it can be!
All I want for Christmas
is my two front teeth,
my two front
teeth,
see my two front teeth!
Gee, if I could only
have my two front teeth,
then I could wish
you
'Merry Christmas.'
It seems so long since I could say,
'Sister Susie sitting on a thistle!'
Gosh oh gee, how happy I'd be,
if I could only whistle (thhhh, thhhh)
All I want for Christmas
is my two front teeth,
my two front
teeth,
see my two front teeth.
Gee, if I could only
have my two front teeth,
then I could wish
you
'Merry Christmas!'
Footnote:
Please send us your funny Christmas
kids story.