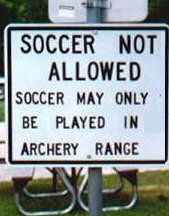 Hodge scored for Forest after
only 22 seconds, totally against the run of play. Peter Lorenzo
Do (No) Gooders
Patricia began her job in a secondary school as a counsellor and she was keen to help the pupils.
One day during break-time she noticed a girl standing all by herself on one side of the playing
field while the rest of the children were enjoying a game of football [soccer] at the other end of the field.
Patricia approached and asked if she was all right. The girl said that she was. Some
time later, however, Patricia noticed that the girl was in exactly the same spot, still by herself.
Going up to her again, 'Trish enquired, 'Would you like me to be your friend?' The girl hesitated,
then said, 'Alright,' while looking at Patricia with some suspicion.' Feeling she was making progress, Pat then asked, 'Why are you standing here all alone?'
'Because,' the girl said with a
large sigh, 'I'm the goalie!'
Funny Football One-liner
If that had gone in it would have been a goal. David
Coleman
Football Joke - Seat in Stand?
Bernie and Eddie were fortunate enough to have a season ticket to watch Manchester United. They could not help noticing that there was always a spare seat next (K37) to them and they had a friend who
would love to buy a season ticket, especially if all three could have seats together.
One half-time Bernie went to the ticket office and asked if they could by buy the season ticket for K37. The
official said that unfortunately the ticket had been sold. Nevertheless, week after week the seat was still empty.
Then on Boxing day, much to Bernie and Eddie's
amazement the seat was taken for the
first time that season. Eddie could not resist asking the newcomer, 'Where have you been all season'. Don't
ask he said, the wife bought the season ticket back last summer, and kept it for a
surprise Christmas present.
[Funny how one joke reminds you of another]
Front Row Seat
Simon took his seat in the 3rd row of the arena for the big football match.
Upon looking around, he was surprised to see his young neighbor, Jerry,
in the front row. "Hi, Jerry!" He called out.
Jerry turned around. "Hi, Simon!" he called back.
"How did you get the front row ticket?" Simon asked.
Jerry answered, "From my older brother."
Simon asked, "Where is he?"
Jerry answered, "At home looking for his ticket!"
What a Dedicated Fan
Michael was watching the derby game between Manchester United and
Liverpool; Old Trafford was packed and there was only one empty seat - next
to Michael.
'Who does that seat belong to?' asked the person in the next seat.
'My wife usually sits there.' Michael replied
'But why isn't she here?' the neighbour persisted
'She died.'
Said Michael in a matter-of-fact tone.
'So why didn't you give the ticket to one of your mates?'
'They've
all gone to the funeral.' Said Michael.
The Referee's Influence
It was the F.A Cup Final dinner and dance held in the evening, after
the final. The festivities were in full swing when three newcomers
arrived without tickets. 'It's all right,' said one, 'we're friends of the
referee.'
'Whoever heard of a referee with three friends?', said the
bouncer, as he threw them out.
Soccer's
Larger Goals:
The BBC's
Saturday lunchtime show 'Football Focus'
broadcast a piece centred on the upcoming change of the size of goals. Using the then West Ham
United manager, Harry Redknapp, the report claimed that the size of the goals would increase by two feet in height and four feet in length. Redknapp was being 'interviewed'
on the training ground where his
goalkeepers were getting to grips with bigger goals.
They told the truth on the following week's
show, where outtakes of Redknapp messing up his lines were also shown.
See more funny referee jokes
Mirror Images
Two football fans are walking along the road when one of them picks
up a
mirror. He looks in it and says, 'Hey, I know that bloke!'
The second one picks it up and says, 'Of course you do you idiot, it's
me'.
A Game of Life and Death
Bill Shankly, the late, legendary Liverpool FC manager reputedly
said, 'Some people believe football is a matter of life and death. I'm very disappointed with that attitude. I can assure you it is much, much more important than that.' It appears that this fan thinks much the
same:
An Italian football fan has started putting up a grave every time his team loses a major match. Inter Milan fan, Massimo Pecorino, 52, has so far erected more than 20 gravestones on a local
mountainside. He says grave mistakes can only be marked by a grave where he buries his hopes and dreams, near his home town of Cortona.
Pecorino said, 'Instead of enjoying a celebration I felt like I was at
a funeral, so I spent the day carving out my fury on a stone.'
Funny Football One-liner
Andy Ritchie has now scored 11 goals, exactly double the number he
scored last season. Alan Parry, Football Commentator
World Cup Football -
Car Insurance
Car insurance companies in the UK will be pleased if England crash out of Euro 2008 in the early stages.
Based on information collated from the 2004 European championships it appears that
England's
drivers crash their cars more often on England match days. In 2004 crashes leapt by some 14% generally during the whole tournament. Accident figures when England played against Portugal and lost on
penalties rose by over 51%.
See more funny World Cup jokes and stories.
Golden Oldie Section of
Football Jokes
I thought of removing this section, however, I kept it because it applies
each year, the details just needs modifying for each new season.
Robbery at West Ham United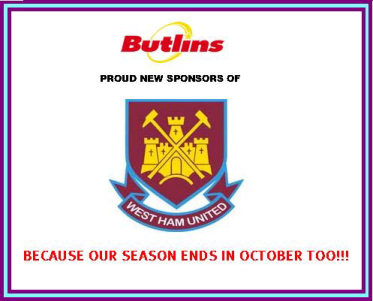 A
burglary was recently committed at West Ham's
ground, and the entire contents of the trophy room were stolen.
The
London police are looking for a man with a claret & blue carpet.
Leeds United - Special AutoRoute for August 2007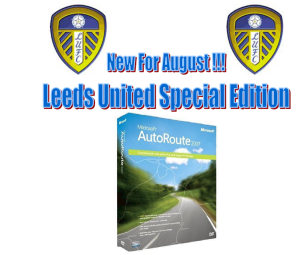 Now with new routes to:
Cheltenham,
Northampton,
Carlisle
Doncaster and many more places never previously
visited.
Now with new features on things to do in places like:
Gillingham
Swansea
Crewe
Tranmere
Please Note: For faster route finding the following cities have been deleted as they are not needed:
Manchester
Liverpool
Sheffield and Barnsley
Hull
The entire North East (except
Hartlepool)
All for the special price
of £49.95
(About the same as return coach, match ticket, programme and meat pie at Leyton Orient)
Updated In 2009 to Include:
Milton Keynes
Wycombe
Yeovil
Updated in 2011 to Include
West Ham - Again!
Brighton - Promoted
Southampton - Promoted
Updated in 2012 to Include
Wolverhampton - Relegated
Brighton
Charlton - Promoted
Footnote
Please write to Will and Guy if you have any funny football jokes.