Here is Will and Guy's collection of reports, gossip and rumour all with a festive theme.
Secret Santa
Mystery of 'real-life Santa' who gave away £50 notes
Will and Guy have discovered that real-life Father Christmas has left shoppers in a Devon village bewildered after he secretly handed out £50 notes in a local supermarket ast year.
The generous man, who has not been identified, secretly slotted the cash-filled envelopes into customers' shopping baskets, complete with
letters wishing them a Merry Christmas before swiftly disappearing.
It is understood that at least 12 people, including a retired couple, were the lucky targets of the Good Samaritan in the days leading up to
Christmas. All this excitement happened outside the Tesco Supermarket in Sampford Peverell, Devon, England.
The money was in envelopes which contained also the note which is shown above.
One lady, who is in her seventies, delightedly added, 'We are hugely grateful to this man for such a lovely gift, it's not just about the money,
it just made us feel that there are people out there who are genuinely good and selfless, and realise there is more to life than money.'
Will and Guy couldn't agree more – the true spirit of Christmas.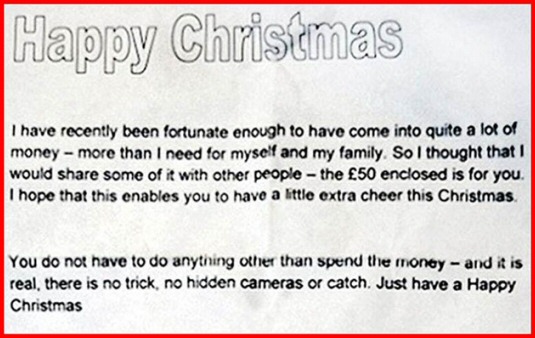 Hilarious and Amusing Christmas News Stories from Around the World
Christmas Dinner Pot Noodle Launched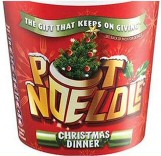 Will and Guy will not be eating this type of food for their Christmas lunch on the 25th December. We find it hard to believe that this product really does exist - but here it is.
We appreciate that many people will be cutting back this Christmas because of the economic climate but perhaps the Pot Noeldle is going a step too far. Its claim is that it's a special version of the student favourite and at £1.10 GBP [$1.77 USD] it will fit most budgets.
Manufacturer, Unilever said it is a "fusion of turkey and stuffing with all the trimmings".
Two pence from each sale will go to buy 'phone time for British troops stationed abroad. Troops taste-tested the new recipe of their favoured home comfort snack. Squadron Leader Stuart Balfour [Royal Air Force] told us, 'It will help keep them in touch with loved ones at a really important time of the year.' For this reason alone Will and Guy applaud the idea.
Magnificent Light Show in Pennsylvania
Even with 21,240 lights Wayne Allen does not consider his Christmas display all that big or extraordinary.
'I don't have animations or blow moulds, there isn't any music playing. I don't have a nativity in the yard or a Santa on the roof.' Allen says. 'It is just lights. That's all.' But apparently, Will and Guy have learned those 21,240 lights are causing big trouble.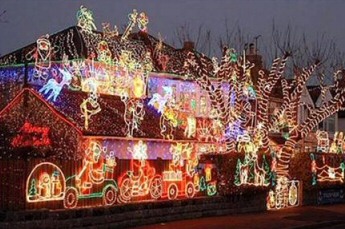 The Northern Pennsylvania man has been decorating his home each Christmas season with thousands of brilliant multi-coloured lights since the early 1970s.
For years people from the surrounding area have driven past the Allen home to look at the lights. Over the years the number of people driving by has numbered into the hundreds on some nights during the season and all that traffic has local police upset with Allen.
Christmas Lights Cost Money
According to a Christmas news story from comparison website, more than half of UK families will be installing outdoor Christmas lights this festive season, many of these for the first time. The survey also discovered that the average household expects to spend around £236 GBP [$370 USD] on the decorations for the outside of their house.
Despite all of this festive cheer, outdoor decorations do not always go to plan Will and Guy have discovered For example: 6% of those questioned said that putting up Christmas lights had caused problems with their electrics, while 5% had an accident while they were either putting their lights up or taking them down. 85% admitted that they had no idea how much their Christmas lights were likely to cost them in terms of the extra electricity used. "Gocompare" estimated that lights which were switched on for 6 hours each day over the Christmas period would use an extra 22 days worth of electricity.
The comparison site is urging home owners to check their energy deals before they switch on their lights to get the best deals available. In
addition homeowners should take extra care when putting up their lights and get an electrician in if they are at all unsure about what to do.
Particular care should be taken if you are erecting the light show seen below in Pennsylvania, USA.
French Parents Seek Ban on Father Christmas Advert
French parents have sought to ban a television commercial in which a father tells his adult son that Father Christmas does not exist, claiming it has traumatised their children Will and Guy have discovered. The 20-second clip was aired last week during a commercial break on TF1, which was broadcasting the family film, "Ratatouille".
'Son, I've got some bad news for you,' says the father in the advert for Crédit Mutuel, a high street bank. 'Father Christmas doesn't exist,' he
says, making a parallel with financial advisers whose prime motivation for selling products, he claims, is their commission. The commercial sparked outrage among parents who are calling on the advertising watchdog to ban the clip. Interesting to see how this Christmas news story unfolds.
See more Christmas red tape stories.
An Amusing and True Funny Story At Christmas
A seven-year-old boy was stopped by police in northern Germany while trying to plough snow with a front loader he borrowed from his parents' business, authorities have told Will and Guy. Officers on patrol found the boy atop the 3.5-meter-tall [11.5-foot-tall] excavator after he had cleared the street in the town of Reinfeld and was driving back to the parking lot. The child noticed the police car behind him and stopped immediately.
'He opened the door, got out and admitted immediately that he did not have a driving licence,' the police report said. When asked why he had begun ploughing, he said his father had complained about the state of the roads. He saw the key in the ignition of the vehicle and set off.
Police retrieved the key to the loader from the child and returned it, and the boy, to his mother.
Fun Trivia Gleaned from Local UK Newspapers
The song "White Christmas" holds the credit as the most-selling Christmas single of all time.
Santa Claus has nine reindeer counting Rudolph that pull his sleigh.
Saturnalia, was the Roman's holiday that was celebrated in December.
It wasn't until about 200 years after Christ's death that Christians started celebrating his birth.
In northern Europe there was a holiday known as Yule. People celebrated this holiday by making great fires. They then would dance around the fires, yelling for the winter to end.
Austria was the first country to issue a Christmas postage stamp.
Silver and gold are the popular Christmas colours after red and green.
Eggnog, the popular Christmas drink, was an American discovery.
The Christmas carol, 'I Saw Momma Kissing Santa Claus' was made famous by Jimmy Boyd when he was just 12 years old.
Christmas lights were invented by the American Ralph E. Morris.
W. C. T. Dobson invented the Christmas card.
Canada is the largest exporter of Christmas trees.
King's Canyon National Park, California, USA, has the world's largest Christmas tree.
Coca-Cola made the concept of Santa Claus popular in America.
There are twelve days between Christmas and the Epiphany.
Footnote: Please send us your Christmas news story.