Unusual, Funny, Interesting and Moving Cat Stories Suitable for Christmastime

Whenever I see a cat I cannot help thinking here is a tiger in a toy's body. It constantly amazes me the scrapes that these felines get
themselves into - then out of.
Faith the Brave Cat
A stray cat wandered into St Augustine's and St Faith's Church in London in 1936. She was named Faith and adopted by the rector and parishioners. She would sit at the pulpit while Father Henry Ross preached.
In 1940, Faith gave birth to a single kitten named Panda. On September 6th, Faith demanded access to the church basement. When a door was opened for her, she carried her kitten down to the dark cellar. Father Ross retrieved the kitten twice, but Faith carried him back downstairs - twice. She even missed a church service, which was unusual.
The next day, air raids began in the Battle of London, and by the 9th, 400 people had been killed and eight churches were destroyed by bombs.
Father Ross returned to the church to find it ruined. He called for Faith and heard faint meowing in return. He retrieved both Faith and Panda from the rubble just before the roof collapsed.
Faith was nominated for a *Dinkin Medal, for which she was not eligible as a civilian, but she was awarded a special medal for bravery anyway. Faith was presented with the medal in a special ceremony in 1945 attended by the Archbishop of Canterbury.
When Faith died peacefully at the age of 14, the church was again packed for her funeral.
The Dickin Medal was instituted in 1943 in the United Kingdom by Maria Dickin to honour the work of animals in war. It is a bronze medallion, bearing the words "For Gallantry" and "We Also Serve" within a laurel wreath, carried on a ribbon of striped green, dark brown and pale blue.
While these cat stories are suitable for Christmas, they are also interesting to read at other times of the year.
Tama Saves the Day
Tama, a nine-year-old calico, is credited with saving the Wakayama Electric Railway Company of Japan from financial ruin.
Wakayama was losing money and laying off employees.
Tama, who was born to a stray at the Kinokawa station, remained at her post (not that she had anywhere else to go).
In January of 2007, she was named Stationmaster and the resulting publicity boosted ridership tremendously, saving Wakayama from bankruptcy.
She is now the fifth-highest ranking officer in the company. Tama even has her own uniform and office.
Scarlett Saves Her Kittens
In 1996, a fire broke out in a suspected crack house in Brooklyn.
A cat later named Scarlett was observed carrying her kittens out of the building one by one. She was severely burned, and blinded by blisters. She touched each kitten with her nose to make sure they were all safe from the fire, and then collapsed.
Firefighter David Giannelli took the cat and kittens to the North Shore Animal League clinic. The League received 7,000 applications to adopt Scarlett and her kittens.
Three families were selected, and Scarlett made a full recovery.
Scarlett's story was made into a book, Scarlett Saves her Family, and a children's book, The Bravest Cat. The North Shore Animal League created an honour in her name, the Scarlett Award, for animal heroism.
More Christmas Cat Stories
Rusik the Police Cat
Rusik, the cat, walked into a police checkpoint a year ago as a stray kitten. The staff quickly adopted it, feeding it on scraps of sturgeon
confiscated from smugglers. He learned the taste and scent very well. Rusik was later recruited by police at a checkpoint in the Stavropol region, bordering the Caspian Sea, to uncover illegal cargoes of the endangered fish.
A cat's sense of smell is reportedly more sensitive than a dog's. The problem usually is getting the cooperation of the cat to use that ability.
As it turned out, Rusik's ability to sniff out poached fish hidden in trucks and other vehicles was so good that he had replaced the local sniffer dog. No matter how ingenious the smugglers were in their attempts to hide the fish, Rusik was always able to point his nose in the right direction and find it.
Sadly, Rusik's career was ended suddenly when he was hit by a car in which he had found smuggled sturgeon some time before.
How Pussy Willows Got Their Name
Many spring times ago, according to an old Polish legend, tiny kittens had been chasing butterflies at the river's edge and fell in.
The mother cat, helpless to save them, started crying. The willows at the river's edge swept their long graceful branches into the water; the kittens gripped on tightly to the branches and were rescued.
Each spring time since, goes the legend, willow branches sprout tiny fur-like buds where the tiny kittens once clung.
As told to Will by his Polish acquaintance Renata.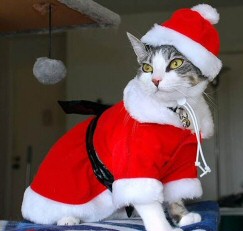 The French Farmer's Cat
Farmer Alfonse Mondry's cat, Misele, just could not stand it when her 82 year-old master was taken to a hospital in Sarrebourg, France.
Some incredible tracking instinct and a heart full of love led Misele straight for her master nine miles away; through rock quarries, cattle
fields, forests and busy highways. At the hospital, in town, where she had never been before, she sneaked in past orderlies and found old Alfonse's room.
When nurses found them, the attending doctor was summoned. Their patient was now resting comfortably with the cat purring contentedly across his legs. They did not have the heart to separate them.
Étoile de Nuit - The Heroic Cat
While peacefully sleeping in her home during the early morning hours, Guylaine never imagined that she would lose everything she owned in one day.
At 6:46 a.m., Guylaine's cat, Étoile de Nuit, began meowing loudly.
Thinking nothing of it, Guylaine tried to go back to sleep but the persistent feline was determined to wake his owner.
Groggy and sleepy-eyed, Guylaine arose to find a fire raging in her bathroom and smoke swirling in her living room.
Guylaine, who suffers from muscular dystrophy, left to wake her neighbours. The cat had saved her life.
A Cat's Prayer at Christmas
Although I am too proud to beg,
And may appear to be a very independent creature,
I ask for your loving care and attention.
I rely on you for my wellbeing much more than you may realize.
This I promise you, my benefactor, that I will not be a burden on you
Nor will I demand more of you than you care to give.
I will be a quiet peaceful island of serenity for you to gaze upon;
A soft soothing body to caress,
And I shall purr with pleasure to rest your weary ears.
Since I am a gourmet who appreciates different taste sensations,
I pray you will give me a variety of nutritious foods and fresh water daily.
You know dear friend, how I love to go.
Allow me, I pray, a warm sheltered place Where I can rest peacefully
and feel secure. If I am wounded in battle or suffering from disease,
Please tend me gently, and see that I am treated
By loving and competent hands.
Please protect me from the inhuman humans
Who would hurt and torture me for their own amusement.
I am accustomed to your gentle touch and am not always suspicious
Nor swift enough to avoid such malicious acts.
In my later years when my senses fail me
And my infirmities become too great to bear,
Allow me the comfort and dignity that I desire for my closing days
And help me gently in my pain or passing.
Hear this prayer, my dear friend, my fate depends on you.
The author remains unknown
Footnote: Please send us your Christmas cat stories.