Olympic Stamps
Interesting Olympic Games Stamps and Philately Jokes
Margaret's Postal Question
Margaret bought an Olympic stamp at the post office and asked the clerk, 'Shall I stick it on myself?'
The clerk replied, 'Madam, it'll get there much faster if you stick it on the envelope.'
 Sponsored Links  ∇
Great Britain Gold Medallists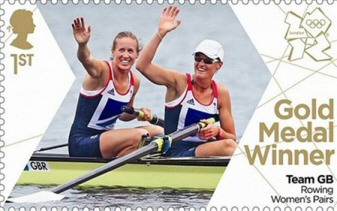 London 2012 Olympics gold medal winners Helen Glover and Heather Stanning who won the Women's Pair's rowing final. The Royal Mail will also paint a red post box in the rowers' home town gold in honour of the occasion.
Bradley Wiggins Gold Medal Stamp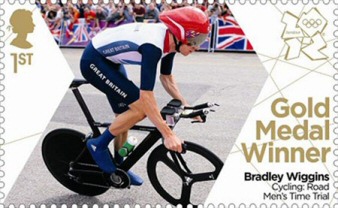 Bradley Wiggins, and other 2012 British gold medallist, will have their own commemorative stamp.
See more commerative stamps for the other GB gold medal winners.
The set includes two first class stamps and two priced at £1.28 - the cost of airmail postage.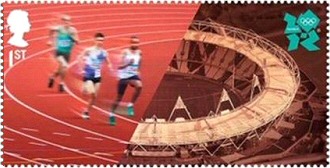 London 2012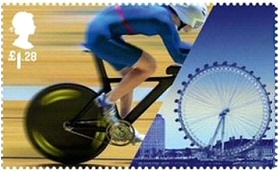 The British Royal Mail is issuing a new set of stamps to mark the start of the Olympic Games, featuring four of the most popular events. The stamps show a cyclist, a fencer, a diver and runners, alongside London landmarks Tate Modern, Tower Bridge, the Olympic Stadium and the London Eye.
During the Games, Royal Mail will be issuing a special collection of Olympic Gold Medal stamps to mark every Team GB gold medal win.
Olympic Stamp Featuring Diving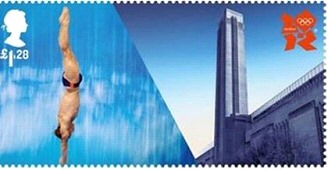 Mayor of London, Boris Johnson, said: "Even fleet-footed Hermes himself would hang up his winged sandals and send his letters through Royal Mail if he saw the quality of these beautiful Olympic-themed stamps".
"It's fantastic that some of London's most iconic landmarks are now set to grace the doormats of millions of homes and businesses, helping to seal our city's status as a world-class destination."
We have thoroughly searched our sources to provide readers with a selection of Olympic Stamps. It is by no means a definitive collection; indeed, it is not meant to be. We hope that you enjoy perusing the stamps and perhaps laughing at our Stamp Jokes.
London 1948 Olympic Stamps
London 2012 is not London's first Olympics and these are not Britain's first Olympics stamps; London hosted the Games in both 1908 and 1948 and a set of stamps was released to celebrate the 1948 Games; unfortunately there were no 1908 Olympics stamps as commemoratives were not issued in Britain until 1924.
Four Olympics stamps were issued on 29th July 1948 (in 2½d, 3d, 6d and 1/- denominations. The designers were S. D. Scott (of Waterlows stamp printers), Edmund Dulac, Percy Metcalfe and Abram Games. Scott's 6d design was also selected for use on air letters, as it was suitable for both photogravure (stamp) and letterpress (air letter) printing.

In total 3.5 million sets of the 1948 Olympics issue were sold, earning the Post Office £340,000, and the stamps were much admired by the public and collectors.
1948 Stamp Poem
The magazine Stamp Collecting even published an anonymous poem on the subject in their issue dated 14th August 1948.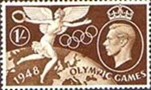 To the Very Refined Lady on the 1/- Olympic Stamp
Dedicated without permission, to the Postmaster General, by his humble and obedient servant a Member of the Public
She bounces on a weary world
Skittish, coy, and fat and forty.
Her wings askew, her hair is curled,
She hopes she's looking rather naughty.
Oh Whitehall, dashing, carefree, frisky.
How did you draw a dame so risqué?
Perhaps you wished to make us start
With admiration at your art-
Or was it just a double whisky?
More Interesting Olympic Stamps
We have found another set of stamps which are real curiosities in that they depict an Olympic Games which never actually took place: the Berlin Olympics of 1916 which was prevented by the First World War.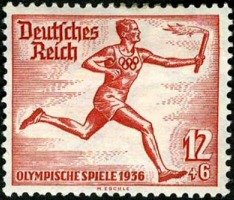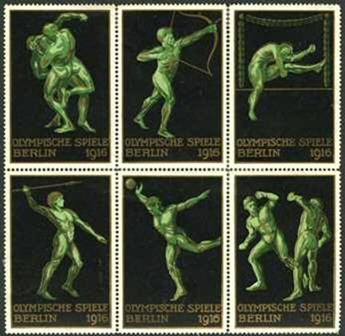 Stamp Joke - The Collector
Herman, a young American collector, asked an old advanced philatelist, Dieter, how he made his collection so advanced and valuable.
Don had a look at the young whippersnapper and said, 'Well, young man, it was in 1940 when I got a bunch of old letters from an uncle, I soaked off the stamps, dried them and put them in a presentation folder. I spent four days on this, after which I sold the stamps at my school for a cool 4 dollars. The next morning, I invested those four dollars in some more stamps on paper. I spent the next four days on them and sold them afterwards for 6 dollars. I continued this system for a month, by the end of which I'd accumulated a fortune of 200 dollars.
Then my uncle died and left me his Berlin 1916 Olympic Games collection worth two million dollars ....................'  (see above).
Stockholm 1912 Olympic Stamps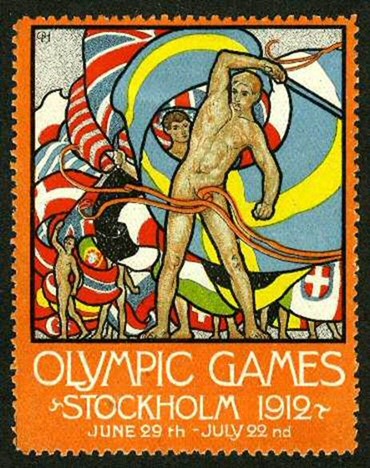 1932 Los Angeles, USA
These stamps did not encounter the usual resistance surrounding other new issues of the era in that they promoted the Summer Olympics of 1932 in the same manner that the 'ski jumper' stamp above promoted the Winter Olympics.
1920 Anwerp Olympic Stamps

Will wrote a letter to the Postmaster General once, it listed ways to improve the mail service.
The letter got lost!
A Letter to God
A Post Office worker at the main sorting office finds an unstamped, poorly hand-written envelope addressed to God. He opens it and discovers it is from an elderly lady, distressed because some thief robbed her of 100 dollars. She will be cold and hungry for the rest of the month if she doesn't receive some divine intervention.
The worker organizes a collection amongst the other postal workers, who dig deep and come up with 96 dollars. They get it to her by special courier the same morning.
A week later, the same postal worker recognizes the same hand on another envelope. He opens it and reads, 'Dear God, Thank you for the 100 dollars. This month would have been so bleak otherwise. P.S. It was four dollars short but that was probably those thieves at the Post Office.'
Fabulously Funny Postal Quote
There haven't been too many famous quotes associated with the post office as far as we can ascertain. The most famous is the one chiselled in stone above the entrance to the main post office in New York City: 'Neither snow nor rain nor heat nor gloom of night stays these couriers from the swift completion of their appointed rounds.'
Most people don't realize that the quote is 2,000 years old. It comes from the Greek writer Herodotus, who mailed it in, intending it for the entrance of the post office in ancient
Athens. But you know how the mail is ...
The Post and Insurance
Brett's stamp collection was stolen, and Sasha, his wife, phoned the insurance company, 'We had that collection insured for fifty thousand and I want my money, please.'
'Whoa there, just a minute, Sasha. It doesn't work quite like that. We will ascertain the value of the collection and provide you with a similar one of comparable worth,' replied the insurance agent.
Sasha, after a long pause, 'In that case I'd like to cancel the policy on Brett, my husband.'
Stampingly Funny Humour
The Elderly Lady and The Package
Old Bernadette took a package to the post office to mail and was told it would cost $2.40 for fast delivery or $1.30 for slower service.
'There is no hurry,' Bernadette told the clerk, 'just so the package is delivered in my lifetime.'
The postmaster glanced at her and said, 'That will be $2.40, please, Madam'
Footnote
Please send us your interesting Olympic stamps, especially from the early games.