In Britain for two weeks in June, one of the four Grand Slam tennis
tournaments is played at The All England Club, Wimbledon, just outside London.
Here are some tennis jokes and funny pictures to celebrate the occasion.
Some Amusing Tennis Quotes:
To err is human. To put the blame on someone else, is doubles.
Anonymous.
Why should you never fall in love with a tennis player?
To them, "Love" means nothing.
I would so like to be Lenny Kravitz.
Roger Federer.
I wore that to a sixth-grade dance. Robby Ginepri on Vince Spadea's outfit in
Miami.
I listen to him most of the time, some of the time I switch off.
Andy Murray on
coach Brad Gilbert.
Diane - keeping her head beautifully on her shoulders.
Ann Jones
Zivojinovic seems to be able to pull the big bullet out of the top drawer.Mike Ingham
If she gets the jitters now, then she isn't the great champion that she is.
Max
Robertson
McEnroe has got to sit down and work out where he stands. Fred Perry
When Martina is tense it helps her relax. Dan Maskell
We haven't had any more rain since it stopped raining. Harry Carpenter
These ball boys are marvellous. You don't even notice them. There's a left
handed one over there. I noticed him earlier. Max Robertson
She comes from a tennis playing family. Her father's a dentist.
Anonymous BBC 2 Television presenter.
Wimbledon 2007 - Defining Memories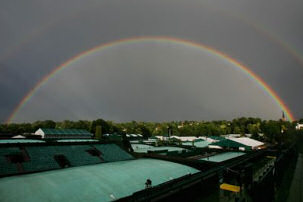 Play stopped rain!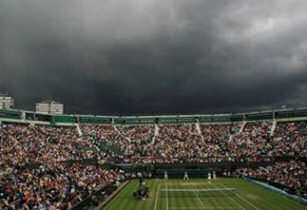 So that's alright then? - No-tennis Tennis Court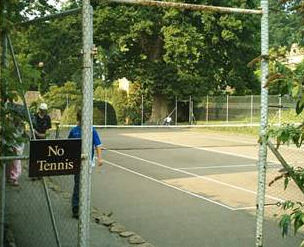 Tennis - Doctor's orders
Arnie, a management executive, has on his doctor's orders, to take part in some
form of sporting activity. Arnie decides to play tennis.
After a few of weeks Moya, his secretary asks him how he's doing.
'It's going very well, thanks,' Arnie answers. 'When I'm on the court and
I see the ball speeding towards me, my brain immediately says: 'To the corner!
Back hand! To the net! Smash! Go back!'
'Really? What happens then?' Moya enquires of Arnie, in some awe.
'Then my body says, 'Who? Me? You must be kidding!'
Both Will and
Guy have some sympathy with Arnie.
Top Seed?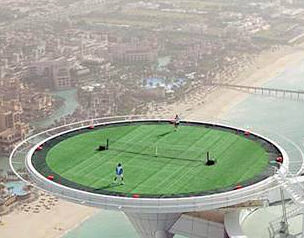 Top Spin?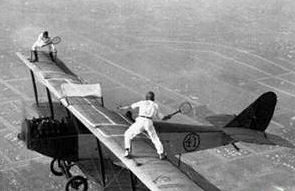 Please send us your funny tennis jokes or amusing Wimbledon pictures
See more sports jokes and funny stories:
• Colemanballs •
Basketball • Soccer
• Tennis jokes •
Baseball jokes •
Funny sport quotes
• Clean cricket jokes •
Funny cricket stories • Cricket nicknames • Sports nicknames
• Sports Home •
Clean golf jokes • Funny golf pictures
• Rugby
nicknames • Rugby stories