The Kitten and The Budgerigar
The Kitten and The Budgerigar - PowerPoint Presentation
The pictures you are about to view are quite amazing. (Kindly sent in by John Morris.)  Will and Guy wonder how long this friendship will last.  Cat lovers also fear for the safety of the budgie*.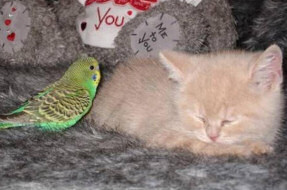 Do You Want to Play?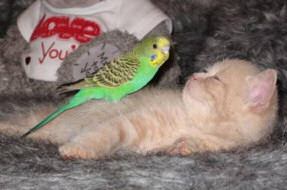 You Can See How Small The Kitten Is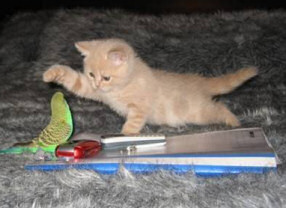 I Need Another Sleep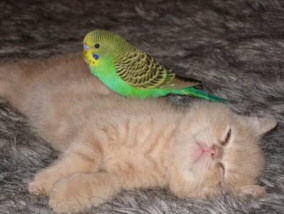 Free PowerPoint Slide Show - The Kitten and The Budgerigar
Free PowerPoint Slide Show - Dogs Look Like Owners
The Kitten and The Budgerigar
The Kitten and The Budgerigar.
Budgie meets Kitten.
Do you want to play?
That's a good idea.
Here is a friendly pat.
This is lots of fun.
I need another lie down.
Please don't go back to sleep.
* Birds and Cats
Will and Guy are not big on disclaimers.  However, in this instance it's only fair to share the fears of animal lovers, particularly as we realize intuitively that a cat and a bird a dangerous combination.  The specific worry is a chemical in cat saliva that is toxic to birds, which is why birds usually don't survive even minor cat attacks.
Additionally, cats' instincts regarding birds are strong, and even a cat that normally doesn't attack a bird might unthinkingly "nail" it with a claw in response to a quick movement, just as they will "attack" fingers, toes, yarn, or anything else that catches their interest by wiggling, flopping or bouncing.
Extra material supplied by Peggy G. and Quaker Parrot's website
How to Create a PowerPoint Presentation
Making presentations in PowerPoint is satisfying, moreover, it's easy to get started.  The PowerPoint program is intuitive to learn and easy to create your own PPT slides and build them into a slide show.  If you have Microsoft Office you may find that you already have PowerPoint along with Word and Excel. 
One way to begin is simply to open any example presentation.  Just download one of our free PPT files and open it with PowerPoint.  As you examine the slides, so it will become obvious how to add pictures and titles, if you do get stuck, ask the wonderful built-in 'Help'.  To make an amazing slide show requires these skills;
Imagination - Think an idea, then build a themed slide set
Artistic - An eye for a good picture
Wordsmith - Choose a catchy title for each slide
Humour - Your viewers will appreciate a funny PowerPoint Presentation
PowerPoint mechanics - Actually, this is the easiest skill of them all, the program is so intuitive.
Good luck with creating your PowerPoint Presentation
Will and Guy