Paris 1900 Olympic Games
Paris 1900 Olympic Games - II Olympiad
A feature for the next 4 or 5 games was how long they were.  The Athens 1896 Olympics was over in a reasonable 8 days, but the Paris games went on and on for 5 months. This was the first time that Olympic Games were held in in Paris, it would be held in France again in 1924.
The number of nations represented had doubled to 28 and there were now 75 events contested and Women made their first appearance in the games.  Tennis was the new popular sport and Charlotte Cooper of Great Britain won the ladies singles.
I found it surprising that athletes entered as individuals, there was no concept of national trials for another 8 years.  It is rumoured that in some team sports competitors did not realise they were competing in the Olympic games.  This may explain why teams comprising members of different nationalities were acceptable.  What price a rowing team 2004 with an Englishman, Irishman, German and American!
Ray Ewry, who had overcome childhood polio, won three championships in one day - all in the standing jump events.
Alvin Kraenzlein won the 60m, the 110m hurdles and 200m hurdles, and the long jump. His record of four individual victories at one Games still stands for a track and field athlete.  (Carl Lewis's record of four wins includes the relay.)
Skulduggery in the 1900 Olympic Marathon?
Athletes in the 1900 marathon always suspected that the French participants cheated.  The American competitors reached the finish line without having seen the French athletes pass them, only to find the French runners already there, "surprisingly fresh" and clean, despite the mud-drenched track.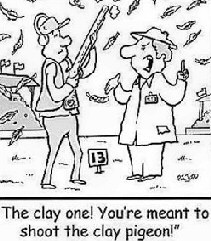 Olympic Games Trivia
Pigeon shooting was one of the sports on the program in Paris in 1900. Fortunately this shooting event was short lived. It was the only time animals were killed on purpose during an Olympic event.
Hazy Records
Records were haphazard, and to this day the names, and especially the nationality, of some medallists are unknown.  For instance, medals won by Canada were not discovered for some years as the athlete in question, George Orton, had been entered by his American university and had been registered as an American.  One side effect is that the all time records for how many medals countries have won can never be truly settled, and this can only be beneficial as it throws the focus back on individual champions.  Indeed, while the winners were champions all, none received gold medals.
Those that did attend took their lives into their own hands as discus champion Rudolf Bauer of Hungary sent all three of his throws into the crowd.
Thesis have been written on the mystery of the cox of the Dutch Coxed pairs.  Word was the rest of the crew dragged a boy in off the street, but his name has never been authenticated.
Footnote
Please send us your interesting facts and trivia for the Paris 1900 Olympic games.