What we seek is to combine 'Strange but
True'
stories about the World cup, with football jokes. We also have a reminiscences section, which captures the flavour of each tournament.
World Cup
1930 Hosts Uruguay Winners Uruguay
World Cup 1934 Hosts
Italy, Winners Italy
World Cup 1938
Hosts France, Winners Italy (2nd)
World Cup 1950 Hosts Brazil, Winners Uruguay
World Cup 1954 Hosts Switzerland, Winners Germany
World Cup 1958 Hosts Sweden, Winners Brazil
World Cup 1962
Hosts Chile, Winners Brazil (2nd)
World Cup
1966 Hosts England, Winners England
World Cup 1970 Hosts Mexico, Winners Brazil (3rd)
World Cup 1974 Hosts
West Germany, Winners West Germany (2nd)
World Cup 1978 Hosts
Argentina, Winners Argentina
World Cup 1982 Hosts Spain, Winners Italy (3rd)
World Cup 1986 Hosts Mexico, Winners Argentina (2nd)
World Cup 1990
Hosts Italy, Winners West Germany (3rd)
World Cup
1994 Hosts USA, Winners Brazil (4th)
World Cup 1998 Hosts
France, Winners France
World Cup 2002 Joint
Hosts Korea and Japan, Winners Brazil (5th)
World Cup 2006 Hosts Germany,
Winners Italy (4th)
World Cup 2010
Hosts South Africa, Winners Spain
World Cup 201
Hosts Brazil
Snow White and the Seven Dwarfs
One day in Bavaria, the seven dwarfs went off to work in the
salt mine, while Snow White stayed at home as usual to cook their lunch.
However, when she went to the mine to deliver their lunches, she found there had been a cave-in, and there was no sign of the dwarfs.
Tearfully,
Snow White shouted down the mine shaft: 'Hello - is anyone there. Can you hear me, Bashful, Doc, Dopey, Happy, Grumpy or Sneezy?'
(She knew it would be no good calling Sleepy.)
Then
a voice floated up from the bowels of the mine: 'Germany will win the Soccer World Cup'. '
Thank God!'
said Snow White, 'at least Dopey's
still alive!'
Commentary to look out for:
Did Kenneth Wool-Stone Gnome really say: 'Some people are on the pitch, they think it's
all over...it is now'
? Yes but he was actually Kenneth Wolstenholme.
'Peru score their third, and it's
3-1 to Scotland. '
David Coleman, BBC, 1978 World Cup finals.
'And in the other group match, Uruguay and Spain drew love-all'
- Female announcer.
'Apart from their goals, Norway haven't
scored'
- Terry Venables
'Batistuta gets most of his goals with the ball'
- Ian St John
'If I walked on water, my accusers would say it is because I can't
swim'
- Berti Vogts, Germany coach.
Supporters of World Cup 2014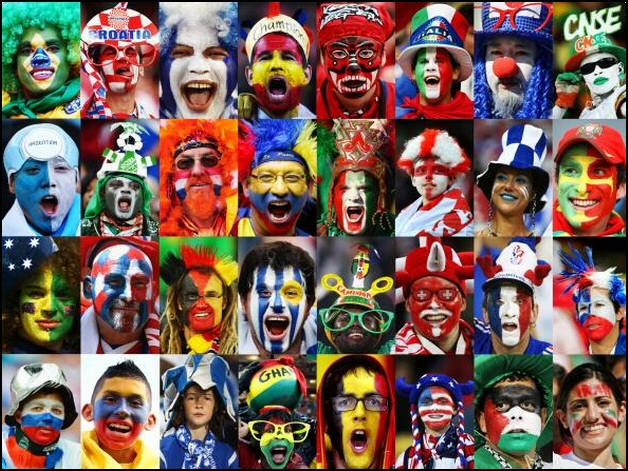 See more Football stories and jokes:
•
2014 World Cup jokes •
Footballer nicknames •
Football bloopers •
Funny footballer quotes
• Funny jokes
about football •
Football jokes
•
Funny football pictures •
Funny football stories
• Funny World Cup
stories
• Football
4
women •
Funny Super Bowl jokes
• Funny football photos