Department for Transport Initiative - England Flags
Look out for these Flags
Football
Related Injuries
1) Look out for these Flags
Because of the poor quality of driving in the
England, the Department for Transport has now devised a new scheme in order to identify poor drivers and give good drivers the opportunity to recognise them whilst driving.
For this reason
when ever England play in a tournament, those drivers who are found to be driving badly which includes:
Overtaking in dangerous places
Hovering within one inch of the car in front
Stopping sharply
Speeding
in residential areas
Pulling out without indication
Performing U turns inappropriately in busy streets;
undertaking on motorways taking up more than one lane in
multi-lane roads
These drivers will be issued with flags, white with a red cross, signifying their inability to drive properly. These flags must be clipped to a door of the car and be visible to
all other drivers and pedestrians.
Those drivers who have shown particularly poor driving skills will have to display a flag on each side of the car to indicate their greater lack of skill and
general lower intelligence mindset to the general public.
Please circulate this to as many other motorists as you can so that drivers and pedestrians will be aware of the meaning of these flags.
Department for Transport
3 June 2006.
2) Football Related Injuries
Lomana Tresor LuaLua will have a scan on the foot injury that has kept him out
of Portsmouth's
last three matches in the English Premiership. The DR Congo striker damaged the joint of his left foot after celebrating an equaliser in the 1-1 draw against Arsenal on April 12 with a
somersault. LuaLua, 25, had promised to refrain from back flips until Pompey were safe from relegation in the Premiership but paid the price for a change of mind.
Dave Beasant, the former England goalkeeper, ruptured his ankle ligaments avoiding a
falling bottle of salad cream he had just taken out of his fridge. He was injured for two months.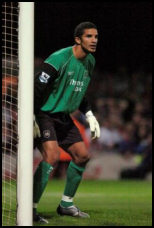 David James, an England goalkeeper, pulled a muscle in his back when reaching for a TV remote control. No wonder they call him '
Calamity James'
.
Santiago Canizares, Spain's
2002 World Cup goalkeeper, missed the matches after he had dropped a bottle of cologne on his foot and injured it.
Rio Ferdinand, the England defender, injured a tendon behind his knee while watching
TV with his foot up on a coffee table.
Derek Pringle, the former England cricketer, sat down to write a letter before a Test match and stretched back only to put his back out.
Good, clean, free jokes. One-liners, short funny jokes. Have a laugh, enjoy a chuckle, bring a smile to your face. Will and Guy hope that you share our sense
of humour (or humor).
See more Football stories and jokes:
•
2014 World Cup jokes •
Footballer nicknames •
Football bloopers •
Funny footballer quotes
• Funny jokes
about football •
Football jokes
•
Funny football pictures •
Funny football stories
• Funny World Cup
stories
• Football
4
women •
Funny Super Bowl jokes
• Funny football photos