New Bar Stools - For Smartly Dressed Women **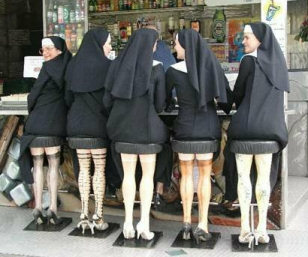 Sisters Mary Catherine, Maria Theresa, Katherine Marie, Rose Frances, & Mary Kathleen left the Convent on a trip to St. Patrick's Cathedral in New York City and were sight-seeing on a Tuesday in July. It was
hot and humid in town and their traditional garb was making them so uncomfortable, they decided to stop in at Patty McGuire's Pub for a cold soft drink.
Patty had recently added special legs to his
barstools, which were the talk of the fashionable eastside neighborhood. All 5 Nuns sat up at the bar and were enjoying their Cokes when Monsignor Riley and Father McGinty entered the bar through the front
door.
They, too, came for a cold drink when they were shocked and almost fainted at what they saw:-

** At first Guy was a bit slow on the uptake. To tell the
truth, I was in danger of dismissing the story as poor, until I looked at the source - Hannah Baker. Then I thought, hmm... if Hannah sent it, this must be good, so I re-read the story, studied the
picture, especially the nun's habits, and I smiled. Smart Women.
International Very Good Looking Damn Smart Woman's
Day
Today is International Very Good Looking Damn Smart Woman's
Day, so please send this message to someone you think fits this description. Please do not send it back to me as I have already received it from a
Very Good Looking Damn Smart Woman.
And remember this motto to live by:
Life should NOT be a journey to the grave with the intention of arriving safely in an attractive and well preserved body, but rather
to skid in sideways, chocolate in one hand, red wine in the other, body thoroughly used up, totally worn out and screaming ~ '
WOO HOO what a ride!'
Not Really This Woman's Day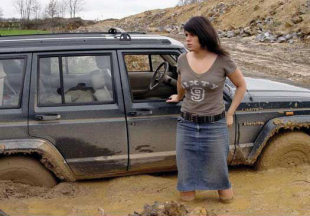 She's not really a stick-in-the-mud.
Stopped In Her Tracks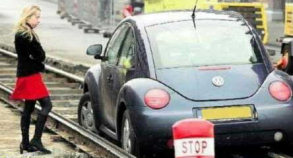 How did she park there?
Hanging About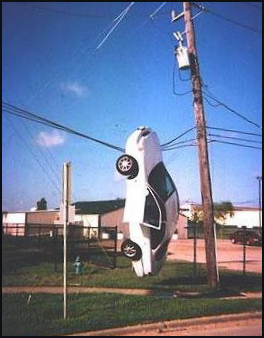 Do you find that your imagination runs wild with pictures such as the
above. Was this a husband escaping from a nagging wife? Was it a woman escaping from a wife beating husband. More likely a teenage joy rider.
Finally, Men At Work
...(vidFL2)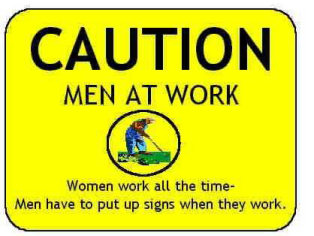 Footnote:
Please send us your Women's day jokes and
funny pictures