Here is a page of our free,
assorted, funny Woman jokes. The first section has one-liners, while the second section features short stories. At the bottom of the page are funny pictures of women drivers. Enjoy the best of Will and Guy's
woman jokes.
Woman Jokes - One Liners
At a cocktail party, one woman said to another, 'Aren't
you wearing your wedding ring on the wrong finger?'
The other replied, 'Yes, I am, I married the wrong
man.'
My wife's
jealousy is getting ridiculous. The other day she looked at my calendar and wanted to know who May was.
After a quarrel, a wife said to her husband, 'You know, I was a fool when I married you.'
The husband replied, 'Yes, dear, but I was in love and didn't
notice.'
'I never know how much of what I say is true.'
Bette Midler
A man inserted an 'ad'
in the
classifieds: 'Wife wanted'
. Next day he received a hundred letters. They all said the same thing: 'You can have mine.'
When a man steals your wife, there is no better revenge than to let him keep her.
The only thing worse than a man you can't control is a man you can.
Margo Kaufman
Marriage is the triumph of imagination over intelligence. Second marriage is the triumph of hope over experience.
There is no reciprocity. Men love women, women love children, children love
hamsters. Alice Thomas Ellis
'It's
the good girls who keep diaries; the bad girls never have the time.' Tallulah Bankhead
Note:
Guy is happily married to Pauline, and Will happily married to Stephanie.
We consider ourselves gentlemen. In the 'old days' we
found some women jokes, and many blonde jokes, in poor taste.
However, we consider that political correctness pendulum has swung too far the other way,
and we are in danger of missing out on a rich seam of humour because the
politically correct bandwagon seeks to ban all women jokes. Will and Guy continue to
tread the middle ground where we will publish women jokes that we think are
funny, but not offensive.
If you take political correctness to its logical conclusion, men would want
to ban 'man' jokes like the following Rita Rudner quip, however, Will and Guy can
laugh along with Rita without any thought of taking offence.
My mother buried three husbands, and two of them were just napping.
Rita Rudner
Some Marriage Math(s):
Smart man + smart woman = romance
Smart man + dumb woman = pregnancy
Dumb man + smart woman = affair
Dumb man + dumb woman = marriage
Smart boss + smart employee = profit
Smart boss + dumb
employee = production
Dumb boss + smart employee = promotion
Dumb boss + dumb employee = overtime
Some Psychology
A man will pay $2 for a $1 item he needs.
A woman will pay $1 for a $2 item
that she doesn't
need.
A woman worries about the future until she gets a husband.
A man never worries about the future until he gets a wife.
Reverse Psychology?
Iris, my sister-in-law, is a long distance lorry driver. She decided to get a dog for protection for the long days and nights that she was away from home. As she studied a likely candidate, the breeder told
her, 'I must warn you that he doesn't like men.'
'Perfect', Iris thought and promptly bought the dog.
Some time later as she was leaving a transport café, two men approached her, in the car
park, and Iris watched to see how her new 'bodyguard' would react. It soon became clear that the breeder hadn't been joking, because as the men got closer, the dog ran under the nearest car and hid.
See more funny dog jokes
More Marriage Advice
A successful man
is one who makes more money than his wife can spend.
A successful woman is one who can find such a man.
To be happy with a man, you must understand him a lot and love him a little.To be happy with a
woman, you must love her a lot & not try to understand her at all.
Married men live longer than single men, but married men are a lot more willing to die.
Any married man should forget his mistakes,
there's
no use in two people remembering the same thing.
Men wake up as good-looking as they went to bed.
Women somehow deteriorate during the night.
A woman marries a man expecting he will change,
but he doesn't.
A man marries a woman expecting that she won't
change, and she does.
A woman has the last word in any argument.
Anything a man says after that is the beginning of a new argument.
There are two times when a man doesn't
understand a woman - before marriage and after marriage.
My opinions are my wife's, and she says I'm lucky to have
them.
See more funny wedding jokes.
If you have any clean 'Woman'
one-lines please send them to Will and Guy
How Being a Parent Can Change Your Life:

When a baby is born into a family it affects every one in that family.
However, as you have baby 2 ... then baby 3, the way in which you deal with the child also changes considerably. Read these suggested differences and enjoy a laugh with Will and Guy.
Your
Baby's Clothing:
1st baby:
You begin wearing maternity clothes as soon as your pregnancy is confirmed.
2nd baby: You wear your ordinary clothes for as long as you are able.
3rd baby: Your maternity clothes are your ordinary clothes.
Getting Ready for the Day of the Birth:
1st baby: You practice your breathing as often as possible
2nd baby: You don't
bother practicing your breathing because you remember that last time,
breathing didn't
help at all.
3rd baby: You accept an epidural injection as soon as it is offered.
See more parenting advice.
Women - Words of Wisdom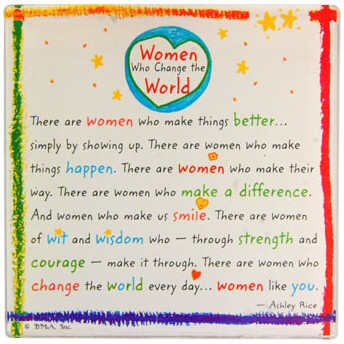 Funny Woman
Jokes and Funny Short Stories
It's
All in the Name
A pregnant Irish woman from Dublin gets in a car accident and falls into a deep coma. Asleep for nearly 6 months, when she wakes up she sees that she is no longer pregnant and frantically asks the doctor
about her baby.
The doctor replies, 'Ma'am you had twins! a boy and a girl. Your brother from Cork came in and named them.'
The woman thinks to herself, 'Oh No, not my brother... he's
an idiot!'
She
asks the doctor, 'Well, what's
the girl's
name?'
Denise.'
'Wow, that's
not a bad name, I like it! What's
the boy's
name?'
'Denephew.'
Beer Test
Yesterday scientists revealed that beer contains small traces of female hormones. To prove their theory, the scientists fed 100 men 12 pints of beer and observed that 100% of them gained weight, talked
excessively without making sense, became emotional, and couldn't
drive. -- No further testing is planned.
Political correctness had developed a momentum all it own. My greater concern is bullying, I am
against all forms of bullying both at work and in school. However, I do believe that areas, which are considered politically incorrect, can still be used for a joke - and this page is one of them!
Men Are Just Happier People - Sickening eh!
Your last name stays put.
The garage is all yours.
Wedding plans take care of themselves.
You can never be pregnant.
Chocolate is just another snack.
You can open all your own jars.
You can play with toys all your life.
You don't have to stop and think of which way to turn a nut on a bolt.
Car mechanics tell you the truth.
Your underwear is $9.95 for a three-pack.
You never have strap problems in public.
People never stare at your chest when you're talking to them.
New shoes don't cut, blister, or mangle your feet.
You can 'do' your nails with a pocket knife.
Three pairs of shoes are more than enough.
You! are unable to see wrinkles in your clothes.
Everything on your face stays its original colour.
You have freedom of choice concerning growing a moustache.
You get extra credit for the slightest act of thoughtfulness.
You can do Christmas shopping for 25 relatives on December 24 in 25
minutes.
New Female Maths
- 710
Yesterday I was having some work done on my car at
the Ford dealer.

While I was talking to Bert, the Mechanic, a woman came in and asked for a seven-hundred-ten.... We all looked at each other, and the Bert asked, 'What is a seven-hundred-ten?'
She replied, 'You know, the little
piece in the middle of the engine. I lost it and need a new one. It had always been there.'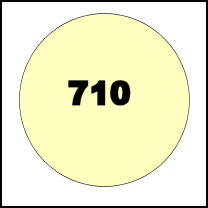 Bert gave the woman a piece of paper and a pen and asked her to draw what the piece looked like. She
drew a circle and in the middle of it wrote 710. He then took her over to another car which had the hood up and asked, 'Is there a 710 on this car ?'
She pointed and said, 'Of course, its right
there.'
Now check the photo to learn what a 710 is.........
Love Affair?
An 80 year old woman was arrested for shop lifting. When she went before the judge in Cincinnati he asked her, 'What did you steal?'
She replied, 'A can of peaches.'
The judge
then asked her why she had stolen the can of peaches and she replied that she was hungry.
The judge then asked her how many peaches were in the can. She replied 6.
The judge then said, 'I will
then give you 6 days in jail.'
Before the judge could actually pronounce the punishment, the woman's
husband spoke up and asked the judge if he could say something.
The judge said, 'What is
it?'
The husband said, 'She also stole a can of peas.'
Is Romance Dead?
Brian had asked Dave to help him out with cutting his rather large garden hedge after work, so Dave went straight over to Brian's
home. When they got to the front door, Brian went straight up to his wife,
gave her a big hug and told her how beautiful she was and how much he had missed her at work. When it was time for supper, he complimented his wife on her excellent cooking, kissed her and told her how much he
loved her.
Once they were cutting the privet, Dave told Brian that he was surprised that he fussed so much over his wife. Brian said that he'
d started this about six months ago, it had revived their
marriage, and things couldn't
be better. Dave thought he'd give it a go.
When he got home, he gave his wife a massive hug, kissed her and told her that he loved her. His wife burst into tears. Dave was
confused and asked why she was crying. She said, 'This is the worst day of my life. First, little Nigel fell off his bike and twisted his ankle. Then, the washing machine broke and flooded the basement. And
now, you come home drunk!'
With This Ring I Me Wed
Janet Downes, from Nebraska, USA, thinks she has found the secret for a
happy marriage: she's marrying herself on her fortieth birthday. She says
the wedding ceremony celebrates that she is 'happy with herself,' and plans
to exchange vows with herself in the mirror.
The ceremony will include a wedding gown, flowers, a traditional cake,
and a choir.
Woman Jokes -
Funny Picture Section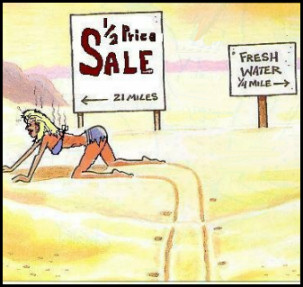 Half Price Sale 21 Miles ----> Fresh Water 400 yds. Which way will she go!
Expensive Divorce
Mr Toskana has
had an expensive divorce and now needs the money SALE NOW ON!!
Man Hoover?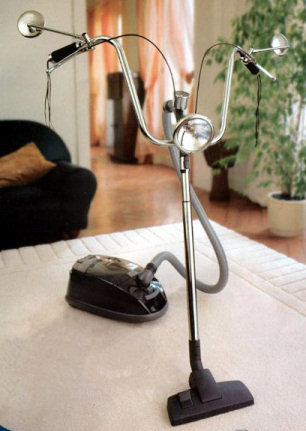 Woman Driver Jokes - How did She do THAT
Our question is how did the woman explain parking the car?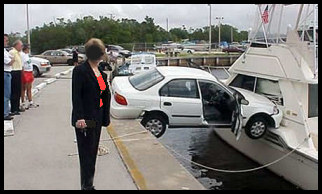 As ever, Will and Guy try to alter names and pictures to protect the guilty - Even Woman drivers!
More Amusing Woman Pictures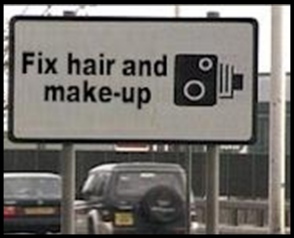 Wife's
Revenge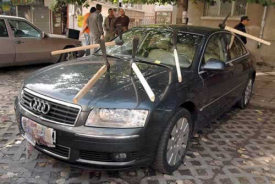 I love being married. It's so great to find that
one special person you want to annoy for the rest of your life.
Rita Rudner
I Love You? Mixed Message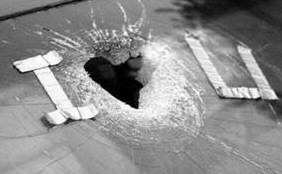 But I hate your car?
Finally: Thinking Man - A Little Reading is Dangerous
The husband had just finished reading the book 'Man of the House.'
He stormed into the kitchen and walked directly up to his wife, pointing a finger in her face, he said,
'From now on
I want you to know that I am the man of the house and my word is law. I want you to prepare me a gourmet meal tonight, and when I'm finished eating my meal, I expect a scrumptious dessert. Then, after dinner,
you are going to draw me my bath so I can relax. And when I'm finished with my bath, guess who's
going to dress me and comb my hair?
His wife replies, 'the funeral director would be my guess'.
More Woman Jokes
P.S.
Please write to Will and Guy if you have any funny woman jokes.
Get your MC Wedding Joke book
only $19.99
Joke of the Day Email
Get a clean joke delivered to your inbox every
day, no strings attached, just part of our service. Free
subscription to
our Funny Joke of the Day email.
We have over 1,500 pages of funny pictures, clean jokes, stories and amusing videos. Please use the Search below to find a topic of particular interest:
Thought of the Day Subscription
Our offer is to email you an inspirational
'Thought of the day'. Your subscription is completely free of cost and there
are no adverts. Sign up for our 'Thought of
the Day'.