Will and Guy have made an collection of evocative Autumn Photography.
A stroll down a leafy lane in autumn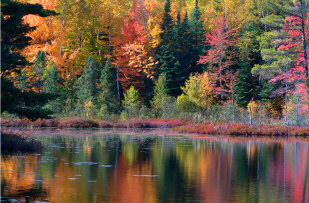 Nature is at it's most colourful in the autumn Fabulous picture of a lake in a wood. Late autumn image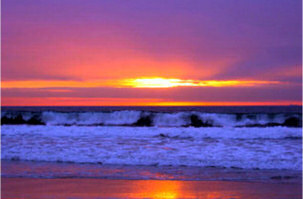 You almost need to break out the sunglasses because the sun's reflection is so strong.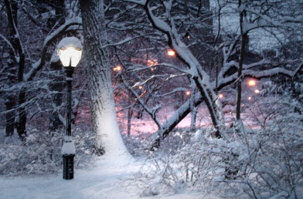 In contrast to the above, this almost a black and white picture.  End of autumn - start of a bleak mid-winter.
Check out our PowerPoint Presentation and see our Autumn Photography
Here is a free PowerPoint presentation of the Autumn Photos
Autumn Photos  (Right click Save Target As)
Contents of Autumn Photography
Season of mellow fruitfulness
Colours of the season
The trees at Sheffield Park, East Sussex Photo: John Jordan
Fall at its most stunning
Dusk falling
Another sunset
Over the Sea
Sunset over Sea
Sunset in Sri Lanka
Rainbow at Dusk
Flamingo Heart
A beautiful photo:Clouds Photographer: Matthew Looker, Southampton, England.  From BBC online 'Weather'.
Eventide Photo taken by Li Sun [Rather an apt name, we thought]
Butterfly and Bee
Spring is here
Early morning fog in Maidstone, Kent Photo: Karen Banks
Rose
Forest snow scene Parc Penglais Nature Reserve, Wales
Lovely snow scene
Bluebells
We are sailing amongst Icebergs
How to Create a Great PowerPoint Presentation
Making presentations in PowerPoint is satisfying, moreover, it's easy to get started. The PowerPoint program is intuitive to learn and easy to create your own PPT slides and build them into a slide show.  If you have Microsoft Office you may find that you already have PowerPoint along with Word and Excel. One way to begin is simply to open any example presentation.  Just download one of our free PPT files and open it with PowerPoint.  As you examine the slides, so it will become obvious how to add pictures and titles, if you do get stuck, ask the wonderful built-in 'Help'.  To make a great slide show requires these skills;
Imagination - Think of an idea, build a themed slide set
Artistic - An eye for a good picture
Wordsmith - Choose a catchy title for each slide
Humour - Your viewers will appreciate a funny PowerPoint Presentation
PowerPoint mechanics - Actually, this is the easiest skill of them all, the program is so intuitive.
Good luck with creating your great PowerPoint Presentation Will and Guy
Beautiful Autumn Pictures
This stunningly beautiful scene was created by the wife of the founder/owner of Portland Cement. Will and Guy have heard that apparently she felt neglected and took over one of his old quarry sites as a project and this was the amazing result.
Autumn at Butchart Gardens, Victoria, British Columbia, Canada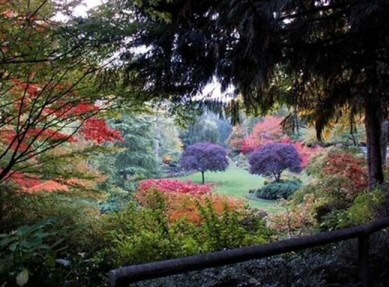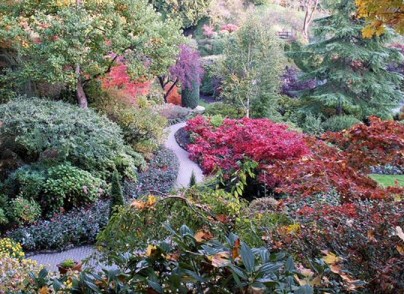 Fall, Waterfall! at Butchart Gardens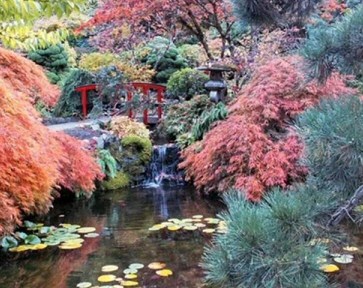 Footnote:
Please send us your examples of autumn photography
See more evocative images and amazing pictures:
• Evocative images & amazing pictures   • It's a beautiful life   • Autumn   • Stunning photographs • Fantastic trip   • Clever photos   • Hubble images   • Pretty planet   •
Home - Clean jokes
• Rio Christ Redeemer   • NBC Photos   • Modern 7 wonders   • Zany evocative pictures • Fountains of the world   • Sydney Harbour lights • Morning glory cloud   • National Geographic