Sponsored Links
∇
Ten Unusual Accidents
Figures published by the Department of Health reveal a huge range of unusual accidents, which put people in hospital in England in 2004.  Here is just a small sample.  Odd accidents affect one million people. Fact is always stranger than fiction.  Here is are ten freak accidents. 1) Two people were admitted after being in contact with venomous spiders.  Both stayed in hospital for five days.  Coincidence or the nature of spider venom? 2) Twenty two people suffered from exposure to ignition or melting of nightwear, most of them men. Does this mean that contrary to the male psyche, women do not wear nightwear? 3) 1,481 people, most of them children, were injured by hot drinks.  Most of the poor children required an overnight stay in hospital. 4) Two people needed five days of treatment after contact with centipedes or venomous millipedes. What goes ninety nine bonk, ninety nine bonk?  Answer a centipede with a wooden leg. 5) 15 people were admitted after contact with a marine animal.  On average they needed an average of two days in hospital. 6) Four people had an average of two days' treatment after exposure to vibrations. 7) 1,839 people - fell out of trees.  No surprises that 80% of the injuries were to children. 8) 4,533 people fell when using ice-skates, skis, roller-skates or skateboards. 57% of them were under 15.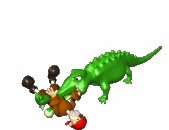 9) One boy needed an overnight stay after being ' bitten or struck' by an alligator. (By comparison, 3,508 people were bitten or struck by dogs.) 10) One child was admitted to hospital after 'prolonged stay in a weightless environment' . He or she did not stay overnight. There are no further details about who this person was or how they had come to need treatment.
Ten Strange But True Stories of Accidents
Here are 10 unexpected categories of cases dealt with by UK hospitals in 2007/8.
Crocodile Bites (2)
Rat Bits (21)
Ice skate accidents (5) by people over 80
Volcanic Eruptions (14) admissions
Contact with plant thorns (232)
Water Jets (17)
Lawnmowers (218)
Caught in Avalanche (10) We are talking about the UK here.
Cataclysmic Storm (18) Please let us know what this means!
Struck by Lightning (44)  Will and Guy guessed this number would have been higher.
Bonus Strange but True Story - Woman, 86, Arrested in Pizza Row
An 86-year-old woman has been arrested for calling emergency services because she couldn't get a pizza delivered.  Dorothy Densmore, of Charlotte, North Carolina, spent two nights behind bars after dialling ' 911' 20 times in 38 minutes.  Angry she could not get the meal delivered to her home, she demanded police arrest the pizza proprietors, reports the BBC. She told police that she had been called a 'crazy old coot' by someone at the pizza shop. Mrs Densmore, who is 5ft tall and weighs seven stone, has also been charged with resisting arrest. A police spokeswoman said the octogenarian scratched, kicked and bit the hand of the officer.  She has now been released from jail, pending a court appearance in July, after a judge ordered a medical evaluation. Well as our in-depth reporter said, 'That takes the biscuit' .
Pizza to go
Dai worked in a local Pizza Parlour near Swansea, Wales. A man came in and ordered a pizza to take away [pizza to go]. Dai asked the man whether he would like the pizza cut into 4 or 6 portions. The man puzzled over this for quite a while before answering that he would prefer 4 portions because he thought he wasn't hungry enough to eat 6.
Another Strange But True Story - Hospital patient had to ring 999 (911)
A Romanian hospital patient had to call the emergency services because nobody heard him crying for help. Stefan Ososchi, 80, who suffers from an incurable disease, said he was lucky to have his mobile phone with him. He had been admitted to the County Hospital in Botosani and put on a drip but the nurses forgot to come back to take out the needle from his vein. Mr Ososchi said, "I waited for the nurse come and take the needle out. It had been almost an hour and nobody came. I had terrible pains in my arm and I tried to take it off myself but didn't succeed. I began to cry for help. It was in vain so I called 112 [999 in the UK, 911 in USA] and asked for their help." The head of the County Hospital in Botosani said the two nurses who were in charge of the patient will be disciplined for negligence. Ambulance service spokesman Dorina Andronache said, "I thought it was a stupid joke when I heard that somebody from a hospital was asking for help. But it turned out the patient was indeed in trouble."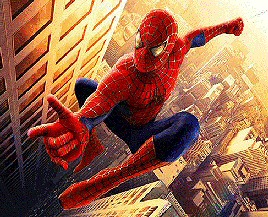 Spiderman Saves "Special Needs" Boy
An eleven year old lad, who suffers from autism, left his classroom very upset on his first day in the class and crawled out onto a 3rd floor balcony at Srinakharinwirot University Special Needs Centre in Bangkok, Thailand. Fire-fighters were called and they attempted to talk him down from his dangerous and precarious position. Nothing appeared to work until the lad's mother arrived and suggested that her son would listen to a "superhero". Up jumped fireman Somchai Yoosabai who promptly donned a Spiderman costume normally used to entertain kids during fire drills. The boy's face lit up like a beacon as he recognised his hero holding a glass of juice out for him. The lad embraced his superhero and was brought to safety. What a super story say Will and Guy.
Footnote:
Please send us your strange but true story
See more strange but true people stories:
• Strange but true stories about people   • Flash  entrepreneur   • Car thieves   • Amazing coincidences • Eccentric English people   • 10 accidents   •
Unusual collections
   • 12 true stories   • Smoking stories • Short Stories   • Yorkshire folk   • Sailor stories   • Cranky People   • Funny people jokes