First problem at the Petrol Pump
This man was too impatient to wait for his car's petrol tank to fill.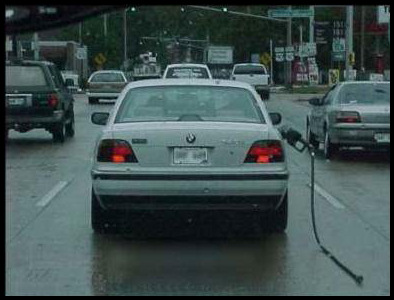 Second problem
Man Left Wife at Petrol Station:
A Macedonian drove six hours across Italy and into Germany before noticing he had left his wife at a petrol station.
Ljubomir Ivanov , 35, only realised he had forgotten wife Iskra, 37, when he got a call on his mobile from police to say she was still waiting for him at the petrol station near Pesaro, in central Italy.
He said, 'I filled up the tank with petrol, paid and then just drove off. I was very tired and not thinking straight.
'She usually sits in the back seat so I didn't really see she wasn't there, until I got a call when I was already in Germany.'
Mr Ivanov immediately drove back to Pesaro to pick up his wife so they could resume their holiday.
'I had a lot of apologising to do, 'he said.
Third problem - Making of the man
The Prime Minister, Tony Blair, is in his official limousine with his forceful wife one day when the driver pulls into a petrol station forecourt to fill up. Cherie, his wife, gets out to stretch her legs, and the petrol pump attendant does a double take. 'I know who you are,' he says. 'Don't you remember me from school?'
Anyway, they have a chat until it's time to go. When Cherie gets back in the car, the Prime Minister asks her, 'So, who was that?' 'Actually,'
his wife says, laughing, 'he was my school sweetheart.'
'There you are, you see,' says Tony Blair. 'See how lucky you are to have met me! You could have ended up married to a petrol pump attendant.'
'Not at all,' responds Cherie. 'See how lucky you are! If you hadn't met me, he'd Prime Minister and you'd be a petrol pump attendant.'
Based on a story re-told by foreign correspondent, Richard Spencer, in Telegraph online.
See more funny car pictures, also car jokes