Will and Guy have trawled the internet for tales of unlikely animal
partnerships. It's interesting how themes repeat, big cats, apes, pigs and
tortoises.
An Incredible
Picture Story of Animal Friends
Will and Guy are delighted to be able to share this story with you of the
Cheetahs and their Impala friend. The photos, taken by Michel Denis-Huot are
beautiful and compliment the story beautifully. While on safari in Kenya's
Masai Mara in 2010 Michel said he was astounded by what he saw.
These three cheetahs are brothers and have been living together since
they left their mother at about 18 months old. One morning they were seen
walking quickly but stopping sometimes to play together. They did not appear
to be hungry.
The Cheetahs and The Impala
While out walking they met a group of impala who promptly ran away.
However, records Michel, one youngster was not quick enough and the brothers
caught it easily.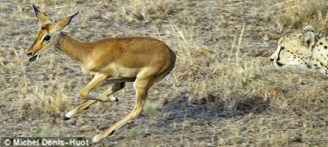 These extraordinary scenes followed.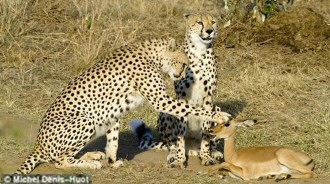 and then they just walked away without hurting him.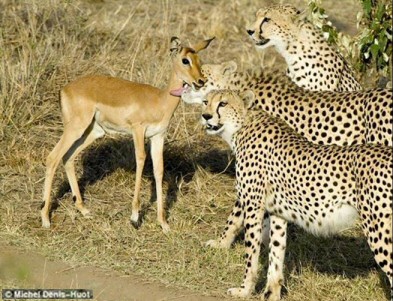 Tiger Cubs and
Great Apes Find Love Together
A Fabulous, Warm and Lovely Story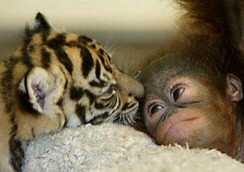 We have seen many lovely stories where infant animals, which have been
abandoned by their parents, link up with totally different species and make
close, loving friendships. Here we have a pair of Sumatran tiger cubs and a
set of young orang-utans, all abandoned at birth, and have become
inseparable after sharing a room at an Indonesian zoo.
The four have lived side by side for a month without a hitch, although
this goes against their natural instincts. Will and Guy learned that, 'This
is unusual and would never happen in the wild,' zookeeper Sri Suwarni
commented, adding, 'like human babies, they only want to play.'
Sadly we also learned that the friendship is not destined to last as
tigers start eating meat when they are three months old and will need to be
separated from their new playmates.
Bengal Tiger in China - With Piglets
These abandoned tiger cubs are being nursed by a pig at a Chinese zoo.
The three Bengal tigers enjoy their playtime with their piglet foster friends.
A spokesman for a Safari Park, in Guangzhou City, said the cubs had been rejected by
their mother. He said that the cubs had stopped feeding so the zoo bought a sow who had just given birth.
'The tiger cubs are tamely sucking the
milk, and the sow accepts her three new sons,' added the spokesman. 'We are feeding them meat as well now, and hopefully with the meat supplement they'll grow stronger'.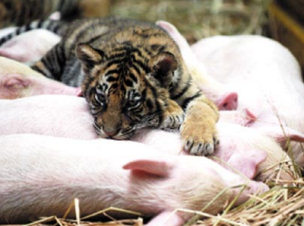 See another inspirational story of animal love.
Unlikely
Acquaintances Involving Tortoise
Tortoise and Cat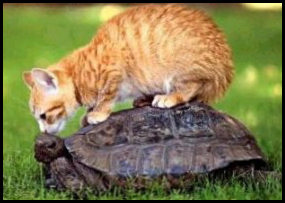 Go on
then, take me for a ride!
The Tortiose and Hippopotamus
This baby hippo was rescued in Kenya and then befriended a tortoise. The hippo calf christened Owen was found by
rangers on the shores of the Indian Ocean.
Owen was put in an enclosure at a sanctuary in Mombasa, also in the enclosure was a male tortoise
called Mzee. Observe how they are both of a similar colour. (In Swahili, Mzee means old man).
'They sleep together, eat together and are inseparable, 'reports park official Pauline Kimoti.'
Since Owen arrived on the 27 December, the tortoise behaves like a mother to it.'
Long term they hope to pair Owen with Cleo, a lonely female hippo who is currently in a separate enclosure.
Owen and Mzee are the latest in a series of unusual friendships in the wild that have surprised zoologists.
See our PPT of
Owen and Mzee.
Elephant Friend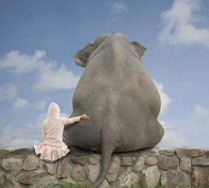 Footnote:
Please send us your story of unlikely
animal friendships.
See another short love story:
• Short love stories
• Chinese love stories • Love in the animal kingdom •
Animal love stories
•
Stories about people •
Love story •
Best of love quotes •
Valentine love •
Valentine love story
•
Funny short stories
• Sisterly love •
Very short stories
• Unlikely animal friends •
Home