We have people's own accounts of their cats, stories from newspapers and
reports from TV programmes.

True Cat Story With a Happy Ending
A frightened feline that was lodged in a tall tree for a week, was finally hosed to
safety with a high-pressure fire hose. Locals held an outstretched sheet and made the catch as the cat, soaked and hungry but unharmed, was hosed out of the tree by fire fighters last week in Yonkers, New
York, USA.

'Everyone was cheering,' said artist and animal rescuer Greg Speirs,
who was among about 50 people assembled beneath the willow tree. The cat had previously ignored people who banged cans of cat food and climbed ladders that proved to be just out of reach. It took two shots
with the hose to do the trick. 'As soon as the moggie landed it jumped out and ran into the woods,' Speirs reported to the New York Daily News. 'Some kids helped us bring the cat back, and a man said he would
adopt the cat right on the spot,' Speirs added. 'You can't come up with a nicer ending than that.
20 Firefighters
Required to Rescue Cat
This true cat story unfolded in April 2011 at Leiston, Suffolk, England.
Teresa Saunders heard the shrieking of a tortoise-shell tabby from the roof
of a house so she dialled the emergency number 999 and asked for the fire
service.
At first the fire brigade did not attended but recommend Ms Saunders
contact the RSPCA. However, when the RSPCA confirmed that the feline was
in trouble the fire brigade responed. They sent two specialist
"working at height" teams from Felixstowe, 30 miles away, and Bungay, 20
miles away. If that was not enough, they also sent a turntable ladder
crew and support applicance were both sent from Bury St Edmunds, nearly 60
miles away. And the local crew from Leiston fire station,
half-a-mile away.
The result was five appliances and over 20 were sent to rescue the cat.
However the tabby ignored its would-be rescuers and, according to Ms
Cosgrove, "jumped down of its own accord". Another witness, Ms Saunders,
said: "It was perfectly fine as far as I could tell. It ran off as soon as
it got down."
The Fire Brigades Union defended the operation, saying health and safety
rules dictated that for rescues at such a height specialist crews should be
sent where available. Andy Vingoe, the Suffolk branch chairman of the union,
added that cats stuck on roofs could also lead to human distress.
"If a kitty is stuck on a roof, there is a chance the owner could get
distressed and try to rescue it themselves," said Andy Vingoe, the Suffolk
branch chairman of the union. "We would end up having to rescue them as
well."
Mr Vingoe did say however that it was "crazy" and an "overkill" for five
teams to have been sent out to the incident before adding: "It strengthens
our case that we need more people to make sure we have enough cover to cope
with the demands of the service."
The Taxpayers Alliance called the fire brigade's response "ridiculous". A
spokesman added: "It's almost laughable but wasting resources is bad news
for taxpayers and others who might have needed to be rescued, so it's not
funny.
"Of course we want firemen to be safe, but health and safety and red tape
has resulted in an excessive and costly response."
Last night the whereabouts and welfare of the cat was unknown.
Based on a cat rescue article from
The Times.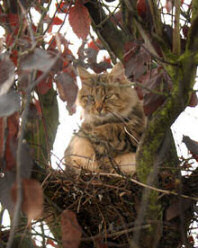 True Story of a Cat's Nest in Norfolk
The Daily Mail reports a true story about a cat who has made itself a home in a pigeon's nest up a cherry tree in Reepham, Norfolk, England. The tortoiseshell cat, pictured, has been there for a week or so.
Miss Wendy
Hobbs, in whose garden the cat is living, feeds the animal regularly when it comes down to terra firma. After it's meal it climbs back into the tree. Previously the
feline had been seen travelling on the milkman's
float.
Miss Hobbs, an animal lover, is keen to return the moggy to its rightful owners.
Ornithologists say they have never seen the phenomenon of a cat nest before. There are unconfirmed reports that
'twitchers' have detoured from their bird watching vigils on the nearby Norfolk Broads to observe Mrs Hobbs cat's nest.
Another True Cat Story
Will and Guy are privileged at being able to publish the following true
cat story by award-winning author
Charlene Wexler.
It Was On The Back Porch
"Ow, ow!"
I awoke in the middle of the night, and looked out the window. The
strange sound grew louder. This place was beginning to spook me. When is my
husband, Sam, getting back from his bike trip? I am a city girl, in the
country only a couple of weeks. It wasn't very nice of him to leave me alone
so soon after we moved.
"Ow, ow!"
There it is again. Most of the new night sounds were from afar. This
crying was very close. I put on my bathrobe and slippers, turned on the
lights, and started to search the house. While tiptoeing down the stairs, I
thought it sounded like the crying was coming from somewhere outside--somewhere very close.
Following the sounds to my back door, I realized
something on my back porch behind the solid wooden door was in distress.
Looking out the back window was no help. Nothing was visible. Grabbing a
flashlight, I started to open the door. Then, I hesitated.
What would I
do if it were an injured animal? I've been told there were coyotes and foxes
in this area. I've seen all kinds of animals around, even pheasants, and
wild turkeys. I became scared. As a city girl I was used to dogs, cats, and
a few birds. Coyotes and foxes I've seen only in zoos, turkeys on
Thanksgiving tables, and pheasants under glass.
"Ow, ow, ow."
There it is
again. Slowly I opened the back door, despite my misgivings. Big bright
green eyes stared at me.
I burst into laughter as I picked up a cute
little tabby kitten. As she cuddled up into my arms; I thought, this
darling little thing scared the daylights out of me.
"I bet you're
hungry," I said.
Holding her with one arm, I looked around the kitchen.
Now what do kittens eat? She probably is no more then two months old. I was
a dog person. We had collies for 25 years. They would eat everything.
Opening the refrigerator, I took out some milk and cheese. After drinking
the milk and nibbling at the cheese, she tugged at my robe. I picked her up,
and sat down on the kitchen chair. Within minutes she was sound asleep.
What can I name her? No, don't think like that. You and Sam are retired,
empty nesters. Remember, we decided no more pets. We are going to travel.
Anyway she must belong to someone.
I brought her upstairs, and I laid her
down on a small blanket. By the middle of the night she was in my bed.
In
the morning I walked around with her asking if any neighbor lost a cat. I
found out that in the country near farms, cats are a dime a dozen. Most
neighbors looked at me like I was crazy. The area was full of barn cats. No
one wanted her.
Now what? I couldn't just let her loose, or turn her
into a shelter. I called my four-year-old granddaughter in Tucson.
"Lily,
I found a kitten," I told her. "What do you think we should name her?"
"What color is she?" Lily asked.
"She is a yellow tabby."
"Velveeta that is the name Papa calls Violet, my cat."
"Perfect," I said.
"What do I feed her?"
"Grandma, you are being silly. Cats eat cat
food. Mama says you better get a litter box for her."
"Thank you,
Lily."
Off I went to
the pet shop. Home I came with cat food, some cans of tuna, a litter box, a
pet carrier, a scratching post, and cat toys. "Velveeta," I called, and she
came running. She gobbled up the kitten food, and followed me around the
kitchen.
A trip to the vet resulted in shots, a six-month spaying
appointment, and a nice bill. I would have to keep her now that I've
invested all this money.
Soon she began to explore her new home, playing
hide and seek with me. I called my granddaughter again.
"Lily, help. I can't find Velveeta. Where do cats hide? I've been looking
and calling her for over an hour."
"Grandma, try under the bed, the closet or the laundry basket."
Sure enough, she was sound asleep in the laundry basket, with
one paw over her eyes to keep out the sun. When I tried to scold her, she
looked up as if to say, "What's the problem? I come when I am ready." I was
learning cats are different than dogs.
Every morning Velveeta and I
walked around the fenced-in portion of our yard. One day as I was busily
filling the bird feeders she climbed over the fence. Frantically, I ran
after her. By the time I found her, she had caught a small bird.
"Velveeta" I yelled.
Startled, she dropped it, and the bird flew away.
Velveeta gave me a look as if to say, "What's the fuss? This is what cats
do. We are independent creatures that can't be fenced in."
I thought of a
line from Henry David Thoreau: "The most domestic cat, which has laid on a
rug all her days, appears quite a home in the woods and by her sly and
stealthy behavior proves herself more native there than the regular
inhabitants."
With Velveeta at my side I am no longer afraid of the night
sounds. We look out the window for the bushy tailed fox, the multi-colored
pheasant, the chasing squirrels, the majestic deer, the scavenging raccoons,
the lumbering opossum, and the gorgeous black-and-white skunks that quickly
clear the feeder of other animals. I've realized that I am the invader who
must adjust.
Charlene Wexler
Charlene Wexler's book 'Milk
and Oranges' is published by Amazon it's only $4.59. It contains
the above story 'It Was On The Back Porch'.
More True Cat Stories
Lucky Cat Named
Sugar Cat Defies Death Fall
A very lucky cat from Boston, Massachusetts, USA, has survived a fall
from a window 19 storeys up we have learned. Sugar had no broken bones or
cuts from the plunge, just bruising, after she fell an estimated 45-60m
(150-200ft).
She was taken to vets at the Animal Rescue League, who say that when cats
fall from such a height, they act like a flying squirrel - spreading their
legs apart like wings; this action may have saved Sugar from getting any
serious injuries. The owner was amazed that her cat survived and since the
fall, a screen has been installed on the window that Sugar fell from.
Cats' remarkable ability to survive falls from great heights is a simple
and predictable matter of physics, evolutionary biology, and physiology,
veterinarians and biologists have told Will and Guy.
Cat's Daily Routine Baffles Owner
Reports BBC News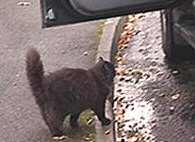 This is a true story about a cat who baffling his owner by wandering off at night before expecting to be collected by car every morning at exactly the same time and place.
Sgt Podge, a Norwegian Forest Cat, disappears from his
owner's home in Talbot Woods, Bournemouth, every night. The next morning, the 12-year-old cat can always be found in exactly the same place, sat on a pavement about one and a half miles (2.4km) away.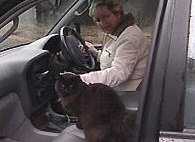 His owner, Liz Bullard, takes
her son to school before collecting Sgt Podge. She said a routine has now become established, where each morning she takes her son to school before driving to collect Sgt Podge from the pavement between 0800
and 0815 GMT. It is thought Sgt Podge walks across Meyrick Park Golf Course every night to reach his destination. Ms Bullard said, 'If it's raining he may be in the bush but he comes running if I clap my
hands.'
All she has to do is open the car passenger door from the inside for Sgt Podge to jump in.
Back at home, Sgt Podge has breakfast before going to sleep by a warm radiator.
See more true cat stories.
Miracle Cat Survives Scare - True
Story
A ginger kitten used up one of his nine lives when he survived a 70mph
trip; hidden away inside the chassis of a car. The driver stopped his
car when he heard loud miaowing coming from the rear of his motor as he
drove to work in Sankt Poelten, Austria.
Mechanics spent three hours dismantling the car until they found Gussie,
who belongs to a neighbour, huddling inside the chassis. He was hungry
and a bit dirty and frightened but he seemed very relieved to be free.
'He wouldn't stop purring,' mechanic Leopold Wohlmertsberger informed us.
(Judging by the picture, Gussie does not look too exhausted say Will and
Guy)
Eddie - True Cat Tale?
Black Manx, white markings on belly, no tail. Six years old. Red
collar with tags. Overweight. News all day / night demanding
attention. Won't stay on counter tops. Eats directly from
unattended plates, knocks glasses/ bottles / vases onto the floor.
Various expensive ailments. Doesn't do tricks or anything interesting.
Will give this cat to whoever returns my car keys, lost here last Friday.
See more amazing
true cat stories.
Cat Ordered to Do Jury Service
Tabby Sal, the cat, has been summoned to do jury service, despite the
fact that his owners told the court he was 'unable to speak and understand
English.' Will and Guy have learned.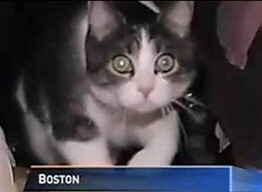 Anna Esposito, wrote to Suffolk Superior Crown Court in Boston, USA, to
explain that a mistake had been made, but a jury commissioner replied saying
the cat, named Tabby Sal, 'must attend.'
Mrs Esposito had included a letter from her vet confirming that the cat
was 'a domestic short-haired neutered feline.' Tabby Sal had been entered by
Mrs Esposito under the "pets" section of the last census. "When they ask him
guilty or not guilty? What's he supposed to say - miaow?" She said.
Research has shown Will and Guy that the US judicial system states that
jurors are 'not expected to speak perfect English.'
We surmise that it would be sufficient for Tabby Sal to answer, 'Miaow'
to all questions!
See cat stories for
children »
True Cat Story From Wales
The Sun newspaper reports the story of a cat named Aslan who fell asleep under a car bonnet in the East Anglian town of Ipswich in the UK. The car's
owner and driver, a Mr Rob Hillier, then drove the car
some 260 miles to visit his relatives in Maesteg, Mid Glamorgan, Wales. The next day Aslan's
cries [surely 'miaows'
says Will] were heard and he was found unhurt and returned home. I imagine he travelled
more comfortably this time.
More Short Stories
Footnote:
Please send us your true cat stories.
See more funny cat stories
•
Funny cat stories •
Party Cats •
Funny cat jokes •
Cat stories for children •
Home
•
Cat stories •
True cat story •
Cat and mouse •
Sleeping cats •
Cat names
•
Cat and dog stories •
Christmas cat stories •
Dog kitten story •
Bagpuss cat story