One thing to remember about the Tour de France is that it's French.
Furthermore, the Tour de France typifies its
country in the way that baseball is quintessentially American, and Wimbledon
English. What saddens French cyclist aficionados is the way that
foreigners now dominate their national sport.
2012 Tour de France Humour
72 Years Ago - Tour de France 1940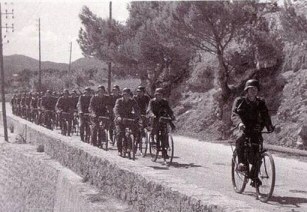 Tour de France 2010 - Started in Rotterdam
The Tour de France has ridden through the city of Rotterdam three times
before: in 1954, in 1978, and in 1978 the Tour made a third procession
through the city.
Results of the 2009 Tour de France
Yellow Jersey 21 Alberto CONTADOR of ASTANA 85h 48' 35"
Green Jersey
6 Thor HUSHOVD of CERVELO 280 pts
Polka Dot
91 Franco PELLIZOTTI or LIQUIGAS 210 pts
Gallic Humour

The French have a great penchant for laughing out loud at crude or
trivial jokes, while Anglophiles prefer subtler humour. As a result, it is
easier to tell a racy joke at a French café than in an English pub.
As well as bouffonnerie, the French also like cutting remarks designed to
wound rather than to amuse. Thus, compared with English humour, Gallic
wit is cruel rather than kind, and intellectual rather than absurd.
French love their irreverent Astérix books, British prefer Monty Python
sketches. I would also suggest that we British are better at laughing
at ourselves than the French.
Language Barrier?
The tour riders are truly multi-national, here are examples of a linguistic
misunderstand that could occur between a Frenchman and Australian.
Cyril Dessel to Cadel Evans: Chaussee deformer? (Are you a
contortionist?)
Cadel Evans to Cyril Dessel: Dacor Moi Aussie (Of
course, I am an Australian.)
Tour de France Jerseys

Yellow - Maillot Jaune
Contenders for the
2011 Yellow Jersey
The Yellow Jersey of the Tour
de France is awarded to the rider with the quickest overall time and is,
therefore, the race leader. It was created in 1919 as an homage to the
yellow paper of l'Auto magazine, founder of the Tour de France in 1903.
Eddy Merckx wore the Maillot Jaune for a record 111 days. This Eddy
did because he was a good time time-trialist, proficient climber and great
'Le Patron' of the race.
Green - Maillot Vert
Contenders for the
2011
Points Classification
The next most prestigious jersey
is given to the leader in the points classification which rewards sprinters.
During each stage, points are attributed during the intermediary sprints and
at the finish. The jersey was introduced in 1953.
Germany's Erik Zabel won
it a record six consecutive times between 1996 and 2001. In 2010, can
'Cav' go all the way to Paris, and in the process win the points
classification?
Polka Dot - Maillot à Pois Rouges
Contenders for the
2011
King of the Mountains
Awarded to the
rider who earns most of the points at each summit of a hill or pass. The
winner is known as the 'King of the Mountains'.
Although the award was introduced in 1933, this distinctive jersey was
not introduced until 1975.
White - Maillot Blanc
The newest jersey, the white,
was introduced in 1975. Given to the best young rider [under 25] in the
general classification, it was abandoned in 1989 but reintroduced in 1999.
In 2010 Andy Schleck is considered a 'shoo in', an even bigger
favourite than Alberto Contador to win the overall race.
Lance Armstrong - A French View

A cartoon has appeared in Le Monde, the French newspaper, which perhaps
sums up the French attitude to the Tour. Unable to provide a Frenchman as
overall winner since Bernard Hinault the French people look upon Lance
Armstrong with a mixture of ignorance and vitriol:
'Lance Armstrong is unbelievable.............He walked on the moon, he survived
cancer, he won the Tour de France seven times, he revolutionized jazz..........and
you're telling me he isn't on drugs?'
Thanks to Jason Burke, journalist: The Observer.
Expressions Heard on the Tour de France
Lanterne Rouge
This mocking expression is used for
the last-placed man in the overall classification, named after the red light
shown on trains to mark the rearmost carriage.
Will and Guy agree that in
a race where just finishing is a considerable achievement even being last is
still an honour.
Voiture balai
This is the "Broom wagon" - literally
translated as car brush; this vehicle rounds up race stragglers and boots
them out of the race.
Peloton
"Herd" or pack; the word used to
describe the racing group.
Domestiques
"Servants" or team helpers. These
participants support their team leader. They do the donkey work that enables
their leader to thrive, or sometimes simply to survive. This may mean
fetching and carrying water and supplies from the team car. It may mean
providing a small slipstream [not permitted in an individual time trial] by
spending a lot of time at the front of the peloton. Or it could even mean
handing over their bike to allow their team leader to continue riding while
they wait for a replacement.
Grimpeur
Climber. Those who ride up mountains
with wings of angels have their own honour system; for example, on a
mountain ascent if one grimpeur in the lead group punctures, the others will
slow down, and none will attack until he changes his tyre and safely rejoins
the break-away group.
Expressions Not Heard on The Tour de France
Sprinters discussing which of them will be wearing the 'King of the
Mountains Jersey'.
Grimpeurs crying out for room in a bunch finish on a flat stage.
An Alternative View: French Testing Methods Revealed
Thanks to Terry C Wise
Anti French Sentiment [not supported by Will and Guy]
CNN is reporting that Lance Armstrong may be stripped of his 7th Tour de France title.
In a random check for banned substances, three were found in Armstrong's hotel
room.
The 3 substances banned by the French, that were found in Lance's hotel room
were as follows:
Toothpaste
Deodorant
Soap
Footnote:
Please send us your 2012 Tour de France
humour
See more Tour de France jokes