Just when the Bengal tiger seems on the verge of extinction, it seems
that at least one tiger is enjoying life in England.
Giant Penguin Holds up Train
Tiger Sighted in Hampshire,
England

Major Police Alert near Will's Home
Police are trying
to trace the owner of a life-sized tiger toy which sparked a major police
alert in Hampshire over fears a real animal was on the loose.
Officers were deployed and a helicopter was scrambled with specialist
thermal imaging cameras over the field, near Hedge End, Fareham, Hampshire,
England, on Saturday afternoon.
To Will and Guy's horror the scare even stopped play at the Rose Bowl
cricket ground where Hampshire Cricket Club were playing for 20 minutes.
Hampshire police informed us that the toy was being treated as lost
property but they were investigating whether it was a hoax. They said they
did not know how it got there but was similar to one which would be won at a
fair.
Animal specialists at the nearby internationally renowned Marwell Zoo
were enlisted by police to offer advice and were prepared to send a team
with tranquiliser darts to overcome the tiger.
How the scare affected the area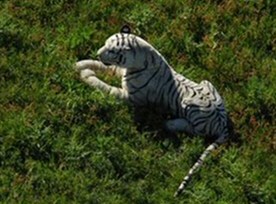 Will discovered later that golfers at County Golf Club were also
escorted from their course and Saturday's cricket game between Hampshire
Academy and South Wilts was suspended for about half an hour.
Tony Middleton, Hampshire Cricket Academy director, added, �Rumours came
round that there was a tiger on the golf course and we just carried on
playing until a policeman came over and told us to clear the area. I assumed
there was [a tiger] with everything that was going on, but we felt quite
safe here.'
Police Discover Toy Tiger
Amusingly, Police officers
discovered it to be a stuffed toy after it rolled over in the down draft
from the police helicopter. The stuffed toy is being treated as lost
property. Sleepy Hampshire returned to normal after all the
excitement.
Footnote:
Guy suspects this animal is a the mascot of
the Leicester Tigers rugby team. It escaped or was 'liberated' after a
recent defeat.

See another report of tigers in England
Penguin Sighted in Germany

Report from Neuwied - Germany
A German train driver called Udo Vergen, thought that he saw a man lying down on the
railway line. What would you have done if you were driving the train? Well Udo slammed on the
emergency breaks. Fortunately, the train came screeching to a halt barely
3m from the body. When Udo got out, he saw that it was not a man in a tuxedo, but a giant toy
penguin.
Passengers were less impressed as their journey was disrupted because of Udo's
emergency stop.
A police
spokesman said: 'We are at a loss to explain how this large penguin got onto
the track'.
'We would think you would notice if you lost something
like this.'
Another Strange But True
Tiger Story
A tigress tiger gave birth
to a set of triplets in a Californian Zoo. Sadly the cubs died shortly
after their birth.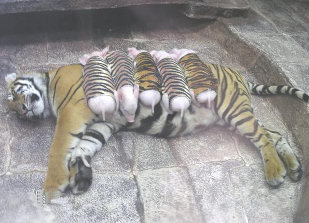 The mother tiger
became sickly. The veterinarians felt that the loss of her litter had caused the tigress to fall into a depression. They
felt that if the tigress could surrogate another tiger's cub she would
regain her health.
To cut a long saga short, the vets hit on the idea
of surrogate piglets! The zookeepers wrapped the piglets in the skins
of the deceased cubs and placed the babies around the mother tiger.
Would they thrive or become pork chops?
Success ...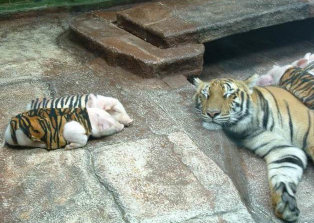 A happy ending mother tigress and piglets continue to thrive.
See a report of white
tigers in England
What did the mother tiger say when she taught her cubs
to hunt on forest tracks?
Don't
go over the path until you see the zebra crossing.
Footnote:
Please send us your tiger in England story.
See more strange but true animal stories:
•
Strange Home • Cormorant Recipe • Ducks •
Dolphins • Parrots • Penguin •
Seagulls
•
Tiger in England