Songkran is the Thai celebration of new year. It has its own
rituals and provides a wonderful spectacle for three days every April.
The Origins of the Thai New
Year
The Thai New Year is known as the Songkran festival which means
astrological passage. Songkran (pronounced sohng-krahn) falls in the hottest
time of the year in Thailand, and is at the end of the dry season.
Thailand celebrates New Year in a very traditional way from 13th April to
15th April, every year.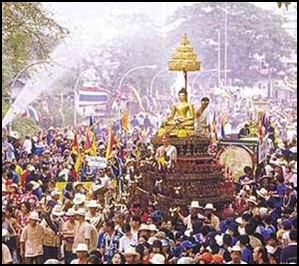 South and Southeast Asia also celebrates New Year as per the Thai
calendar. The date was originally calculated as per astrological calculation
and over time the date has got fixed. It also, we have learned, corresponds
with the Buddhist New Year and is one of the most important holidays in
Thailand since the beginning of the year according to the lunar calendar.
Songkran has traditionally been celebrated as the New Year for many
centuries, and is believed to have been adapted from an Indian festival. It
is now observed nationwide, even in the far south. However, the most famous
Songkran celebrations are still in the northern city of Chiang Mai, where it
continues for six days and even longer. It has also become a party for
foreigners and tourists and is an additional reason for many to visit
Thailand for immersion in another culture.
Thai Traditions Observed
at New Year
Thais splash water Buddhas with profound reverence but they also douse
family and friends, the belief that water washes away bad luck and purifies.
The festival is also a lot of fun when you throw water on everyone and can
result in real water fights in the streets.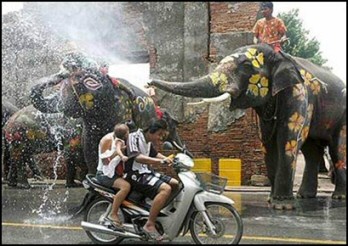 The spraying of water on each other has double meaning - a sign of
purification and ritual welcome at the height of the hot season, but this is
primarily an ancestral tradition. This is called Rohd Nam Songkran, meaning
"The Pouring of Songkran Water."
Songkran is also celebrated in many places with a pageant in which young
women demonstrate their beauty and unique talents, as judged by the
audience. The level of financial support usually determines the winner,
since, to show your support you must purchase necklaces which you place on
your chosen girl.
Besides the throwing of water, people celebrating Songkran as a Buddhist
festival may also visit a wat [Buddhist monastery] to pray and give food to
monks.
Budda at Thai New Year
They may also cleanse Buddha images from household shrines as well as
Buddha images at monasteries by gently pouring water mixed with a Thai
fragrance over them. It is believed that doing this will bring good luck and
prosperity for the New Year.
We have been told that in many cities, such as Chiang Mai, the Buddha
images from all of the city's important monasteries are paraded through the
streets so that people can toss water at them, ritually "bathing" the
images, as they pass by on ornately decorated floats.
Thai Sand Custom
In northern Thailand, people may carry handfuls of sand to their
neighborhood monastery in order to recompense the dirt that they have
carried away on their feet during the rest of the year.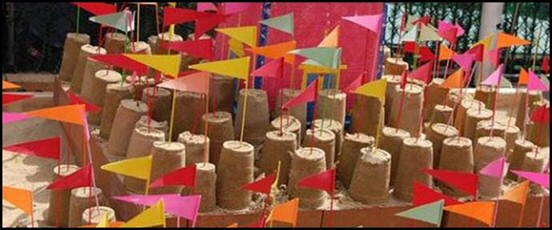 The sand can be then sculpted into stupa-shaped piles and decorated with
colourful flags. A game called Saba [like skittles] is played by most of the
people. People build pyramids of sand called chedis on the riverbanks and
put on a tiny coloured flag on it. This is an example of a very popular
traditional activity of people of Thailand.
Some people make New Year resolutions - to refrain from bad behaviour, or
to do good things. Songkran is a time for cleaning and renewal. Besides
washing household Buddha images, many Thais also take this opportunity to
give their home a thorough cleaning.
Special Food During Songran
The Thai New Year will be the time for special food. The Khao Chae is a
rice dish and Gaeng Kiew Wahn Gai is a Chicken in green curry is must for
the New Year in Thailand.
The sticky rice and the pyramid shaped dessert are made too. The festival
gets meaningless without the coconut pancake *Sakuntra has told us.
*Sakuntra, or Moy, to her friends and family, is Will's friend and she is
from Thailand and now lives in the UK.
Will and Guy wish you, 'suk-san wan songkran' - meaning "Happy Songkran
Day"
Footnote
Please send us your Diwali jokes and funny stories.