Will and Guy have researched these amusing, strange and rather silly injuries suffered by some of our sporting stars:
Football Related Injuries
Lomana Tresor LuaLua will have a scan on the foot injury that has kept him out
of Portsmouth's
last three matches in the English Premiership. The DR Congo striker damaged the joint of his left foot after celebrating an equaliser in the 1-1 draw against Arsenal on April 12 with a
somersault. LuaLua, 25, had promised to refrain from back flips until Pompey were safe from relegation in the Premiership but paid the price for a change of mind.
Dave Beasant, the former England goalkeeper, ruptured his ankle ligaments avoiding a
falling bottle of salad cream he had just taken out of his fridge. He was injured for two months.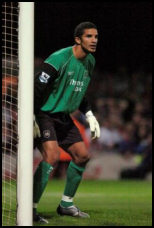 David James, an England goalkeeper, pulled a muscle in his back when reaching for a TV remote control. No wonder they call him '
Calamity James'
.
Santiago Canizares, Spain's
2002 World Cup goalkeeper, missed the matches after he had dropped a bottle of cologne on his foot and injured it.
Rio Ferdinand, the England defender, injured a tendon behind his knee while watching
TV with his foot up on a coffee table.
Derek Pringle, the former England cricketer, sat down to write a letter before a Test match and stretched back only to put his back out.
Silly American Injuries
Adam Eaton, the baseball pitcher, apparently stabbed himself while attempting to
open a DVD in 2001.
Wade Boggs missed several games for the Winston-Salem Red Sox after hurting himself putting on his cowboy boots.
Vince Coleman, missed the 1985 World
Series after getting caught in the tarp machine.
[Tarp is machine for removing the tarpaulin covering on a pitch]
Even Golf is not immune from silly injuries
Sam Torrance, the former Ryder Cup golfer, fractured his sternum in
1993 when he fell over a plant pot whilst sleepwalking. He almost missed the matches at the Belfry.
Footnote:
Please send us your funny sports injuries
A variety of good, clean and free sports jokes. Funny sportsman's
nicknames. Amusing short stories. Anecdotes and tales about sport. Will and Guy hope
that you share our joy of sporting funnies.
See more sports jokes and funny stories:
• Colemanballs •
Basketball jokes • Soccer •
Baseball jokes •
Funny sport quotes • Home
• Cricket jokes •
Super Bowl jokes • Rugby stories • Sports nicknames
• Tennis jokes
• Sports Home •
Clean golf jokes • Funny golf pictures
• Funny golf stories • Funny golf video