Here is our collection of bungling burglars, enept robbers and dumb
criminals. One feature we noticed is that every country seems to
have it's share of brainless lawbreakers.
Bungling Burglar in Germany
Bungled Robbery
Phone a Bungling Burglar!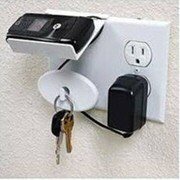 A bungling burglar in the USA has been arrested after he left his mobile
phone on charge at the house of one of his victims. The man was disturbed
while rifling through rooms in the house in Washington DC and jumped out of
a window to escape Will and Guy have learned.
Police searched the house later and were surprised to find a cell phone,
that didn't belong to anyone at the house, charging in a socket.
Officers called one of the numbers in his contacts, told them the phone
owner had been involved in an accident and asked for his name. That led to
the 25 year old man being arrested and later charged with ten burglaries.
Dutch Bungling Burglar
A stupid criminal was caught after he fell down a chimney while escaping over
the roof of a house he had just broken into. Police in Maastricht, Holland,
arrested the 33-year-old after being called out by the house owners who heard
his calls for help. The man had tried to flee out of a roof window with his
booty of cash and jewellery, but tumbled in the dark and got stuck inside the
chimney.
Another Bungled Chimney Burglar Story
A burglar who got stuck in a chimney while trying to break in to a Los Angeles home has been jailed for two years. Bungling
burglar Marco Antonio Espinoza was also ordered to pay the owners of the house more than £5,000 [$9,993.20 USD] to repair the damage done when fire fighters freed him.
When he was caught, he told the police
that he was doing building work on the house.
A 'would be' robber had to drop his bank looting plans after he forgot to take with him a bag into which the stolen money could be put.
Apparently,
the young man in his 20's, entered a local Chase Bank branch early on Monday morning and passed the cashier a piece of cardboard on which was written 'Give me your money,' reported the Detroit News.
He told
the bank teller to 'hurry up,' but when she asked him if he had a bag to put the money into he became flustered and confused and ran off without the cash.
More Stories of Inept Lawbreakers
The Bungled Get Away
The two criminal masterminds planned their heist carefully. They knew
the courier would have a suitcase full of cash. They waited for his car to pass, then pursued him at high speed, shooting at the vehicle until the courier was forced to pull over.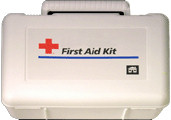 Armed robbers made off with what they thought was a suitcase full of cash - they were in for a surprise.
Back at their secret hideout, the bandits prepared to force the locks and spring the cash. That's
when they noticed their plan had gone horribly wrong; instead of taking the money, they made off with a first aid kit.
Police spokesman Johann Steinlitz said, 'If
there was an award for the dumbest crooks they would certainly be in the running.


But even though they did not get what they were after, we are still investigating for attempted armed robbery and endangering
lives. Luckily the courier was not harmed in the incident.'
Funny Crime Story From the UK
Burglar in
Slough, England
A suspected burglar put in handcuffs after his arrest, attacked a woman police officer and then escaped by driving off in her car. The female officer was driving the man to Slough police station when he
forcibly took control of the car.
The man, one of three arrested on suspicion of burglary, dumped the car in Keel Drive about six minutes away. The suspect is described as Asian, in his mid 20s and
about 5ft 8in tall. He may still be wearing handcuffs.
A police spokesperson said, 'This is a serious incident which could have led to the officer and members of the public being seriously hurt.
Thankfully, neither was injured, 'I would appeal to anyone who knows the whereabouts of this bungling burglar to contact us immediately.'
Twitchy Robber?
Two robbers in Michigan, USA, entered a record shop nervously waving revolvers.
The first one shouted, 'Nobody move!'
When his partner moved, the startled first bandit shot him.
Car Thief - Loser of the Week
A car thief who ran out of petrol in rush hour traffic was arrested after police helped him push the stolen vehicle to the side of the road reports The Moscow Times. Helpful officers in Moscow, Russia, were
about to leave the scene and let Alexei Ashurin wait for breakdown services when they noticed the red 15 year old Volkswagen's lock was broken and a screwdriver was sticking out of the ignition.
After
checking the number plate, they discovered the vehicle had been stolen and that Ashurin was wanted for a string of other motoring thefts. He admitted to stealing the car and
this stupid criminal is now facing up to two years in prison.
A Funny Magistrates
Court Story
This hilarious story was researched online by Will and Guy and may make
you laugh at the stupidity of some crooks. We cannot, however, vouch for its
veracity.
A man arrived the magistrates court, he was charged with impersonating a
policeman.
On arrival he was wearing a blue baseball cap with the word 'police' on
it; a fluorescent yellow jacket, with 'police' on it, he was carrying a
truncheon, a can of CS spray, and he had blue flashing lights in his car.
You will, no doubt wish to know how he came to be arrested. It apparently
happened like this: he flagged down a car with two men in it, pulled them
over and said 'Police. You're nicked.'
They answered, 'No mate. You're not police - we are.' Funnily, he had
stopped two off-duty detectives in an unmarked police car and so ended up in
court.
You could not invent a story like it.
A Banana?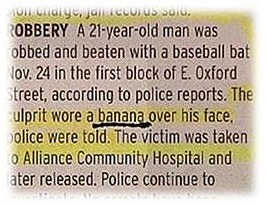 Another Funny Bungling Burglar Tale From Mexico
Robbers broke into the Telefonica Movistar cell-phone store in Morelia,
Mexico recently with the aim of stealing some mobile phones.
In their haste to get away they grabbed the first phones that came to
hand - hollow replicas, used normally for display purposes only.
Employees explained to Will and Guy that the bungling burglars overlooked
real cell phones and cash in another part of the shop.
Man Drops Swag, Locks Keys In Getaway Car, Shoots Himself
- Surely
One of The Dumbest Criminals:
A man who had spent 20 years in prison for bank robbery back in 1963
thought he would try again in 2003 in Spotsylvania County, Virginia, USA. He
demanded and received several thousand dollars from two surprised bank
cashiers and as he fled he spilled $100 notes in his wake as he attempted to
stuff the cash into his pockets and get away.
When he reached his hired getaway car this stupid criminal realised that he had locked his
keys inside. This bungling burglar promptly took to his heels and fled the
scene on foot followed by two passersby who grabbed him. The fleeing felon
attempted to pull out his gun but failed, and shot himself in his leg but
kept fighting his would be arresters; one of whom shot the suspect.
The local police have charged the robber with 8 felonies, including
robbery and 2 counts of attempted murder. The suspect was attended to in
hospital and recovered.
No, you couldn't make it up
Footnote
Please send us your stupid criminal story.
See more bank jokes, bungled robberies and funny money stories:
$
Home $
Bungled burglaries $
Stupid criminals $
Funny bank robberies $
Stupid lawyer jokes
$
Funny crime stories $
Police humour $
Funny lawyer jokes $
Great swindles $
Funny money
$
Credit crunch jokes $
Ways of making money $
Funny identity theft $
Funny court transcripts